Bet you never thought of Iowa as a golf destination, did you? Well, maybe you should.
At least visits to two courses – Spirit Hollow in Burlington and Amana Colonies Golf Club in Middle Amana — during John Deere Classic week suggested that Iowa has plenty to offer golf-wise.
The Amana Colonies layout is the older of the two courses. It was opened in 1989, but the area near Cedar Rapids and the University of Iowa in Iowa City already had a reputation in golf before that. The Amana VIP tournament, which ran from 1967-90, was created by George Foerstner, founder of Amana Refrigeration, and Julius Boros, a long-time PGA Tour player who won the 1952 and 1963 U.S. Opens and the 1968 PGA Championship.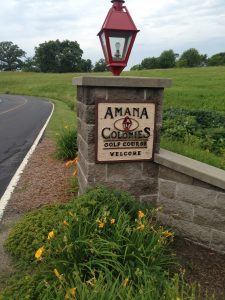 Their long-popular event was a forerunner to the celebrity events put on today. Bob Goalby, the former Masters champion, called it "the Masters of the Pro-Ams'' and all the top players of that era – from Lee Trevino to Fuzzy Zoeller to Tom Watson – played in it at one time or another. So did celebs like ex-President Gerald Ford, Mike Ditka, Flip Wilson and Joe DiMaggio.
That event wasn't held at Amana Colonies Golf Club. It opened one year before the last Amana VIP tourney was held at the University of Iowa's Finkbine course.
Amana Colonies hasn't had an event that big, but the 6,824-yard par-72 layout designed by William Spear on a 600-acre plot has long been considered one of Iowa's best public facilities. Some may find the number of blind shots on the hilly layout excessive but the course has some beautiful views and successfully walks the fine line of being both fun and challenging.
Unlike Spirit Hollow, Amana Colonies is a more finished project. It also includes lodging at Colony Oaks condominiums, where stay-and-play packages for one to eight guests are available adjacent to the course. The Colonies – there's seven of them that date back to 1855 – also are a National Historic Landmark. They attract visitors, golfers and non-golfers alike, all year long.
Spirit Hollow, though, is where exciting new things are happening now.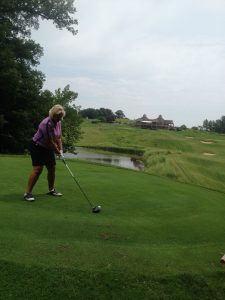 The course, designed by Libertville architect Rick Jacobson, opened in 2000. It's been a busy place that will soon get busier.
Spirit Hollow hosted the Iowa Amateur in 2000 and 2012 and was the site of the last men's National Junior College Athletic Assn. Division I championship. It'll host the GolfWeek Challenge, which draws 15 of the top college teams, in September. Those are big events in a town of 30,000 residents that isn't close to a bigger city. (The Quad Cities are a 75-minute drive away and Western Illinois University is the closest big college).
Burlington businessman Randy Winegard has done wonderful things with Spirit Hollow and more will become self-evident soon. Eight lodge rooms are under construction, so – possibly as soon as August – Spirit Hollow will be able to offer exclusive stay-and-play packages on the premises.
"It'll make you feel like you're staying at your own lodge,'' said head professional Erin Strieck, who knows her way around the Illinois-Iowa golf scene. She held a similar job at Eagle Ridge in Galena, Ill., for 15 years and then spent two more at Fyre Lake, a Nicklaus Design Group project now operating in Sherrard, Ill.
Lodging isn't all that's coming in what will end up as about a $1 million renovation. There'll also be a new bar and grill in the clubhouse and a stand-alone pavilion will be constructed near the driving range to host outings and other big events.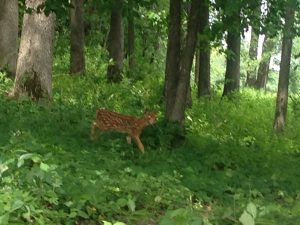 Spirit Hollow already has other entertainment options available. Winegard owns the Catfish Bend Inn, which is four miles away. It has a casino, water park and two restaurants and is a good place for adult get-aways, business gatherings and family vacations. And now the golf alternative – already quite good – is getting a boost.
"We're lucky to have an owner who wants to take Spirit Hollow to the next level in achieving excellence,'' said Strieck. "Our ultimate goal is Top 100 (in the various course ratings) and No. 1 in Iowa. With the addition of the lodging rooms, and as the place matures, that's definitely without our reach.''
More about the course facilities. Spirit Hollow may be the best buy in the Midwest now — $35 for seniors with cart included seven days a week. The clubhouse has an indoor hitting facility that allows for winter practice, and having music playing on a big practice range offers a nice, somewhat unusual twist.
Jacobson, who got his start in golf architecture working for Jack Nicklaus, formed his own company in 1991. He's done a lot of work in China lately, but his creations in the Chicago area include two real good ones – Strawberry Creek in Kenosha and Bowes Creek in Elgin. Spirit Hollow ranks at least on par with those. He's also done renovation work at such quality places as Kemper Lakes, North Shore, Bob O'Link, Oak Park, Cantigny and Sunset Ridge. That should speak volumes about what you can expect if you visit Spirit Hollow.
The staff there is also notable. In addition to Strieck, the superintendent is Jim Wyffels. He was superintendent at The General at Eagle Ridge before moving on to Fyre Lake and then Spirit Hollow.
There are lots of good holes at Spirit Hollow. You don't forget No. 6, a 445-yard par-4 where some extremely realistic-looking "wolves'' serve as decoys to keep geese off the green and away from the pond that fronts the putting surface.
None of the holes, however, are more memorable than No. 9 – a short dogleg right par-4. A stream runs in front of the long, elevated green and a waterfall – though not really in play – provides an added attraction. Play the hole from the right tee – 266 yards from the front one, or longer tests from 321, 365 or 410 yards — and you'll be hard-pressed to find a challenge as much fun as this one.