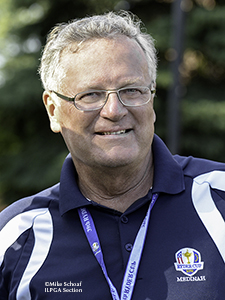 Welcome to the sixth season of the Len Ziehm on Golf website. Our aim from the beginning has been to touch on all phases of our sport through my wide range of freelance writing projects. They include pieces in newspapers, magazines, websites and books.
All of our writings can also be checked out on social media outlets Facebook (see Facebook.com/lenziehmongolf.com), Twitter (see @ZiehmLen) and Linked In.
There will continue to be a big focus on golf travel destinations in 2015, as we'll again expand our offerings far beyond the Chicago area.
The 2014 season was highlighted by an extraordinary November swing that included stops at such famous destinations as French Lick in Indiana, Greenbrier in West Virginia, Homestead and Keswick Hall in Virginia, Bay Hill in Florida and Pinehurst in North Carolina. Our preliminary reports on each of those visits can be found under Travel Destinations in this website and more reports are expected to appear in other media outlets during 2015. We also have working arrangements with three golf travel-related websites that are based in other Midwestern states.
Golf Now!, Chicago — Cheryl Justak's premier golf destination guide that enters its 13th season in 2015 — is based in Indiana. LZOG Travel-related items also continue to appear in GolfTrips and GolfWisconsin, sites produced by Wisconsin resident Brian Weis that date back to 2004, and Hacker's Central, Bruce Stasch's Minneapolis-based website that's been in operation since 2007.
In 2014 we added our first partner from the broadcasting world — Dave Lockhart's Links Video, which produces a wide variety of golf programs including the Chicago District Golf TV show that runs on Comcast SportsNet Chicago several times per month in season.
We also continue to work in tandem with our original two website partners — Rory Spears, with Golfers On Golf, and Tim Cronin, with Illinois Golfer.
In 2015, as well as subsequent years, we expect to do more book-related projects than we have in the past (see Books section of this website). While we had dabbled in book-writing over the years, our efforts in that area kicked into high gear with the writing of a memoir of the 2012 Ryder Cup matches for the members of Medinah Country Club.
That well-received book, done in collaboration with noted Chicago photographer Nick Novelli, came out in 2013. My book project for 2014 was a history book (not yet published) for Georgia's Kinderlou Forest Golf Club. A major focus of work in 2015 involves the writing of another history book, this one chronicling the many big events held over the last 107 years at French Lick.
For 2016 Novelli and I plan to return to Ryder Cup book-writing with the creation of a memoir for the membership of Minnesota's Hazeltine National Golf Club.
Our interests, though, extend far beyond our Travel Destinations and books. A basically winter-only notes column, "It Ziehms to Me," was started in 2012 to keep our followers current on all phases of our sport.
Our columns in the Daily Herald chain of Chicago newspapers and Chicagoland Golf newspaper remain the nucleus of our other writing projects on display here, along with a variety of writings in Chicago District Golfer magazine. I've been golf columnist for the Daily Herald since 2009 and will enter my 26th year writing columns as well as features for Chicagoland Golf.