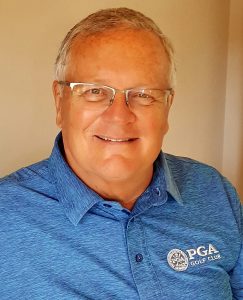 Welcome to the eighth season of the Len Ziehm on Golf website. Our aim from the beginning was to touch on all phases of our sport through our columns in Chicago's Daily Herald and Chicagoland Golf and my wide range of freelance writing projects. They include pieces in newspapers, magazines, program pieces, websites and books.
In 2017 our focus will broaden, as we have begun full-time residence in PGA Village — the winter home of the PGA of America in Port St. Lucie, FL. We'll be back to cover the Chicago scene in the spring and summer months but there will be a heavy dose of Florida golf included as well. All of our writings can be checked out on social media outlets Facebook (see Facebook.com/lenziehmongolf), Twitter (see @ZiehmLen) and Linked In.
There will continue to be a big focus on golf travel destinations in 2017. Our recent trips included an extraordinary three-month driving trip that took us to golf destinations in Nebraska, Montana, Idaho, Washington, Oregon, California, South Carolina, Louisiana, Mississippi and Florida.
Our two- to four-day stops during that period included visits to such established destinations as Prairie Club, Chambers Bay, Bandon Dunes, LaCosta, Wild Dunes and Innisbrook as well as soon-to-be famous places like Tatanka (Golf Digest's Best New Casino Course of 2015), in Nebraska, and Mossy Oak, in Mississippi. Other recent visits were to up-and-comers that recently opened for play — Wisconsin's Sand Valley and the unique second course at Michigan's Forest Dunes, a layout that can be played in both directions.
Our reports on each of those visits can be found under Travel Destinations in this website as well as a variety of other media outlets. Since the creation of the LZOG website we have produced Golf Destination reports from 24 states.
We were also happy to be included in Golf Top 18 website's listing of top course reviewers (accompanying tag on this page). That site credited our Travel Destination reports for "giving you the historical feel and information on a golf course, so you can feel its roots….Not a technical shot by shot reviewer, Len gives the reader photos and the feel of a course through his eloquent words." More recently I was also cited as one of four "Outstanding Achievers" in travel writing at the 24th International Network of Golf's Media Awards, presented at the 2017 PGA Merchandise Show in Orlando, FL.
We also have working arrangements with two golf travel-related websites that are based in other Midwestern states.
Golf Now!, Chicago — Cheryl Justak's premier golf destination guide that enters its 15th season in 2017 — is based in Indiana. LZOG Travel-related items also continue to appear in GolfTrips and GolfWisconsin, sites produced by Wisconsin resident Brian Weis that date back to 2004.
Our partnership sites now include our first partner from the telecommunications world — Dave Lockhart's Links Video. Once the long-time producer of Chicago District Golfer TV show, Dave continues to create videos for the CDGA and other outlets.
We also continue to work in tandem with our original two website partners — Rory Spears, with Golfers On Golf radio, and Tim Cronin, with Illinois Golfer — a fine online publication.
In coming years we expect to do more book-related projects than we have in the past (see Books section of this website). In the last four years we've written three books, highlighted by the well-received memoir of the 2012 Ryder Cup matches for the members of Medinah Country Club. Others, written but still to be published, chronicle the histories of Kinderlou Forest in Georgia and French Lick Resort in Indiana.
Our interests, though, extend far beyond our Travel Destinations and books. A basically winter-only notes column, "It Ziehms to Me," was started in 2012 to keep our followers current on all phases of our sport.
Our columns in the Daily Herald chain of Chicago newspapers and Chicagoland Golf newspaper remain the nucleus of our other writing projects on display here, along with a variety of writings in Chicago District Golfer magazine. I've been golf columnist for the Daily Herald since 2009 and am starting my 28th year writing columns as well as features for Chicagoland Golf.
Over the years I've also done special pieces for various publications. More recently those include program pieces for the PGA Championship, Senior PGA Championship and Ryder Cup, a travel piece in Links Magazine and tournament reports for USA Today.