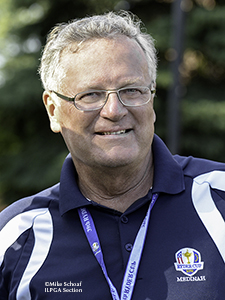 Welcome to the fifth season of the Len Ziehm on Golf website. Our aim from the beginning has been to touch on all phases of our sport through my wide range of freelance writing projects. In 2013 that included some major new projects — working with the LPGA Legends Tour, Golf Range magazine and PGA Industry Insider.
As has been the case each season, there will continue to be a big focus on golf travel destinations, as we've expanded our offerings far beyond the Chicago area with trips to all parts of the country. We also have working arrangements with three golf travel-related websites that are based in other Midwestern states.
Golf Now!, Chicago — Cheryl Justak's premier golf destination guide that enters its 12th season in 2014 — is based in Indiana. LZOG Travel-related items also continue to appear in Hacker's Central, Bruce Stasch's Minneapolis-based website that's been in operation since 2007. Our newest partner is GolfTrips and GolfWisconsin, sites produced by Wisconsin resident Brian Weis that date back to 2004.
We are also providing an extra offering for our golf travel-related sites, along with those of our two website partners — Golfers On Golf and Illinois Golfer. A winter-only notes column, It Ziehms to Me," was started in 2012. The columns supplement those sites and — like virtually all LZOG creations — also run on social media outlets Facebook, Twitter and Linked In.
Our columns in the Daily Herald chain of Chicago newspapers and Chicagoland Golf newspaper (renamed for 2013 after going under the banner Chicago Area Golf for three seasons) remain the nucleus of our other writing projects on display here, along with a variety of writings in Chicago District Golfer magazine.
Though we've been involved in some book-writing over the years (see Books segment of this website), we ventured into that field in a major way with a Special Edition on the captivating 2012 Ryder Cup at Medinah. Similar projects are in various planning stages.