This golf season, of course, is far from over. We diehards know that fall golf is the best. Still, the conclusion of the PGA Championship does mean the end of the major championships and a good time to reflect on developments from the 2014 season.
SO, IF YOU had asked me I would have told you……
THE MOST INTERESTING day golf-wise was Aug. 16. Doesn't it strike you as intriguing that the lowest rounds in the history of both senior professional tours were shot on the same day?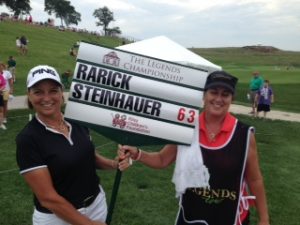 On the men's side Kevin Sutherland notched the first 59 in Champions Tour history and on the women's front Sherri Steinhauer posted the lowest round in the 14-year history of the Legends circuit – a 9-under-par 63.
Sutherland's hot round came in the 54-hole Dick's Sporting Goods Open at En-Joie Golf Club in Endicott, N.Y. – a layout that was the long-time base for the PGA Tour's B.C. Open, which is no longer held.
Steinhauer's round came on one of the reputedly toughest newer layouts, the Pete Dye Course at French Lick Resort in Indiana. It opened in 2009 and will host the Senior PGA Championship in 2015. Steinhauer played it at 5,890 yards, but her score was every bit as significant as Sutherland's was. Steinhauer's round was the lowest score – man or woman – ever shot on the tricky layout that's already been tested by top club professionals and college players under tournament conditions.
BY FAR the most striking player-caddie combination I have ever seen was LPGA Hall of Famer Joanne Carner and her sister Helen. Carner is 75 (but can still play) and Helen is 83. They don't look at all alike and their personalities are different as well.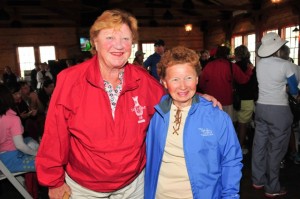 Helen didn't take up golf until Joanne gave here a set of clubs for her 70th birthday. Now she's hooked and Joanne says she's a great caddie.
"Helen doesn't say much, but she can run down the fairway,'' said Joanne.
MY ADVICE to U.S. Ryder Cup captain Tom Watson would be to make Keegan Bradley, Webb Simpson and Brandt Snedeker his picks. (Watson was scheduled to make his announcement on Sept. 2).
The fact that Watson was even considering Tiger Woods "because he's Tiger Woods'' was ridiculous. You don't take a player who's endured the season Woods has, regardless of his career record. You wouldn't take Jack Nicklaus, now would you?
Watson shouldn't take any of the injured players, either. Given its lack of success lately, the U.S. needs fresh blood on this team. It'll have it, and I wouldn't be surprised if the team did quite well despite low expectations from others.
JANE BLALOCK IS one of the very best leaders in golf world-wide. She is also the least publicized. Do you even know the name of the group she heads?
Answer: the LPGA Legends Tour. Blalock created it 14 years ago, has kept it going with little support from the LPGA itself and occasionally even tees it up in tournaments.
For your information, the Legends is for women 45 and over and it has a Super Seniors division for those 63 and over (that's where Blalock plays). The circuit has seven tournaments this year and Blalock says there'll be at last 10 in 2015.
BEFORE WE leave the women's side, there's one more point to make: the U.S. Golf Assn. should create a U.S. Women's Senior Open as soon as possible. There's enough players to make it viable. Blalock says at least 100 of her players will enter and there are many more good senior amateurs from around the country.
The USGA already has a U.S. Women's Senior Amateur. Adding a U.S. Women's Senior Open to its schedule is long, long overdue.
BEST NEW event of 2014 was the National Par-3 Team Championship, which is in progress on the famed Threetops course at Treetops Resort in Gaylord, Mich. At least it seems like a lot of fun – just the type of event that golf needs to inspire a wide variety of players. You can enter through Sept. 11 by contacting the resort.
This is a two-person team event with the top 28 teams advancing to the finals on Sept. 27. (I'll be making a rare tournament appearance in this one).
Threetops hosted the ESPN Par 3 Shootout in the late 90s and early 2000s and it involved the appearance of some top tour players. This is a nice form of revival for that popular event.
THIS WON'T SHOCK anyone, but I want to go on record anyway. The torch has been passed from Tiger Woods to Rory McIlroy as the world's premier golfer.
Woods had a great run, right up there with those of Byron Nelson, Ben Hogan, Sam Snead, Jack Nicklaus and Arnold Palmer before him. I expect Woods to get healthy and win some tournaments again – maybe even another major – but McIlroy is the man now and will be for quite awhile.
NEXT YEAR will be much more exciting in Chicago than this one has been. The main reason is there'll be more big tournaments.
The BMW Championship is coming back to Conway Farms. Rich Harvest Farms will host the Palmer Cup, a Ryder Cup-style event for college stars and the Illinois Open will likely undergo a much-needed transformation. I'm especially intrigued to see what form that transformation takes.
FINALLY, FOR THOSE WHO like to plan well in advance (like me), here's some useful information:
The summer of 2016 will be historically significant in all segments of golf, with three big global events. Not all the particulars are set yet, but this much is known:
The LPGA International Crown will be held at Rich Harvest Farms. It'll have July dates – though the days haven't been determined – because the LPGA wants to get its big event played before golf returns to the Olympics.
Brazil is the Olympic site, and the golf competition will be played some time between Aug. 5-21. Then comes the Ryder Cup, back on American soil at Hazeltine in Chaska, Minn. It'll be played there from Sept. 27 to Oct. 2. It'll be the first time the Ryder Cup has been played in October since 2010 and only the second time in more than 30 years
This Ryder Cup is especially noteworthy, as it will climax the PGA of America's Centennial Celebration.