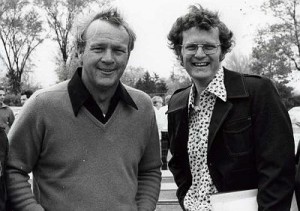 Arnold Palmer is gone. Where do I begin to tell you how impactful this is to golf – and to me personally?
I'm not sure I would have taken up this sport – one that I love with a passion but don't play very well – had it not been for Arnold Palmer.
It was back in the mid-1950s when my family lived on Chicago's Northwest side. I was about 11 years old and my mother wanted me to see an exhibition event at Medinah. (Actually, I think she wanted to mainly see Arnold, the most charismatic athlete of our time).
We went, he didn't win but the day was enjoyable. My mother took me out to play on a course shortly thereafter, and a life-long love affair with the game began.
Over the years I covered some of his tournaments, the first being the 1968 Western Open at Olympia Fields – my first PGA Tour event as a golf writer working for a major metropolitan newspaper. Palmer didn't win that one, either, but he was accessible to the dozen or so media that attended. The media crowd and the galleries would, of course, grow considerably from those days.
On the professional level, my best up close and personal experience with Palmer came in Boston. I was sent there to cover something else, but wanted to do a feature on Palmer in advance of the budding Senior PGA Tour (now called the Champions Tour) planning a Chicago visit. A few other writers from around the country had the same idea, and we gathered at a restaurant where Palmer was planning a private dinner with friends.
He knew we'd be there, and we expected a brief, friendly chat. We'd get a story and he'd be back with his friends in a few minutes. Not so. He stayed and talked with about half dozen scribes he barely knew for a good hour as his friends waited (I hope) patiently.
Much more recently we visited Palmer's Bay Hill Club in Orlando, FL, as part of golf/travel-writing adventures in 2015. Palmer was there, dining with his guests, getting his picture taken, just being Arnie. I have a treasured piece of golf art from that visit signed by the king himself.
Palmer's competitive career was winding down when I came on the golf-writing scene. He won his last PGA Tour event in 1973, but he kept playing – and that's a big reason the golf kept growing and the Champions Tour became a viable part of the pro sports scene.
In 49 years playing the PGA Tour Palmer earned $1,784,497 and won 62 tournaments including seven major titles. He earned much more than that in endorsements and other ventures, of course. His income from 2014, for instance, was reported at $42 million by one respected business publication.
Palmer is certainly not about money, though. He walked with kings and played golf with presidents, but he never lost touch with more common folks.
Rather than dwell on his playing record and businesses success, I thought you might enjoy some tidbits – provided in no particular order — about Palmer's life that I feel tell more about this extraordinary man:
After winning the 1954 U.S. Amateur he served three years in the U.S.Coast Guard, a stint that interrupted but hardly stymied his plans to be a touring pro.
He beat prostate cancer himself and created the Arnold Palmer Hospital for Children in Orlando, which is ranked among the best such hospitals in the world. His grandchildren called him "Dumpy.''
One U.S. president, John F. Kennedy, sent Palmer a picture of his swing in hopes he would critique it. Another president, Dwight D. Eisenhower, flew to Palmer's home in Latrobe, Pa., to make a surprise appearance at his birthday party. The day after Gerald Ford left the presidency he had a golf game with Palmer.
Perhaps Palmer's biggest victory came when he rallied from a seven-stroke deficit in the final round to win the 1960 U.S. Open, but he also blew a big lead on the back nine of another U.S. Open before losing to Billy Casper in a playoff in 1966.
Palmer built the first golf course in China and designed more than 300 courses around the world. Among them are three in Illinois including Hawthorn Woods Country Club in the Chicago area.
The son of a greens superintendent, Palmer broke 100 for 18 holes when he was just 7 years old. He met his first wife Winnie on a Tuesday and asked her to marry him four days later. They were married 45 years until her death in 1999.
He signed what must be a zillion autographs and – unlike most every other athlete – his name was always provided in a legible manner. He was confident enough to wear pink before that color was fashionable.
He has a drink in his name – an Arnold Palmer, iced tea and lemonade – that is known world-wide. He also had his own winery.
He played in 50 Masters tournaments and was a major factor in the creation of The Golf Channel.
He became a pilot to overcome his fear of flying.
He has both the Congressional Golf Medal and the Presidential Medal of Freedom – the only sports figure to have both.
He attended Wake Forest, where a statue stands in his honor. In 2013 he rode into one of that school's football games on a motorcycle.
In 2010 Esquire magazine named him one of the 75 best dressed men of all time.
Palmer had his very own Army, and it was always vocal and supportive, but Arnie's Army isn't the only segment of society that will sorely miss him now that he's gone.