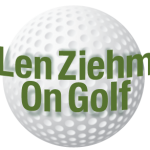 Doug Ghim is learning about the PGA Tour. The second-year PGA Tour player who grew up in Arlington Heights is improving, too.
Ghim played in the last group in the final round of The Players Championship both as a rookie in 2021 and in the weather-battered staging of this season, which wrapped up on Monday.
In 2021 Ghim played was paired with eventual champion Justin Thomas. He couldn't keep pace, shooting a 78 to drop down to a tie for 29th place.  On Monday Ghim made a costly double bogey on the par-5 second hole and – while he didn't contend for the title after that — he finished in a tie for sixth.
With the tournament purse increased from $15 to $20 million, Ghim earned $675,000 on Monday when he finished five strokes behind champion Cameron Smith at TPC Sawgrass in Ponte Vedra, FL. That was the biggest payday yet for the 25-year graduate of Buffalo Grove High School and the University of Texas, but it could have been quite a bit more.
Ghim, the last player to putt out in the tournament, missed a short birdie putt on the final green.  Had he made it he would have finished in a tie for fifth with Keegan Bradley instead of a three-way tie for sixth with Harold Varner III AND Russell Knox.  The difference was about $200,000 in his paycheck.
Still, Ghim's game returned in the biggest money event of the season after he had endured three straight missed cuts. Watching Thomas pull away from him a year earlier paid dividends in his return to The Players.
"I learned how badly I wanted to win,'' said Ghim.  "I got to watch someone win at the pro level, let alone being at The Player Championship.  It was a valuable experience.  It was a painful one.  I took pain away from it, and that's a good thing because it tells me that I want to win.''
Ghim didn't play with Smith in Monday's final round.  Smith was in the group in front but Ghim still drew from the round with Thomas.
"The thing that struck me was the way he played.  He made mistakes, played basically how I had played the first three days (last year), and basically how I played the first three days this week,'' said Ghim.  "I just realized I don't really have to do anything different.''
TPC Sawgrass seems an unusual place for a young player to find his game, but Ghim sees logic in it.
"I love the place,'' he said.  "I love playing against the best players.  It makes me more patient, so I was more patient this week. I had had a rough couple of weeks, but the game felt good.  It was a bit frustrating to not see any results, but I couldn't find a better place to find them.''
Ghim had company to help him through the numerous weather delays at TPC Sawgrass.
"I had some family and friends with me,'' he said.  "My sister's here.  My girlfriend's here.  I have a team here, so we kept it light hearted, played some video games,  did whatever.''
He's skipping this week's Valspar Championship, played about three hours away at Innisbrook Resort in Palm Harbour.  That tourney will conclude the PGA Tour's four-event Florida Swing.
The Valspar will have a strong Illinois contingent headed by Wheaton's Kevin Streelman, who tied for 22nd in  The Players and won $201,000. Both Streelman and Northwestern alum Luke Donald are past champions on Innisbrook's Copperhead course, Donald in 2011 and Streelman in 2012.  Mark Hensby, a veteran who won both the Illinois Open and Illinois State Amateur , is also competing as is Illinois alum Luke Guthrie, who earned a spot in the field in Monday's qualifying round,  and PGA Tour rookie Dylan Wu (Northwestern). Wu moved in on Tuesday after being the first alternate.  Nick Hardy (Illinois), now the No. 1 alternate, might get into the field, too.