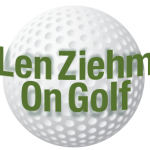 Monday qualifiers are a way of life for Patrick Flaviin, the budding golf touring pro from Highwood.
One of only two players to win both the Illinois State Amateur and Illinois Open in the same year, Flavin estimates he's played in 30 such nail-biting rounds in hopes of getting into tournaments on either the PGA Tour or the Korn Ferry Tour, its developmental circuit. Never have his efforts paid off as handsomely they did last week's in Bermuda.
The 18-hole session to determine four qualifiers for the Butterfield Bermuda Championship, a PGA Tour stop, was held a full week early because of pandemic-related protocols related to travel.  Many players skipped the qualifier and even the tournament proper because of difficulties in inherent in getting to Bermuda.
Flavin, though, finished third in the early qualifier – only the second time he earned a spot in a PGA Tour stop. (He qualified for the Waste Management Open last year  in Phoenix but didn't survive the 36-hole cut).
After qualifying in Bermuda his father Mark gave him a further boost by volunteering to be his caddie. They made a great team.
In the first three rounds Flavin shot 69-66-68.  After eight holes on Saturday Flavin was tied for the lead – the first time that has happened on the PGA Tour.  A 72 on Sunday dropped him into a tie for 17th place but the 9-under-par performance for the week earned him $99, 125. That's more than three times the size of his previous biggest check, $30,000 for a victory on the PGA Latinoamerica Tour.
Mark Flavin has caddied for his son only occasionally. He was on a road trip on the West Coast when he learned that Patrick had survived the Monday qualifier in Bermuda. He immediately drove back to Chicago, then caught a flight to Bermuda.  Word of the father-son hookup spread among the gallery at Bermuda.
"It was awesome. I felt a ton of support all week,'' said Flavin.  "The whole week changed my perception of my game.  Now I'll try to get more sponsor exemptions, and that could change my career.''
A solid college player at Miami of Ohio,  Flavin's stock soared when he won the Illinois Amateur and Open in 2017, a feat pulled off only once previously – by former PGA Tour journeyman David Ogrin 37 years earlier.
After turning pro the following year Flavin won on the Latinoamerica circuit and earned membership on the Forme Tour, a temporary substitute for the Canadian circuit. Last year his fifth-place in the Evans Scholars Invitational at The Glen Club, in Glenview, gave him temporary membership on the Korn Ferry circuit. He had hoped to earn full-time status for 2022 but didn't survive the second stage of qualifying in Tampa, FL., a week before the trip to Bermuda.
"That was a huge bummer, but I'm proud of the bounce-back,'' he said. "I just never got it going (in Tampa), and that was pretty devastating, but I handled it well.''
Now he'll be a travelin' man who may not know where he's going from one week to the next. Flavin is a member of the Latinoamerica and Canadian circuits but will squeeze in as many PGA and Korn Ferry qualifiers as he can.  The next one is next Monday, for the PGA's Houston Open.
"I've got a lot of places to play, for sure,'' said Flavin, who is spending this week in Phoenix before heading to Houston. In December he'll play in Latinoamerica tournaments in Argentina and Chile.  Then, who knows?