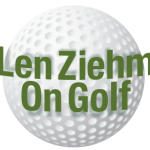 Andy Mickelson, the director of golf at Mistwood in Romeoville, is the Illinois PGA's Player of the Year.  He did it with only one win, in the section's first stroke play event, but his consistency in 10 other competitions earned him enough Bernardi Player of the Year points to win the prestigious honor.
"Winning the Illinois PGA Player of the Year is a huge accomplishment for me,'' said Mickelson.  "I put a lot of time and effort into my game, and it's cool to see it pay off.  It seemed like I had a lot of top-10s to go along with the one win but a couple of second place finishes and good runs at our majors helped put me over the edge.''
Mickelson clinched Player of the Year with a tie for fifth-place finish in the season-ending IPGA Players Championship.
The Assistant Player-of-the-Year award went to Rockford's Kevin Flack who finished into the top 10 in all nine assistants competitions and won four of them.
BIG YEAR FOR THE HAWK: Brian Carroll, head pro at The Hawk in St. Charles, won, the IPGA Players title for the second straight year at Twin Orchard, in Long Grove.  He had to hold off one of his teaching staff members, Roy Biancalana, and Kevin Flack, from Rockford's Mauh-Nah-Tee-See Country Club, to get that win.
Biancalana, though, had a great season as well.  He defended his IPGA Senior Match Play title at Chicago's Ridge Country Club in Chicago and now stands tied with Jim Sobb, the former pro at Ivanhoe, as the only player to win that event three times.  Biancalana took his trio of titles in consecutive years.
LEADER OF THE ARCHITECTS: Michael Benkusky, of Lake in the Hills, has been elected president of the American Society of Golf Course Architects.  He'll serve in that capacity through the fall of 2024.
Originally from Iowa, Benkusky's design portfolio includes two prominent Illinois courses, Canyata, in Marshall, and St. Charles Country Club.  His other credits include Point O'Woods, in Michigan, and Palm Aire's Champions Course in Florida.
GOULD JOINS CDGA:  Robbie Gould, who played 11 of his 18 National Football League seasons for the Bears, has joined the Chicago District Golf Association as its Brand Ambassador.
A prominent NFL kicker, Gould holds a 2.7 handicap as a golfer and competes on the Celebrity Tour.
"Robbie epitomizes what it means to be Better Through Golf,'' said Robert Markionni, the CDGA executive director.  "Whether competing as a talented player himself, using the game to give back, or engaging with other golfers, we have long admired Robbie's affinity for golf.  We look forward to joining forces with him in an effort to elevate the game we all love.''