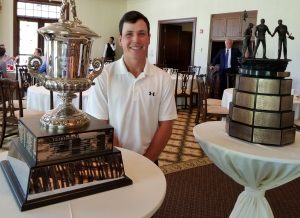 The star of last year's Chicago golf season is about to strike again. While University of Illinois friends Nick Hardy and Dylan Meyer opted to turn pro as soon as the NCAA tournament ended in June, Highwoods' Patrick Flavin decided to wait a while. Now it's his turn to take the spotlight.
Last year Flavin, who played collegiately at Miami of Ohio, became the first golfer in 37 years to win both the Illinois State Amateur and Illinois Open in the same year. David Ogrin, in 1980, is the only other one to do it.
Now Flavin wants to do something Ogrin didn't do — defend both titles — and he also wants a final crack at winning the prestigious Western Amateur and U.S. Amateur as well.
Flavin opened defense of his Illinois State Amateur crown on Tuesday, posting a 1-over-par 71 at Bloomington Country Club. There'll be another 18-hole round there today before Thursday's 36-hole session decides the champion.
Bloomington, interestingly, is where Ogrin completed his sweep of the state's premier titles. He won the Illinois Open there before becoming a journeyman on the PGA Tour from 1983-99. The highlight of his pro career was a victory in the 1996 LaCantera Texas Open, when he whipped Tiger Woods in one of Woods' first tournaments as a pro.
Flavin wants to take his game to the premier pro tour eventually, but there's some work to do first.
On Monday he will try to qualifying for the U.S. Amateur at Sand Creek, in Chesterton, Ind., and the week after that he'll be a featured performer in the 116th Western Am at Sunset Ridge in Northfield. The Illinois Open title defense comes at The Glen Club, in Glenview, and Ravinia Green, in Riverwoods, from Aug. 6-8.
Flavin says his game is solid after spending the summer playing in some of the top amateur events around the country, so he has no regrets about remaining an amateur a little while longer.
"Definitely it was a difficult decision. What it really came down to was, there's just so much more to play as an amateur,'' said Flavin. "I'm trying to think about it in the long run. If I put myself in position to make the Sweet 16 of the Western Am or defend my title in the Illinois State Am or Illinois Open, that would be a great experience for me. In the long run it would really pay off. I'm going to give it a shot, for sure.''
The U.S. Amateur final is at California's famed Pebble Beach from Aug. 13-19. Assuming Flavin qualifies, that'll be his last amateur event. He would turn pro in time to play in the Web.com Tour qualifying school starting in late September. While admittedly looking forward to playing at the next level Flavin has no regrets about spending another summer as an amateur.
"Some of my best buddies, like Nick Hardy and Dylan Meyer, are already out playing on the PGA Tour and playing well,'' said Flavin. "That gives me some ants in my pants to get out there, too. But I'm really happy, really enjoying it.''
Kim leads in IWO
Hannah Kim, the former Northwestern star, takes a six-stroke lead into today's final round of the 23rd annual Phil Kosin Illinois Women's Open at Mistwood, in Romeoville. Kim is at 11-under-par 133 after rounds of 68 and 65 in the first two rounds of the 54-hole tournament.
Amateur Tristyn Nowlin, a University of Illinois golfer who was the runner-up in the Women's Western Amateur at Mistwood last month, is Kim's closest pursuer after rounds of 71 and 68.
Crystal Lake's Lexi Harkins and Samantha Postillion, of Burr Ridge, are another stroke back in a tie for third and two-time champion Nicole Jeray, of Berwyn, is alone in sixth at 141. Jeray is a member of the LPGA's Legends Tour.
This IWO also has a celebrity caddie. PGA and Champions Tour veteran Steve Stricker has also been on the bag for his daughter Bobbi.
llini Meyer is cashing in
Dylan Meyer is adding quickly to his fast-growing bank account since finishing his collegiate eligibility at Illinois.
Meyer tied for 46th place at the John Deere Classic on Sunday, which meant an $18,096 paycheck. That boosted his winnings in three tournaments since turning pro to $236,569. He also just signed a contract to join Callaway's Tour Staff.
"I played with Callaway equipment in college and amateur golf, and I know that this is the best decision for me,'' said Meyer. "It was a natural choice to join Callaway.''
Hardy, his Illini teammate the last four years, is four-for-four in surviving the cuts in pro events. He received invites to two tournaments on the PGA Tour and two on the Web.com circuit, and his winnings in barely a month as a pro is $37,671.
Meyer, Hardy and Stricker all finished at 10-under-par in the John Deere Classic. Stricker, also an Illinois alum, won that tournament three times and opted to return to the Quad Cities' PGA Tour stop rather than play in the PGA Tour Champions major – the Constellation Senior Players Championship – at Exmoor.