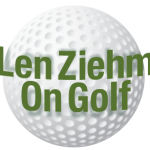 The high drama at Sunday's Charles Schwab Challenge on the PGA Tour centered on the eventual winner, Emiliano Grillo, and Adam Schenk, the loser in a two-hole playoff to Grillo in extra holes.  David Cooke, a two-time Illinois Open champion from Bolingbrook, was part of the drama, too. He has been Schenk's caddie – but not last week.
"This was my first week with Brett (Swedberg),'' Schenk said afterwards.  "We're more or less doing a bag share towards the end of the year.  This was our first week with Brett, but David and I put in a lot of work , too.  I'm happy for everyone.  David is caddying for me next week at the Memorial.''
Cooke was on Schenk's bag when Talor Moore edged him in another tense tournament at the Valspar Championship in Florida in March. Cooke won the Illinois Open as an amateur in 2015 at Royal Melbourne, in Long Grove, and took the title again in 2018 at The Glen Club, beating current PGA Tour player Nick Hardy by four shots.
Hardy, who became a winner on the PGA Tour at New Orleans in April, tied for 48th in the Schwab event.  It was played for the last time on the historic Colonial Country Club course in Texas. That layout will be torn up this week for a renovation but is to host the tournament again in 2024.
Cooke made a brief attempt to turn pro after his second Illinois Open win but decided to switch to caddying and was a regular with Schwenk, who is from Vincennes, Ind., and was a teammate of Cooke's when both were freshmen at Purdue.  Cooke finished his collegiate career at North Carolina State.
The Schwab Challenge was also a big week for Kevin Streelman, the PGA Tour veteran from Wheaton. Though finishing bogey-bogey he finished in a tie for ninth – his best finish of the 2022-23 season.
ILLINI COACH CAN STILL PLAY:  Mike Small, the University of Illinois' highly-successful men's coach for the past 23 seasons, took a day off from preparing his team for this week's NCAA finals to play in a qualifying round for the U.S. Senior Open at Flossmoor Country Club.
He wound up the co-medalist at Flossmoor, shooting a 1-under-par 71, then got back to getting one of his best teams ready for its 14th NCAA appearance in the last 15 years. The Illini did just fine, advancing through the 72-hole stroke play in third place to qualify for the two-day match play portion of the tournament that will determine the team champion.
Quarterfinals and semifinals are Tuesday  with the championship match on Wednesday (MAY 31).
While Small's first priority is coaching the Illini, he has continued to be a competitive player.  He's won 13 Illinois PGA Championships and four Illinois Opens.  His solid play at Flossmoor put him in his third U.S. Senior Open, on tap for June 29 to  July 2 at SentryWorld in Wisconsin. Small previously qualified for the Senior Open in 2016 and 2017.
CHITWOOD NAMED:  Joie Chitwood has been named executive director of the 2026 President's Cup matches, to be played at Medinah Country Club.
Chitwood is a former Arnold Palmer Invitational director and longtime motorsports executive. The President's Cup is a biannual team competition between the U.S. and an International squad. The U.S. has dominated the event, winning the most recent staging at Quail Hollow in North Carolina last year.
HERE AND THERE: TPC Deere Run, in downstate Silvis, is hosting a big tournament event even before the John Deere Classic returns in July.  The Advocates Professional Golf Association is conducting a 36-hole professional tournament Monday and Tuesday (MAY 29-30) with the winner getting $7,500 from a $25,000 purse. The APGA was formed in 2010 to bring greater diversity to golf.
Groundbreaking for the Canal Shores course in Evanston will be held at 11 a.m. on Thursday (JUNE 1). The 100-year old public course is headed for a major renovation.
Cantigny Golf, in Wheaton, is waiving its base caddie fee of $20 throughout June in an effort to encourage customers to try caddies. The caddies will still receive the $20 fee directly from Cantigny.
Chad Proehl, teaching pro at Sugar Creek in Villa Park, finished 77th in the KitchenAid Senior Players Championship on Sunday.  It was the first tournament played at the PGA's new headquarters in Frisco, TX. and Proehl was on the leaderboard in the club professional category.
Roy Biancalana, who also earned a spot in the Senior Players Championship, will lead the Illinois PGA team into the 33rd Thompson Cup matches at Chicago's Ridge Country Club  on Thursday (JUNE 1).  It matches senior teams from the IPGA and Chicago District Golf Association.
Crystal Wang, a fifth-year senior on the Illinois women's team, was named a first-team All-American by the Women's Golf Coaches Assn.  Wang is the first Illini player so honored since her coach, Renee Sloan (formerly Heiken), was picked in 1993.
Len Ziehm is co-host of the Golfers on Golf Radio show that starts at 10 a.m.  on Saturdays at WNDZ (750-AM). His writings are available at www.lenziehmongolf.com.