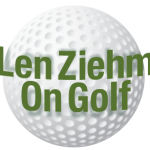 The BMW Championship returns to Olympia Fields this week, but without a local hopeful.  University of Illinois alums Nick Hardy and Thomas Detry didn't survive the first event of the FedEx Cup Playoffs, though Hardy made a great run at it.
Hardy was on the bubble for advancement entering the St. Jude Classic in Memphis, ranking No. 50 of 70 starters.  The top 50 after Sunday's round advanced to Olympia Fields, and Hardy was in the hunt until his par putt on the last hole failed to drop.
A second-year PGA Tour player from Northbrook, Hardy opened Sunday's round with three birdies, ended the front nine with three bogeys and then made a double bogey at the par-3 eleventh when his tee shot found water. Still, he didn't give up.
With birdies at Nos. 13, 14 and 17 Hardy moved back into top 50 contention.  His tee shot at the finishing hole couldn't quite clear a water hazard but his approach put him in position for a par-saving putt that would have kept his hopes alive.
In the end Hardy tied for 49th in the tournament, but dropped from 50th to 52nd in the FedEx standings. He showed the emotions of his near miss in front of microphones as he left the green.
"It definitely stings going to Chicago and not competing,'' he said.  "It was super tough, because I really wanted to play Chicago (at Olympia Fields).''
Hardy, 26, had to survive the Korn Ferry Tour Finals last year to retain his card but earned his first PGA Tour victory in the Zurich Classic of New Orleans to highlight a much-improved second season on golf's premier circuit. He boosted his career earnings over $3.6 million and made the FedEx Playoffs for the first time.
"I know I'm getting better,'' he said.  "Even though I didn't make it, I'm so grateful for the opportunity. I came out on the wrong side this time, but I love competing.''
Detry, who grew up in Belgium and turned pro in 2016 — two years earlier than Hardy, tied for 61st in Memphis.  He started the playoffs in a tie for 52nd and finished 55th. Both relished a return to Olympia Fields, the site of Illinois' annual big event – the Fighting Illini Invitational.
Lucas Glover will go after his third straight tournament title when the BMW Championship tees off Thursday on Olympia's North Course.  The 50 players competing there will be whittled to 30 for the season-ending Tour Championship in Atlanta next week.
NO SMALL FEAT:  Hardy's college coach at Illinois, Mike Small, is back in playing mode.  Last week he won the Illinois PGA Senior Championship at Merit Club, in Libertyville, for the sixth time and on Monday (AUGUST 14) he began his bid for a 14th Illinois PGA Championship title at Thunderhawk, in Beach Park.
Small, 57, last won the Illinois PGA in 2020 at Medinah No. 1. Last year he lost the title in a playoff to Brian Carroll, of The Hawk in St. Charles, at Makray Memorial, in Barrington.
This week's 54-hole event concludes on Wednesday. There'll be a cut to the low 50 and ties after 36 holes.
Between his own tournaments Small announced this year's Illini schedule and the addition of two fifth-year seniors to his roster.  The season begins on Sept. 9 with a new tournament at Washington's Sahalee Country Club before the 17th annual Olympia Fields/Fighting Illini Invitational, which will be played Sept. 15-17 on the same North Course that is the site of this week's BMW Championship.
Joining the Illini team for this season are Timmy Crawford, who played at Loyola, and Tyler Goecke, who was an undergrad at Wright State. Two Illini returnees – senior Piercen Hunt and junior Jackson Buchanan – are in the field for this week's U.S. Amateur in Colorado.
HERE AND THERE:  Medinah Country Club has named David Schneider its new general manager and chief operating officer.  He's had previous stops at Wakonda, in Iowa; Ventana, in Arizona; and Waikoloa, in Hawaii and arrives while Medinah is in the midst of a massive renovation of its famed No. 3 course.
The inaugural Paws for Patrick outing has been scheduled for Sept. 18 at Shoreacres, in Lake Bluff.  Paws for Patrick is dedicated to connecting young people with Emotional Support Animals and Therapy Dogs to aid them as they live with mental illness.
Julie Hovland, who had been a graduate assistant at South Alabama – her college alma mater, is now Renee Slone's assistant coach on the Illinois women's team.
John Ramsey, of Glenview Park, and Chadd Slutzky, of Royal Fox in St. Charles, successfully defended their title in the Chicago District Four-Ball Championship at Glen Flora in Waukegan.  Ramsey and Slutzky have now won that event four times.