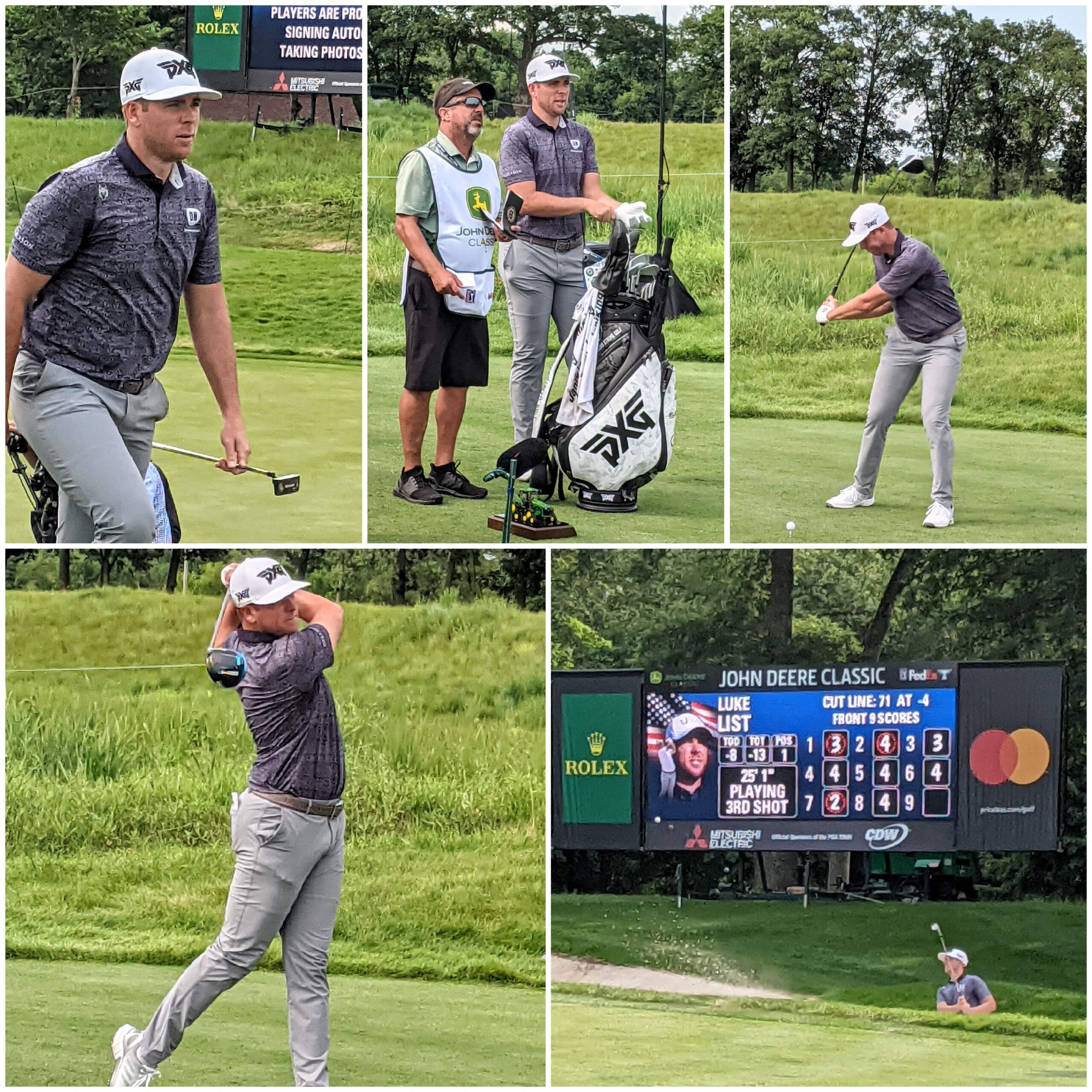 SILVIS, IL. – Sebastian Munoz knew that shooting a 63 in Thursday's first round of the John Deere Classic – with birdies on the last five holes to boot — wasn't all good.
"It's never easy showing up the day after you shoot 8-under,'' he said.  And it wasn't easy for him on the first nine of Friday's Round 2.  Munoz was only even par – not a good score at TPC Deere Run whenever the PGA Tour stars gather there.  The Colombian-born Munoz rallied on the back nine for 67, however, and his 12-under-par 130 was good enough to keep him in the lead midway for most of the day in the $6.2 million championship.
Unfortunately for Munoz, it wasn't quite good enough to keep him there  Luke List got hot late in the day. He matched the bogey-free 63 that Munoz shot in Round 1, and he emerged the 36-hole leader at 13-uinder 129.
List needs good finishes in the next few weeks to get into the lucrative FedEx Cup Playoffs. He's only No. 117 in the playoff standings now in large part because he missed two weeks while his son Harrison, born on June 5, was hospitalized with a respiratory virus.
"That's a dangerous thing for a premature.  He was born a month early,'' said List.  "He fought hard.  He was incubated for a couple days and in the ICU for 14 days. Everything's great now.  He's home and eating like a champ.''
"A champ'' is what List would like to be on Sunday.  Winning would take care of his worries about not making the FedEx Playoffs.
"I'm not trying to think about that,'' said List. "I've got enough on my plate with the next two days and, as long as I stay in my own head space, all that stuff will take care of itself.''
Munoz had no complaints about losing the lead.
"I would like to be more in the lead,'' he said, "but I'm in a good position.  You learn, you stay in the moment, don't get ahead of yourself and just keep going on.''
That's all any player still alive in the tournament can do at this point.  Saturday is "Moving Day,'' and that's when lots of players will gun for List and Munoz in hopes of getting in position for a run at the title in Sunday's final round.
Among those poised to make such a move is Doug Ghim, the PGA Tour rookie from Arlington Heights.  He followed a first round 66 with a 67 on Friday and enters the final round in a .tie for 12th place, four shots behind List.
"I didn't get off to the best of starts,'' Ghim said of his Friday play.  "There's some scorable holes to begin the front nine, and one-over through three isn't really what you're looking for.  I lipped out twice in the first three holes. Hopefully I'll make a couple more putts tomorrow but – given the fact I didn't putt my best – I'm still here.''
So is three-time champion Steve Stricker, who made the tough decision to help the JDC celebrate its 50th anniversary rather than defend his title in the U.S. Senior Open. The U.S. Ryder Cup captain had a shaky first round, a 1-over-par 70, but improved to a 66 Friday.
That was good enough to survive the 36-hole cut, but more spectacular scoring will be needed on the weekend if the 54-year Stricker is to fulfil a dream of becoming the oldest winner of a PGA Tour event.  Sam Snead was 52 when he won the Greater Greensboro Open three years before Stricker was born.
"I've got to go out there and try to make birdies,'' said Stricker.  "I'm a long ways from the lead – seven back – so I've got to go out and make something happen.  I've got to shoot a real low one tomorrow or Sunday – or both.''
Defending champion Dylan Frittelli missed the cut, a fate that did in the last five JDC champions as well as Wheaton's Kevin Streelman. He'll still be on the flight to next week's British Open when it departs the Quad Cities on Sunday night.