The Masters tournament never lacks much. Even though it has the smallest and perhaps the weakest field of any of golf's four major championships, the annual visit to Georgia's Augusta National is arguably more popular with golf's fan base than the U.S. Open, British Open or PGA Championship.
However, this upcoming 81st playing of the Masters — which tees off on Thursday – is lacking on a few fronts.
For one, Arnold Palmer won't be there for the first time in 63 years. The King died in September, and he'll be missed.
Also missing – except for the preliminary events – is Tiger Woods. This is the 20th anniversary of his first professional victory. It provided the Masters with its best-ever turnout of television viewers – 44 million. Woods, still not healthy after three back surgeries, kept hopes alive for his participation while he promoted his new book on his 1997 triumph but last Friday he made his withdrawal official.
Jason Day, one of the game's brightest young stars, was on hand for Monday's first practice day but his head isn't fully into it. Worried about his mother's health, he walked off the course six holes into his first match at the World Golf Championship Match Play two weeks ago and didn't enter last week's Shell Houston Open. He didn't touch a club until last Friday, when he arrived in Augusta for early work on his game. His mother, battling cancer, had part of her left lung removed in surgery while Day was off the tournament trail.
The tournament won't have a local hope, either, but Thomas Pieters comes close. The NCAA champion for Illinois in 2012, Pieters is in the field for the first time off his No. 18 world ranking at the end of 2016 and last week he was given a Special Temporary Membership for the rest of the PGA Tour season after posting two top-five finishes in six starts on the circuit this year.
Good weather is also lacking. Monday's practice session was suspended by storms and the forecast is for much worse weather on Wednesday – when the popular Par-3 Contest and final practice rounds are scheduled.
One thing this 81st Masters does have is a clearcut favorite. World No. 1 Dustin Johnson has won this last three tournaments and arrived rested after his last-minute withdrawal at Houston. Johnson's recent hot streak assured him the favorite's designation even though Jordan Spieth's finishes in the last three Masters were 2-1-2.
"Dustin Johnson is the guy to beat in golf no matter where you are,'' insisted Spieth.
Rickie Fowler could also be a popular contender based on his two wins and eight top-10 finishes this season. He's been in the top-five at all four majors and this is his eighth Masters, so he knows the Augusta National layout which is known for having the fastest greens on the PGA Tour.
The field has only 94 players, all invitees by the host club, and it includes the top 62 in the Official World Golf Rankings. The usual belief is that only 12-15 have the skills to win but several players who haven't been in that category at the start of the week have gone on to win, most recently last year's champion Danny Willett.
In fact, this is the 30th anniversary of the most unlikely Masters upset. In 1987 two of the game's legendary stars — Greg Norman and Seve Ballesteros — went into a playoff for the title with Larry Mize, an Augusta native. Mize beat them both with a chip-in, earning a place forever on the tournament highlights reel.
A LOOK BACK AT LEXI
Reaction to the four-stroke penalty assessed on Lexi Thompson during Sunday's final round of the ANA Inspiration – the LPGA's first major championship of the season – has run the gamut from the many club professionals and players who have contacted me personally as well as the golf world nation-wide.
Here's my take on the strange ruling that led to South Korea's So Yeon Ryu beating out Thompson for the coveted title.
My first reaction was that Thompson had simply made a sloppy mark – but that's not to downplay the infraction. Though I'm sure Thompson made an honest mistake, the two strokes assessed for it were necessary. Players can improve their lie by moving their ball just an inch on the green to avoid ball marks and spike marks. Such a practice should be penalized, though I doubt it seldom is unless a playing partner speaks up. That rarely happens.
I have a problem with the assessment of the other two strokes Thompson was penalized, however. Her infraction came a day earlier, in the third round. She signed her scorecard without being informed of a possible infraction. A TV viewer called attention to the infraction too long after the fact.
The LPGA handled the Thompson issue better than the U.S. Golf Association handled a similar situation involving Dustin Johnson when he was en route to winning the U.S. Open last June. Johnson was told – in the middle of his round – that a penalty might be called on him for a possible infraction. To his credit he played well enough to win despite the distraction but – as Rickie Fowler noted at a Masters press conference on Monday — "We've seen stuff in the past year that's not making the game look good at all.''
Commonsense is lacking in some of the Rules of Golf, a problem that was addressed in proposed changes that could go into effect in 2019. Until then, here's what should be done immediately. Rules questions should be handled strictly by officials on site. TV viewers should play no part in it, and once a round is over the scores should stand. Honesty is an integral part of golf but changing scores after another round begins creates more problems than it's worth.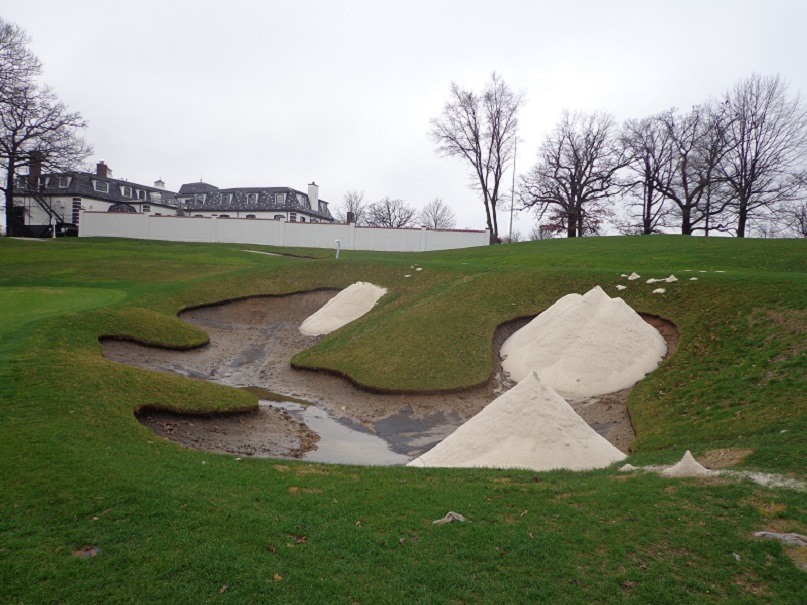 HERE AND THERE
The white ProAngle sand used in the bunkers at Augusta National will be in evidence at Cog Hill's Dubsdread course in Lemont when the former PGA Tour site for both the Western Open and BMW Championship opens on April 22. Owner Frank Jemsek said that 11 of the course's greenside bunkers were transitioned to grass bunkers and the others will get the new, eye-catching white sand before the course opens.
A major change in the head professional ranks has Frank Hohenadel moving from an assistant's job at Westmoreland, in Wilmette, to the head job at Mistwood, in Romeoville. Hohenadel, a long-hitting lefthanded golfer, made a big impact on the local scene when he snapped Mike Small's record eight-year run as champion of the Illinois PGA Championship in 2011 on Medinah's No. 1 course. Small rebounded, winning four more times in the last five years.
The PGA Tour has decided to give distance measuring devices a chance, but only in a few tournaments on its secondary circuits. One event where the devices will be allowed is the Web.com Tour's Rust-Oleum Championship coming to Ivanhoe June 5-11.