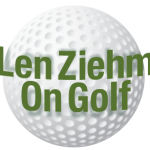 PALM HARBOR, FL. – The final round of the PGA Tour's four-week Florida Swing was an unusual one.  Taylor Moore won the Valspar Championship on Sunday, but Adam Schenk and Jordan Spieth – paired in the final group – created all the drama.
It was their shortcomings on the three tough finishing holes at the Copperhead Course – the stretch is called the Snake Pit – that allowed Moore to win and Schenk and Spieth to have animated talks with their caddies  at critical moments. They were evident as TV cameras zeroed in.
That wasn't unusual for three-time major champion Spieth, whose relationship with bag-toter Michael Greller has been well publicized, but Schenk has a special caddie, too.  David Cooke was a two-time Illinois Open champion, and Schenk regularly brought him into post-round discussions with the media during the tournament.
"David and I did about as good as we could have done with how I hit it (on Sunday),'' said Schenk, who finished one stroke behind Moore in second place and one ahead of Spieth.  "I told David I wasn't worried about the field.  I wasn't worried about Jordan.  I wanted to play my game. I wanted David and I just to do the best that we could do from what we did. We did that.''
Unfortunately for the Schenk-Cooke team, a bad drive on the last hole prevented both from claiming a first PGA Tour victory.
Schenk led the tournament most of the way and provided more subjects for conversation than just his caddie.  His wife Kourtney, expecting their first child in a month, made an overnight trip from Indiana the night before the final round in hopes of seeing Adam win. She walked the final 18 with Spieth's wife,  Annie, but neither could celebrate a win when the tournament was over.
Cooke, who grew up in Bolingbrook, and Schenk were golf teammates at Purdue when they were freshmen.  Then Cooke transferred to North Carolina State for his final three collegiate seasons and Schenk finished at Purdue.
While still an amateur Cooke won the 2015 Illinois Open by five shots after shooting a final round 63 at Royal Melbourne in Long Grove.  The win came just eight months after his brother and sometimes caddie Chad had died for a heart disorder playing a pickup basketball game.
Three years later, after turning pro, Cooke won the Illinois Open again – this time by four shots over current PGA Tour player Nick Hardy at The Glen Club in Glenview.
That win was special, too, as Cooke hurried from there to his wedding and then took his new bride, Clair, to Europe where he made a short – and unsuccessful – bid to earn a place on the pro tour there. It was during that year that he altered his career plans.
"I loved Europe but played terrible,'' Cooke said then.  "I love caddying and getting exposure to the PGA Tour.''
Only four players – Gary Pinns, Mike Small, Dick Hart and Marty Schiene – have won more Illinois Opens than Cooke, but he was on the bag of PGA Tour player Chesson Hadley when his title defense approached. Cooke opted for the steady job as a caddie and stuck with it.
His hookup with Schenk is a comfortable one.  Schenk grew up and still lives in Vincennes, Ind., and he remains a Hoosier at heart. His swing instructor is Anthony Bradley, at French Lick Resort, and he's represented another Indiana facility, Victoria National.
Though that first big win eluded him, Schenk – who played his 10th straight week of tournaments at the Valspar — wants Cooke by his side as their PGA Tour adventure continues.
"We have a lot of discussions.  I love working with David,'' said Schenk.  "We know our trouble areas, we know what we're good at, and we just try to play to our strengths.''
That philosophy is working.  Schenk has won $6 million since joining the PGA Tour in 2018.  This season he has made 12 of 17 cuts, including seven of his last eight starts.