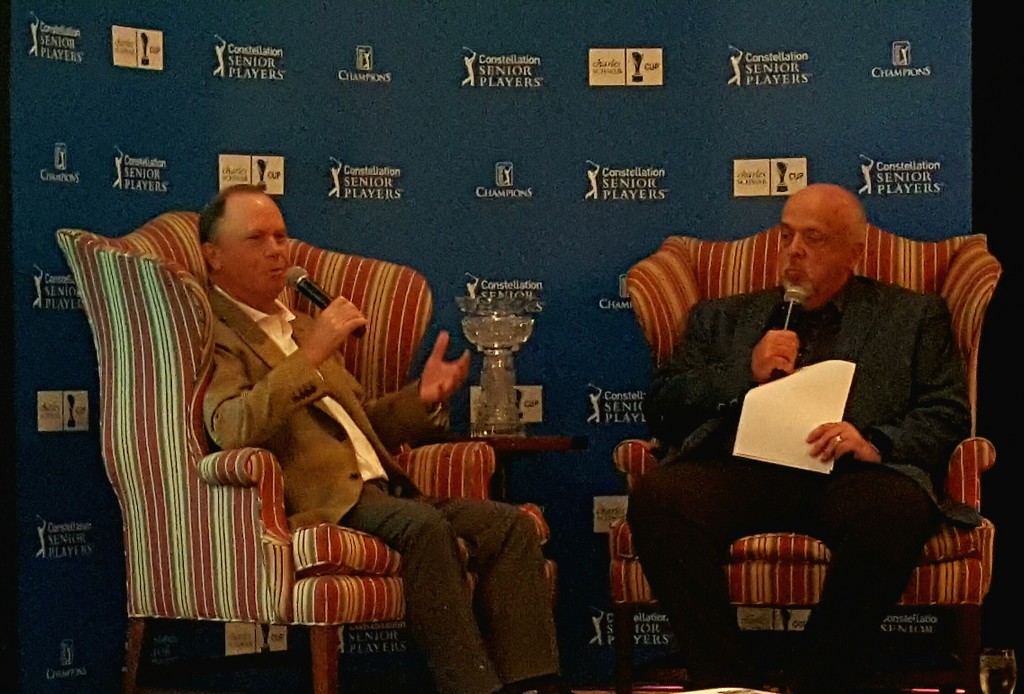 For at least two decades Jeff Sluman has been the Chicago area's premier player on the Champions Tour. He still is, but no longer can he be referred to as "Hinsdale's Jeff Sluman.''
Sluman revealed at the Western Golf Association's preview for the 2018 Constellation Senior Players Championship on Wednesday that he's no longer a suburbanite. He sold his mansion in Hinsdale. Sluman and wife Linda have moved into Chicago and are adjusting to being empty-nesters. Their only child, daughter Kathryn, has begun her freshman year at Florida State University, Jeff's alma mater.
"My wife and I get on a plane every two weeks or so to see her,'' said Sluman. "That's been difficult, but we're looking forward to a new chapter in our lives living downtown and seeing the city.''
Sluman has over $10 million in tournament winnings. Now 59, his biggest win came in the 1988 PGA Championship and he and remains a constant contender on what is now called the PGA Tour Champions. He tied for third in his last tournament and climbed from 21st to 15th in the circuit's Charles Schwab Cup standings.
While the PGA Tour season ended with the Ryder Cup two weeks ago and its 2016-17 campaign has already begun, the 50-and-over circuit is about to begin its first-ever season-ending playoff series – three events that conclude on Nov. 13 at the Charles Schwab Cup finals in Scottsdale, Ariz.
That's got Sluman's attention now, but he's looking forward to coming to Exmoor Country Club in Highland Park for one of the PGA Tour Champions' major events. Exmoor, which dates back to 1896, has a well-tested tournament course that was re-designed in 1914 by Donald Ross.
"I couldn't be happier that we're going to be playing here in two years,'' said Sluman during a fireside chat conducted by radio personality Steve Cochran for the benefit of Exmoor members and prospective tournament sponsors. "The course is absolutely magnificent. All our guys will love it.''
Sluman was also a spokesman for the players during the circuit's Encompass Championship during its three-year run at North Shore Country Club in Glenview. That tournament left town, and the PGA Tour Champions didn't play in the Chicago area this year won't in 2017, either.
The WGA will manage the Constellation Senior Players Championship in 2018, an addition to its usual duties of conducting the BMW Championship on the PGA Tour, the Western Amateur and Western Junior. The Western Amateur has been played at Exmoor three times, most recently in 2012.
Exmoor was one of 11 charter clubs when the WGA was founded in 1899 and – like Sluman's home club, Hinsdale Golf Club, — it has been a big supporter of the WGA's Evans Scholars Foundation. Hinsdale has sent 80 caddies to college since 1954. Exmoor has sponsored more the 60 Evans Scholars.
.