Mike Friedman's Tall Order socks have a link with baseball star Aaron Judge.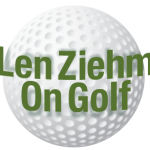 ORLANDO, FL. – With 400 companies and 800 brands participating the PGA Merchandise Show was in full swing for its 70th staging at the Orange County Convention Center.
Those weren't quite the numbers in pre-pandemic years, but they underscored a good recovery for the golf industry's biggest event and product innovation was at a particularly high level.
Here are three that particularly intrigued us.  All had creators with a story to tell, and all three involved brothers working together.
TALL ORDER SOCKS – Towering twin brothers Mike and Dan Friedman are New Yorkers who, inevitably, had to think big.  Mike is 6-11 and Dan 6-9.
"We were so big that we had trouble finding socks that would stay up,'' said Mike.  "I'd be wearing dress socks and walking to work in the snow, and my socks would fall down in my boots.''
In the fall of 2017 they addressed not only that problem but also did something they felt was overdue.
"We started our business in honor of our Dad (Andrew),'' said Mike.  "He was killed in the World Trade Center in 2001.  We wanted to do something that honored his legacy. We remember vividly giving out clean white socks to people who were rescue workers or first responders. At first we made our socks for just tall people.  Now we make them for everybody. Our motto now is `Made for all, not just tall.''
The socks have seamless toes, extra cushioning and arch support.  They range in price from $10-18 for dress socks, $25-30 for ankle socks and $30 for a three-pack.
"We wanted to provide people with as much comfort as possible,'' said Mike.  "Plus, we donate a portion of what we see to give back to various organizations – families of first responders and rescue personnel.  It's important for us to give back.''
The story doesn't end there, however.
In 2020 the Friedmans got a call from an equipment manager for the New York Yankees.
"He said Aaron (Judge) is upset with his socks,'' said Mike Friedman.  "They were too tight and not comfortable.  He asked if we could make him some socks, and we did. In Aaron's first game wearing his new socks he went three-for-5 with four RBIs including a moonshot home run, and he's worn them ever since.''
Judge, of course, has gone on to greater things with his home run-hitting prowess and that's not all.  He's also become an equity partner in Tall Order.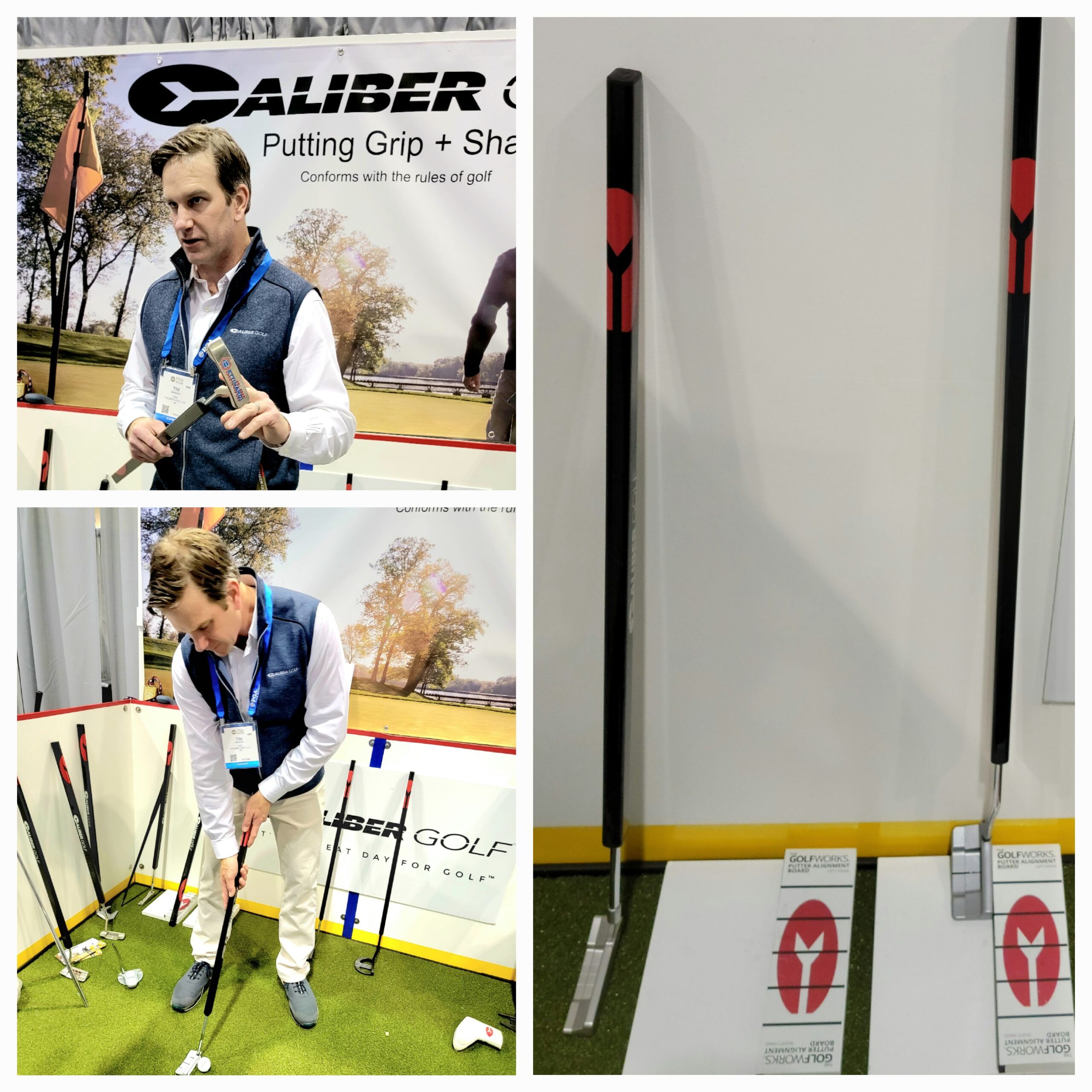 CALIBER GOLF –This company, based in Kenosha, WI., unveiled a putting grip and shaft with roots in a hockey stick.  Other would-be golf inventors have worked with hockey sticks over the years but with little success. Caliber's first version wasn't a success, either.
Tim Wright, like his brother Chip, is a hockey devotee, and they played on a championship team at the University of Wisconsin.  Tim started their creative effort in a one-car garage because he couldn't make a four-foot putt.
"As a hockey player I could rip a slapshot in the net over a goalie's shoulder from the blue line,'' he said.  But the seemingly easier four-foot putts rarely found the cup.
In desperation Wright cut one of his putters 7 ½ inches off the blade of the shaft.  Then he took a hockey stick, hollow inside, inserted the putter blade and taped it up.
"I wound up winning my flight in an event at the Kenosha Country Club,'' said Wright.  "The pro there allowed me to play with it but the members were disappointed because the putter was non-conforming.''
Wright went to the U.S. Golf Association for advice.
"I needed to get the hockey shaft to conform to the Rules of Golf, and I was told that, for 30 years, people have submitted the hockey shaft to try to get it to conform,'' said Wright,  "but a hockey shaft vs. a putter shaft doesn't deflect equally from all angles.  That's written in the rules and regulations.''
Wright beat that problem by inserting a tube into the hockey stick shaft, then  inserting the putter head into the tube and glued it in so the head wouldn't wobble.
"Then there was no vibration or movement (when putts were struck),'' he said. "It didn't matter what putter head wa suns used, and now it's patented.  A putter grip can be non-circular.  Every other club has to have a round grip.''
The Caliber Putting Grip & Shaft costs $199. The company can insert the putter head of choice but that task can also be performed by club professionals or players with some expertise in club construction.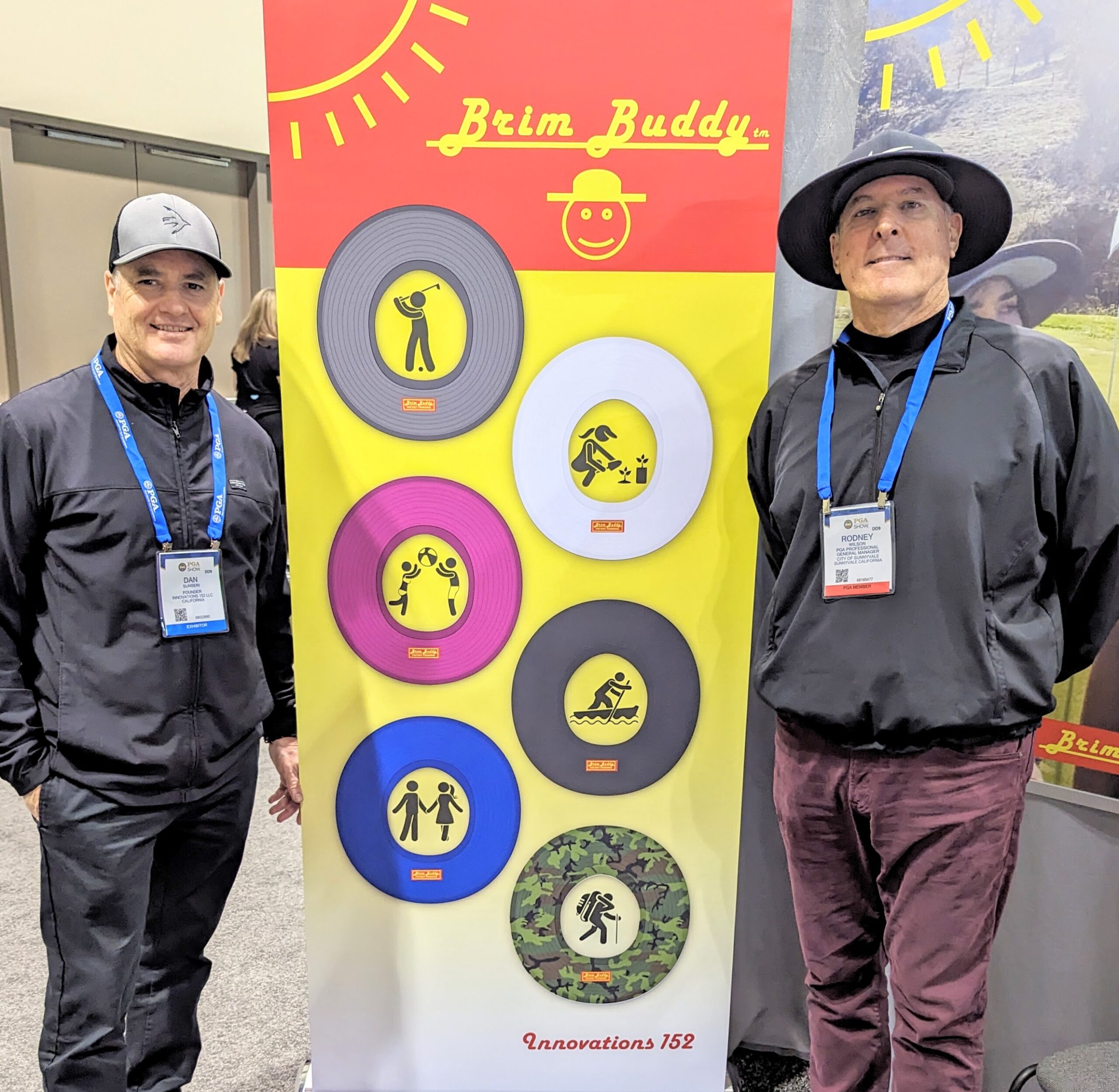 BRIM BUDDY – This is a hat attachment devised by another set of twins, Dan and Don Sunseri, who are from California's San Francisco Bay area.
"We had skin cancer and our doctor told us to wear a big hat,'' said Dan.  "We tried a million of them and don't like them.  We prefer baseball caps.''
Don was the brainchild for the Brim Buddy, a circular brim with a hole in the center.  It fits on top of a traditional golf cap, thereby adding protection from the sun. The Sunseris had the product in development for four years before unveiling it in Orlando.
"It's an easily affordable product that can always be in your golf bag and provides 360 sun protection,'' said Dan Sunserie. "We have two models – one for average light and a heavier one that will hold up in the wind. The whole idea is about sun protection, to get a product out to people who love the outdoors. The response from the show was fantastic.''
A local pro, Rodney Wilson, came on board after the Sunseris introduced the Brim Buddy.  Its priced at $17 wholesale and can be personalized with player, club, outing or company names inserted.