There wasn't much movement in Chicago's club professional ranks the past few years, but that's not the case now. Already five well-established head pros have announced plans to move on.
The move creating the most ripple effect was Mike Scully's departure from Medinah immediate after the Ryder Cup. He is now in charge at Desert Mountain, a Scottsdale, Ariz., resort that has five courses.
Scully was also the vice president of the Illinois PGA, so his leaving the area after nearly 10 years created some adjustment in the section's rotation of officers. Chris Gumbach became the IPGA's 25th president at the Fall Annual Meeting. Gumbach, a member of the board of directors from 2007-12, succeeds Casey Brozek, who will continue on the board as honorary president.
Gumbach, in his 18th year at River Forest Country Club, has been that club's head professional the past seven seasons.
Scully's position as vice president was taken over by Jim Opp, the head professional at Bonnie Dundee who has been on the IPGA board for eight years and was most recently chairman of the Education Committee. Mark Labiak, in his 15th season at Ruth Lake, is the new secretary and Hans Larson (Westmoreland), Jim Miller (Bloomington) and Mike Picciano (Bull Valley) have taken on three-year terms on the board of directors.
Other pros departing their jobs are Ron Romack, at Exmoor; Carmen Molinaro, at Buffalo Grove and Arboretum, Jim Arendt at Naperville and Michael Knights at Midlothian. Molinaro and Arendt announced their retirements.
Watson honored at WGA's Green Coat Gala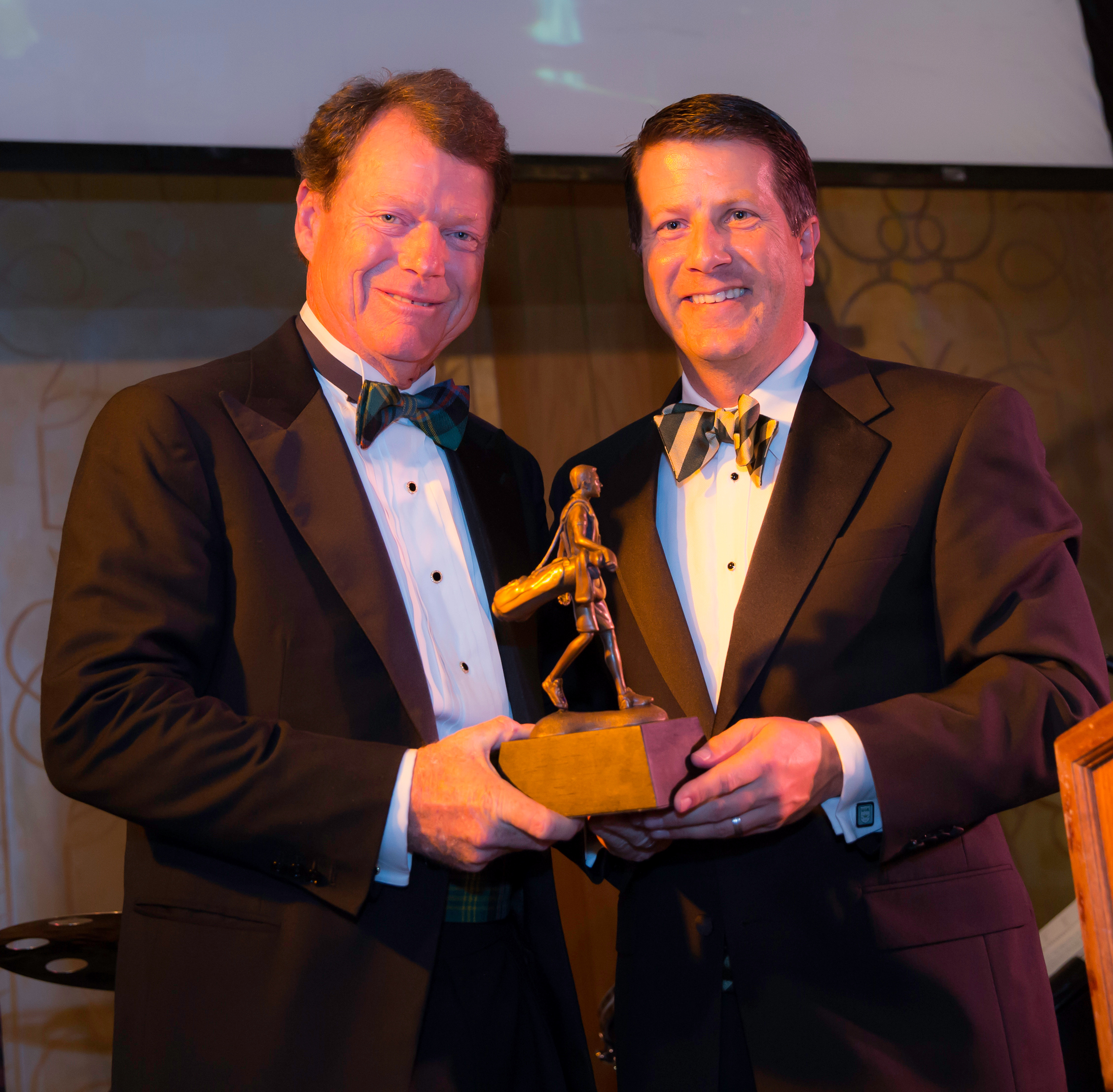 Tom Watson (left) is welcomed into the Western Golf Association's Caddie Hall of Fame by WGA executive director John Kaczkowski at the WGA's Green Coat Gala at Chicago's Peninsula Hotel. (Chuck Cherney Photo).
Northwestern lands big-time recruits
Northwestern coaches Pat Goss and Emily Fletcher have each signed high profile recruits to letters of intent for 2013.
Goss picked up Matt Fitzpatrick of Sheffield, England, the 2012 British Boys Amateur champion. Goss calls him "the most significant player we've signed since Luke Donald' and predicts Fitzgerald "will make an immediate impact on our program.''
Fletcher added Kacie Komoto to her women's team. Komoto, from Punahoe High School in Honolulu, Hawaii, is the reigning Antigua National High School champion. She was the Hawaii state champion in 2011.
CDGA revamps schedule, adds Super Seniors
The Chicago District Golf Assn. will had the first CDGA Super Seniors tourney to its schedule for 2013. The flighted one-day event for players 65 and over will be held Aug. 5 at Royal Hawk, in St. Charles.
Meanwhile, the CDGA's premier event – the 83rd Illinois State Amateur – will get a major date change. It'll be held July 16-18 at Aldeen, in Rockford, instead of taking its long-held spot on the calendar in the second week of August. The change will make the State Am a lead-in to the Illinois Open and Western Amateur and avoid a conflict with the U.S. Amateur, which received a date alteration from the U.S. Golf Assn.
Another significant change on the CDGA slate involves the 21st Illinois Mid-Amateur at Flossmoor. Usually held in May, the tourney will be conducted Aug. 27-28 in 2013.
Here and there
Jim Richerson, who heads Kohler Company's golf operations, is the new Region 6 director for the PGA of America. He succeeds Butler National's Bruce Patterson as the focal point for PGA activities in Illinois, Indiana and Wisconsin.
The Bolingbrook Sports Dome (formerly the Ditka Dome) now has its indoor golf operation in full swing. The facility was renovated by new owner Jim McWethy, owner of the Mistwood course in Romeoville, during the summer.
Two of Wisconsin's top courses — Meadow Valleys course at Blackwolf Run and the Irish course at Whistling Straits – will offer reduced rates until their closing on Nov. 25.
LedgeStone, one of Missouri's best public facilities in Branson, will hold a toy drive through Dec. 22. Players will get a free round (with a $22 cart fee) if they donate a toy during play Monday-Thursday.
Did you know?
The George S. May Insurance building, somewhat of a Chicago golf landmark, is now more. Located at Touhy and Washington in Park Ridge, it was recently taken down to make room for a Whole Foods store. May was a pioneer tournament promoter who put on big-money, high-profile tournaments at Tam O'Shanter in the 1940s and 1950s. Tam, long since reduced to nine holes, is located in Niles and is about two miles from where the May headquarters was located.