ORLANDO, FL. — Chicago-based Wilson Sporting Good celebrated in 100th anniversary in 2014 and more good things could be coming down the road.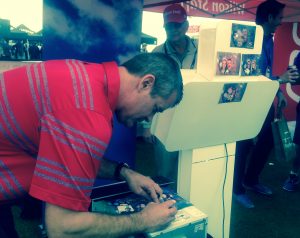 Wilson certainly has had the most entertaining TV ad campaign in golf the last few years. The latest version of the "Seriously!'' ads, featuring Guy Johnson, made its debut on Golf Channel during the 62nd PGA Merchandise Show at Orange County Convention Center.
"It was shot in Arizona about four months ago,'' said Tim Clarke, president of Wilson's golf division. "It's funny, our best one yet. Guy does a wonderful job articulating our brand. These ads have taken a life of their own.''
Johnson has been featured in the campaign for four years. Clarke gave a sneak preview of the latest creation.
"This commercial is about Guy Johnson imposters,'' said Clarke. "The reality is, there's only one Guy Johnson just like there's only one Duo golf ball – the original low compression ball.''
Johnson was the focal point of Wilson's section at the Demo Day, posing for pictures and signing autographs for visitors. Clarke wasn't surprised by Johnson's popularity.
"We had an LPGA player with him at the first PGA Show that we brought him to,'' said Clarke, "and Guy had a bigger line for autographs. That shows the power of TV.''
The Demo Day had 100 participating companies, more than 300 hitting bays and four practice greens. An estimated 6,000 attendees made the trek to the 42-acre circular range at Orange County National Golf Center and Lodge and more than 150,000 shots were taken during the day designed for testing new equipment.
Masters champion Bubba Watson had a crowd five-deep watching his ball-striking demonstration that kicked off the Demo Day. Wilson doesn't have a player of his caliber in its growing stable of touring pros, but the company has re-signed Kevin Streelman to a multi-year contract and has added up-and-coming PGA players Troy Merritt and Brendan Steele to its other stars – European-based Padraig Harrington and Marcel Siem, Illinois coach Mike Small and PGA journeyman Ricky Barnes.
"Our first century had an exciting finish, with Streelman setting a birdie win (seven straight to close out his victory at Hartford), Siem winning in Europe and Padraig in Asia,'' said Clarke. "But 2015 will be our best yet. Our product line is as good as we've ever had.''