PGA Tour players see a lot of golf courses and, somewhat amazingly, they remember – at least in general terms – what most of them look like.
That wasn't quite the case when the top 70 players in the FedEx Cup Playoffs gathered at Conway Farms in Lake Forest in September for the BMW Championship. Conway Farms was the site of the tournament just two years before, but even a star the magnitude of Rory McIlroy had to admit "it's much different than how I remembered it.''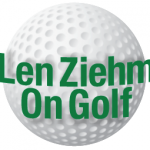 Conway's membership closed the course in mid-April of 2014 and closed its practice range three months later. Both re-opened in late May of this year, and the BMW Championship was somewhat of a coming-out party for the club to show what had been done since it had last been opened to the public in 2013.
There was some work done on the course, and the pro shop and caddie house also were upgraded. What made the place look so much different, though, was what was done on the practice facilities. Players noticed it right away and spectators who had attended in 2013 were stunned immediately upon entering the gates.
"It's a beautiful place,'' said Jordan Spieth. "We like coming here. It's top-notch.''
Phil Mickelson called the setup "wonderful.'' Zac Blair, one of the youngest qualifiers for the tournament, was even more descriptive.
"It has the best short-game place I've ever seen,'' said Blair. "No wonder Luke Donald is the best short game player in the world.''
Donald, who didn't qualify for this year's BMW Championship, is a former world No. 1 as well as a Conway member. He gave considerable input to director of golf Jeff Mory and architect Dennis Wise during the building process.
"Luke had a lot to do with it,'' said Mory. "He was super-interested in the driving range but intimately interested in what the short game area should be.''
"Luke has a very keen eye,'' added Wise, who was the on-course architect for designer Tom Fazio when the private facility was built in time for a 1991 opening. "He's a tremendous artist. He can see it in the dirt. He had some great impact.''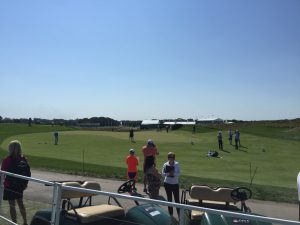 Conway, which will also host the BMW Championship in 2017, was in need of some upgrades after the 2013 tournament. The course was re-grassed and cart paths were expanded on the walking-only course just to facilitate spectator traffic during the tournament. Spectator viewing was also improved, and Wise added new tees on nine holes, tweaked some bunkers and made some strategic changes to the short par-4 15th hole.
More eye-catching, though, was what he did to the practice facilities. The practice tee was enlarged by almost 50 percent, from 40,000 square feet to 75,000. That enlargement necessitated the building of a new putting green, one that was also notably bigger than the old one.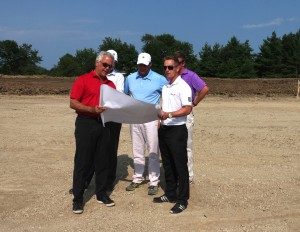 "We wanted one with enough size for an event like (the BMW Championship),'' said Mory. "We went from 6,500 square feet to one that's over 10,000. Now we have a very large putting green.''
The larger range also necessitated the building of a new short game area. It was also enlarged by a lot, to include two bent practice greens that total 15,000 square feet plus another half acre of practice area space.
Mory said that disclosing cost figures "wasn't appropriate'' but admitted the project was "expensive'' and that the practice range work was "the most substantial cost we incurred'' on projects directly involving golfers.
Also benefitting was the Western Golf Assn., which stages the BMW Championship as a fundraiser for its Evans Scholars Foundation. The organization now has a more attractive venue for the biggest of the four tournaments it conducts annually.
"The driving range was expansive, and it allowed for a whole new entry process,'' said Mory. "For people coming in for the tournament, they would have this mind-blowing experience.''
Mory stressed, though, that the expanded practice facility wasn't created to please the touring pros.
"Not at all,'' he said. "Certainly having events (like the BMW Championship) is now part of our culture and we want to make all decisions for all the things that we are. But our primary goal was for Joe Club Member.''
Conway has some serious players in its membership. At any one time it'll have between 150 and 175 with single digit handicap indexes — one of the very highest percentage of members in the sprawling Chicago District Golf Assn.
"These guys and gals are passionate, and we have others who want to get better,'' said Mory. "While the project was expensive, it was valuable for the day-to-day enjoyment for what our members are. So many clubs in Chicago don't have the land or the opportunity to do what we did. This was a reinvestment in things that are great for our club.''
Again, the money wasn't spent to make things better for an occasional big tournament. Conway had its share of those even before it landed the BMW Championship. Its 209 acres was the site of a flood of major amateur competitions from 1998 through 2012, the biggest being the 1997 men's NCAA Division I Championship, the 2009 Western Amateur and the 2012 U.S. Mid-Amateur. Getting a PGA Tour event, though, required more from the club than those events did.
"We didn't expand the range just so Dustin Johnson could hit drivers,'' said Mory. "We'll start a week at 325 yards to our 10-foot high fence at the back of our range, but we can go back to 340 or 350. Most courses that don't host tour events don't have that kind of space. For our members now we can move the practice area around and they'll always have good grass to hit off of.''
Wise, based in Scottsdale, Ariz., worked for the late Larry Packard in the Chicago area from 1979 to1985 before joining Fazio. He started his own business, Dennis Wise Golf Course Design, in 2012.
In his just-completed project he had to accommodate the needs of members, tour players and the Conway teaching staff – one that features Mory and included the renowned Dr. Jim Suttie during the last summer months – and still develop a facility that was aesthetically pleasing. He apparently succeeded on all counts.
"It looks like the rest of the place. It doesn't feel like an add-on. It looks like it should be here. It feels right,'' said Mory.
"I'm a teacher,'' he said, "so from our standpoint this is an amazing laboratory, an incredible place to teach, practice and work.''
"In those three acres we didn't leave anything on the table, and the players echoed that,'' said Wise, after spending a week around the club while the PGA Tour stars were in town. "The tour players loved it, and the members absolutely loved it.''