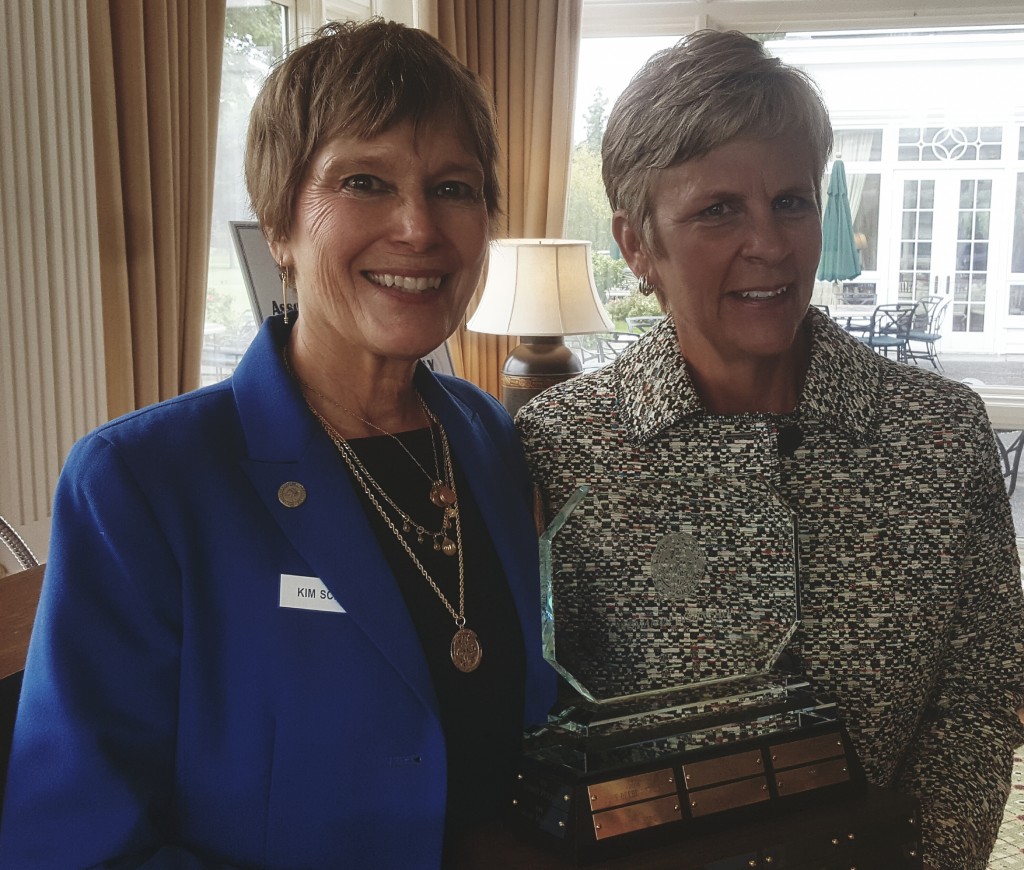 Emily Fletcher may not have been the best known of the 22 winners of the Women's Western Golf Association's Woman of Distinction Award, but she certainly was a popular choice at the group's annual meeting and luncheon on Thursday at Indian Hill Club in Winnetka.
Fletcher received two standing ovations while accepting an award that was first presented to Patty Berg in 1994. Some of the other winners included legendary players Louise Suggs, Nancy Lopez, Kathy Whitworth, Betty Jameson and Mickey Wright.
WWGA president Kim Schriver presented the award to Fletcher, marking a new era for the winner's list. Her career in golf isn't like any of the others. Fletcher was a 30-year assistant professional at the Glen View Club who then built the Northwestern women's program into a powerhouse after taking on a new professional challenge in 2008.
Fletcher was a college player who was one of the first to go through the pioneer golf management program at Ferris State University in Michigan. She thanked Ed Oldfield Sr., the long-time head professional at Glen View, for her entry into the club professional ranks and Pat Goss, director of golf at Northwestern, for convincing her to give college coaching a try.
Along the way Fletcher served for nine years as the swing coach and sometimes caddie for Jenny Lidback, a touring pro who notched 20 top-10 finishes on the Ladies PGA Tour and won a major title – the 1995 duMaurier Classic. Fletcher also beat breast cancer, a disease which had taken the life of her mother, while coaching at Northwestern.
Oldfield, who now lives in Arizona; Goss and Lidback all were on hand at Indian Hill for Fletcher's awards presentation that concluded with her choking up after her second standing ovation.
On the coaching end her Lady Wildcats have won three of the last four Big Ten Conference titles and she was the league's coach-of-the-year four times in the last six years.
Given the rich history of the WWGA, receiving the organization's top award is a lifetime achievement that's hard to match. The WWGA was founded in 1901 and will conduct its 117th Women's Western Amateur at River Forest Country Club in 2017. That's another big reason why the Chicago area can look ahead to its most exciting season of tournament play next year. The Women's Western Amateur has been played at Chicago courses 44 times, but not since 2001 when Exmoor, in Highland Park, hosted.
Dubuque Golf & Country Club, in Iowa, will host the 90th Western Junior tournament next year. The WWGA also conducted one of the LPGA's majors – the Women's Western Open, from 1930 through 1967 – and the Women's Western Senior from 1979 through 2007.