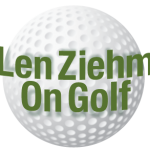 Who is the smallest player to compete successfully on the PGA Tour?
My guess is that it was Bob Toski. He stood 5-foot-7 and his fighting weight in his playing days was just 118 pounds. There may have been shorter players, but none lighter.
Now 90, Toski's stature in golf is that of a giant. As a player he won five times on the PGA Tour and six more times in other notable tournaments. In 1954 he was – at least arguably – the best player in the game. He won four times that year, including the World Championship of Golf at Chicago's Tam O'Shanter club. The $50,000 he won for that victory helped him become the year's leading money-winner with $65,820 – and that enabled him to erase a record that had been set by Byron Nelson in his epic 1945 campaign when Nelson won 18 tournaments including 11 in a row.
Toski didn't stop after reaching the top as a player. He turned to teaching, and was – again arguably, I guess – even better at that than he was as a player. He was also among the first pro golfers to make custom clubs. Toski is in both the World Golf Teachers Hall of Fame and the PGA Golf Professionals Hall of Fame.
All these accomplishments are crystallized in "The Elegant Mouse: The Bob Toski Story,'' by former Palm Beach Post sports writer Brian Biggane. If ever there was a golfer without a victory in one of the major championships on his resume who deserved a book, it's Toski.


Biggane and Toski worked on the book together and no less a golfing icon than Jack Nicklaus wrote the Foreward. Nicklaus called the account "truly an inspiring story'' and I would be the first to second that.
Much to Biggane's credit, he didn't just let Toski tell his story. He dug deeply into the research end and interviewed extensively. Not only that, but he touched on a few topics that might have been on the sensitive side for Toski – notably a snub from the PGA of America in leaving him off the 1955 Ryder Cup team and a dispute with PGA Tour commissioner Deane Beman following a Senior Tour event in Japan in 1986.
Sam Snead respectfully dubbed Toski "the Mouse,'' believing that the diminutive Toski's competitive spirit and ability to drive the ball long distances created a likeness with the Mighty Mouse cartoon character of the 1950s.
"The Elegant Mouse'' is enhanced by a wide variety of photographs, some dating back to the days when Toski was growing up as Bobby Algustoski, one of nine children in a Polish family from Haydenville, Mass. Toski's rise to the heights he reached in golf is truly a story worth telling. The book initially may be hard to find in book stores, but it's available through www.bobtoskibooks.com.
NEXT UP of the new golf books worth reading is "Gary Player's Black Book,'' which will be released on April 4 by Skyhorse Publishing. Lee Trevino wrote the forward for this golfer's guide. It's presented in the form of 60 questions with detailed responses from Player on his life, golf and business.
ALSO not to be missed is "Tommy's Honour,'' a movie that will hit the U.S. theaters on April 14. It's an historical drama on the lives of legendary Scottish professionals Old Tom Morris and his son, Young Tom Morris. The movie was based on a book that I found an excellent read and the movie, which had its grand opening in June in Scotland, has already been named Best Feature Film at last year's British Academy Scotland Awards.