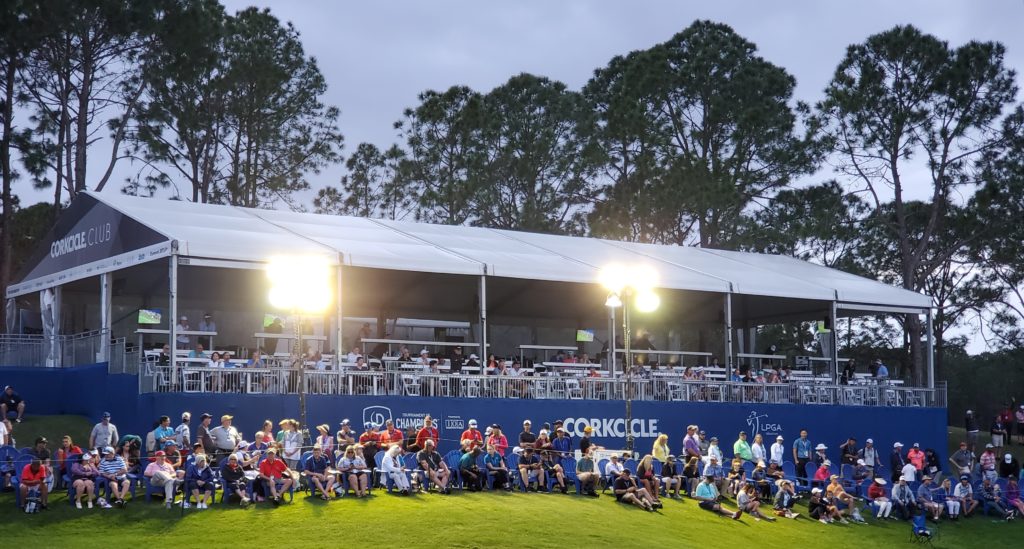 LAKE BUENA VISTA, FL. — Already the youngest player to earn her place in the LPGA Tour Hall of Fame, Korea's Inbee Park – now 31 — hasn't been anxious to get her seasons started. That changed this year, and for a good reason.
"I always started a little bit late, probably the end of February or early March,'' said Park. "I'm starting early because it's an important year, with the Olympics in the summer. There's a lot of tournaments before the Olympics, and I just wanted to play courses I haven't played before.''
The Tranquilo Golf Club at Four Seasons Golf & Sports Club was the first, and Park played it well – except for one hole in Sunday's playoff for the title in the Diamond Resorts Tournament of Champions. That's the first event on the LPGA's schedule.
Park, who has 19 PGA Tour victories, was in position for No. 20 to start 2020. She took a two-stroke lead into the final round, lost it briefly but wound up in a playoff with Japan's Nasa Hataoka and Mexico's Gaby Lopez. Only the 211-yard par-3 eighteenth was used in the playoff.
On the third time around Park put her tee shot in the water, and her tournament was over. Hataoka and Lopez struggled through two more playoff holes before darkness halted play at 6:04 a.m. The playoff will resume at 8 a.m. on Monday.
"It's a different experience,'' said Lopez, "but I'm just happy to be able to have a chance for tomorrow.''
She made it pay off, winning the title with a birdie putt on the seventh extra hole.
Hataoka, whose country will host the 2020 Olympics, had no problem with the stoppage in play on Sunday. "It was really tough to read the greens,'' she said.
For Park is was a tough loss, but she wasn't deflated.
"I played good golf this week, just not great today,'' said Park. "I feel a lot of confidence after playing this week.''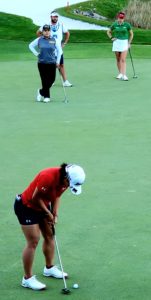 Park won the gold medal in 2016 in Brazil, when the sport returned to the Olympic Games. The other medalists – Lydia Ko of New Zealand and Shanshan Feng of China – bypassed the Tournament of Champions, an event that also included a celebrity division.
John Smoltz, one of the legendary pitchers in baseball history, defended his celebrity title without much of a problem, but the LPGA players were a much more competitive bunch. Park, Lopez and Hataoka were 13-under-par for the regulation 72 holes. Korean Mi Jung Hur charged in with an 8-under-par 63 and finished one stroke out of the playoffs, in a tie for fourth with Canadian Brooke Henderson. America's best, Annie Park, finished with a 64 and wound up solo sixth.
Though Park was a five-shot winner in Brazil four years ago there's no guarantee she will mount a title defense. She has to make the Korean team first, and last year she didn't even win a tournament. Her Korean rivals, though, won 15 times in 2019. The U.S. was second in wins last year with just six.
"The U.S. men's team is pretty tough but, in women's golf, Korea has to be definitely the toughest team to make,'' said Park. Sei Young Kim, paired with Park in the last group on Sunday, tied for seventh with American Lexi Thompson. Kim gave Korea three players in the top eight on Sunday.
Only four players per country can compete in the Olympics, which run July 24-Aug. 9 in Tokyo. The golf will be played at Kasumigaseki Country Club, which has hosted the Japan Open four times and most recently was the site of the Asian Amateur in 2010.
Only 26 LPGA players competed in the Diamond Resorts Tournament of Champions. The first full field event starts Thursday in Boca Raton, FL. It's new $2 million event, called the Gainbridge LPGA at Boca Rio.