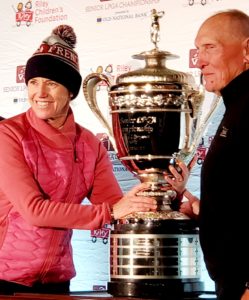 FRENCH LICK, Indiana – Winning a Grand Slam in senior women's golf isn't unusual. You just need to win two tournaments to do it.
England's Laura Davies did it in 2018 and Sweden's Helen Alfredsson accomplished the feat on Wednesday when she captured the Senior LPGA Championship on the Pete Dye Course at French Lick Resort.
Alfredsson won the first leg of the slam when she captured the U.S. Senior Women's Open at Pine Needles, in North Carolina, in May. She was a three-stroke winner in the Senior LPGA on Wednesday in golf's last major championship of 2019 on any of the pro tours.
"It was a great feeling to win the U.S. Open and get a USGA trophy,'' she said, "but I was most pleased with being able to do it in the and,, and being the strongest then.''
Alfredsson's win at French Lick came on a frigid day when temperatures dropped 20 degrees over night and winds picked up. She was the only player to finish under par, completing the 54-hole test at 2-under 214. Juli Inkster was three strokes behind in what was basically a two-player duel throughout the final round.
Inkster started the final round with a two-stroke lead and struggled with a 76. Alfredsson posted a 70 and captured a $100,000 first prize from a $650,000 purse. Davies tied for 19th in her title defense and Nicole Jeray, a teaching pro at Mistwood in Romeoville and the only Chicago player in the field, tied for 36th among the 49 finalists.
There were some other notable developments. Dave Harner, the director of golf at French Lick Resort, confirmed that the tournament won't be played on its unusual fall dates in 2020 – and won't have live television coverage because of it. It'll move to late July instead, meaning both of the senior majors will be played just a month apart.
The Golf Channel gave the inaugural Senior LPGA live TV coverage with its first staging in 2017, but there was a stipulation that the event be played on weekday dates in October. Bad weather and financial considerations led to French Lick opting to move the event to the summer months.
In another notable development Lee Ann Walker was assessed what might be the biggest penalty in golf history. Walker was assessed a 58-stroke penalty because her caddie had been lining up her putts and Walker didn't step away before making her stroke. She learned of her infraction 23 holes into the tournament and wound up being given a score of 127 for the first round and 90 for the second.
Next year's fourth playing of the Senior LPGA will be July 27 to Aug. 1. Instead of the Monday through Wednesday scheduling of the last three years the 54-hole event will run Thursday through Saturday after a practice round and two pro-ams kick off the festivities.