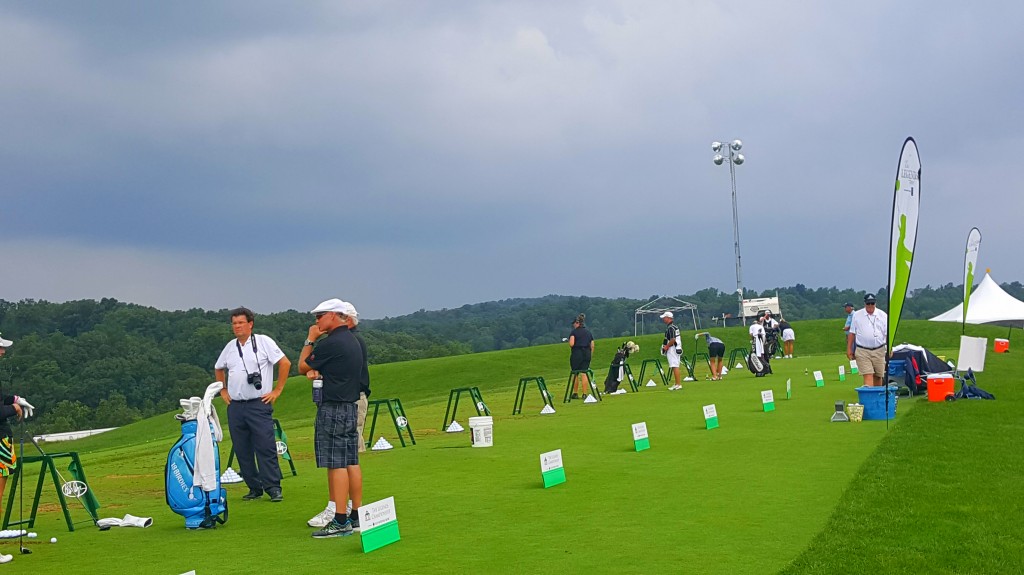 FRENCH LICK, Ind. – Becky Iverson started fast, Juli Inkster finished strong and Trish Johnson's consistency was critical. In the end they shared the lead after Saturday's first round of The Legends Championship on the Pete Dye Course at French Lick Resort.
Rounds started off both the Nos. 1 and 10 tees after afternoon rains entered the weather forecast and the last players putted out before the weather turned bad.
"We got incredibly lucky,'' said Johnson, last year's runner-up to Inkster in this, the major tournament of the season on The Legends Tour. "I thought we were going to get annihilated when we started hearing the storm on the 12th tee. Then it stopped. We got away with murder.''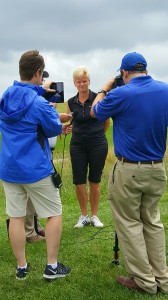 All the 58 players in the field were happy to get the round in, and plans for Sunday's final 18 call for all to start off No. 1.
Iverson was at the top of the leaderboard most of the day after making three birdies in the first four holes. All came off solid iron shots that left her short birdie puts and she eventually got to 5-under for the round before struggling in with a 4-under 68.
"I was pretty tired,'' said Iverson. "Golf should be 14 holes. It would have been great if we had quit after 14.''
Iverson, who works as director of golf at The Bridges course in Madison, Wis., was the only one of the leaders to begin play at No. 10 and her highlight came on a 40-foot birdie putt at No. 13. She showed signs of stumbling after a bogey at No. 7 – her 16th hole of the day – and she needed to sink 10-footers to save pars on her last two holes.
Inkster, beginning defense of her title, threatened to fall off the pace when she lost a ball on the par-5 fourteenth hole.
"But I made a good bogey there, and that was key. It kept my round together,'' said Inkster, who bounced back with an 18-foot birdie putt on the next hole and then posted her 68 – good for a share of the lead — with a four-foot birdie on a left-to-right breaker at No. 18.
For Johnson, winner of the Scottish Open just two years ago, the key was steady play. Her four birdies came from six feet or less.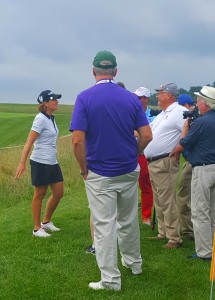 "It's an incredibly difficult golf course but, like anything, if it suits your eye you seem to play well,'' said Johnson. "Who knows why?''
Johnson was the first-round leader last year but Inkster, then making her debut on the circuit for players who have reached their 45th birthday, made birdies on Nos. 13, 15, 17 and 18 in the final round to beat Johnson by two strokes.
In today's final round they'll also have to battle with perennial contender Rosie Jones and Michele Redman, the University of Minnesota women's coach. They're just one shot back and Wendy Doolan and Patty Sheehan trail the leaders by two.
A repeat also looms in the seven-player Honors Division, whose players who have reached their 63rd birthday. Jan Stephenson has ruled the Honors category at the last three Legends tournaments offering that competitive category. The string started last year at French Lick.
Stephenson, who shot 74 for a three-stroke lead over Shelley Hamlin, wasn't happy with her putting. She had three three-putts.
"But this golf course does fit me,'' she said. "I love the trophy. I love winning playing against the girls I grew up playing with I've got no shot against the others, but I know I can shoot low out here.''