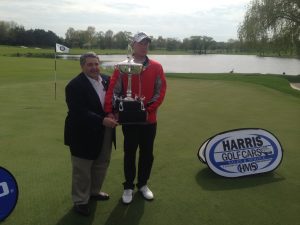 Jim Billiter, a 10-year assistant pro at the Merit Club in Libertyville, won the 64th Illinois PGA Match Play Championship on Monday, climaxing a week in which nothing went as expected at Kemper Lakes in Long Grove.
The first major tournament of the Chicago season figured to be another duel between Curtis Malm, the head pro at White Eagle in Naperville who was bidding for his fourth straight title, and Medinah teaching pro Travis Johns, last year's IPGA Player of the Year. Both were eliminated on Wednesday, when Billiter beat Johns and Malm was ousted by Scott Baines, an assistant at Chicago's Bryn Mawr club.
In fact, none of the top seven seeded players qualified for Thursday's morning semifinals in which Billiter beat Simon Allan, head pro at Prestwick in Frankfort, and Brian Brodell, new teaching pro at Mistwood in Romeoville, survived a 19-hole match with Kyle Bauer, head pro at Glen View Club.
The Billiter-Brodell final also had a surprise ending on the winner's 29th birthday. The end came on the third hole of a sudden death playoff that began when Billiter put his 8-iron tee shot in the water on a 171-yard par-3.
That put Brodell in a good spot to close out the match, but he couldn't do it. His 7-iron tee shot bounded over the green and into thick rough.
"When I shanked it in the water I thought it was over,'' admitted Billiter, "but then when I saw him hit it long I knew I still had a chance because he had a real delicate shot.''
Billiter put a 90-yard shot from the drop area to six feet of the cup, then watched Brodell chunk his first chip shot and run his second four feet past the cup. Billiter holed his put for bogey, and that was good enough to win the match after Brodell missed.
"A sad way to end it,'' said Brodell, who came to Mistwood last September to work with the club's junior programs after serving as assistant coach for both the men's and women's teams at Purdue University. "I hit the same club on that hole as I did in the morning match, the wind was the same and I expected a two-putt uphill and the match was mine. Then all of a sudden my shot flew long and I had one bad chip.''
Billiter won the Illinois PGA Assistants Match Play Championship last year, which had been his biggest win prior to Thursday. He won the first two holes against Brodell but lost the lead six holes later and needed to sink an eight-foot birdie putt on the last hole of regulation to force the playoff.