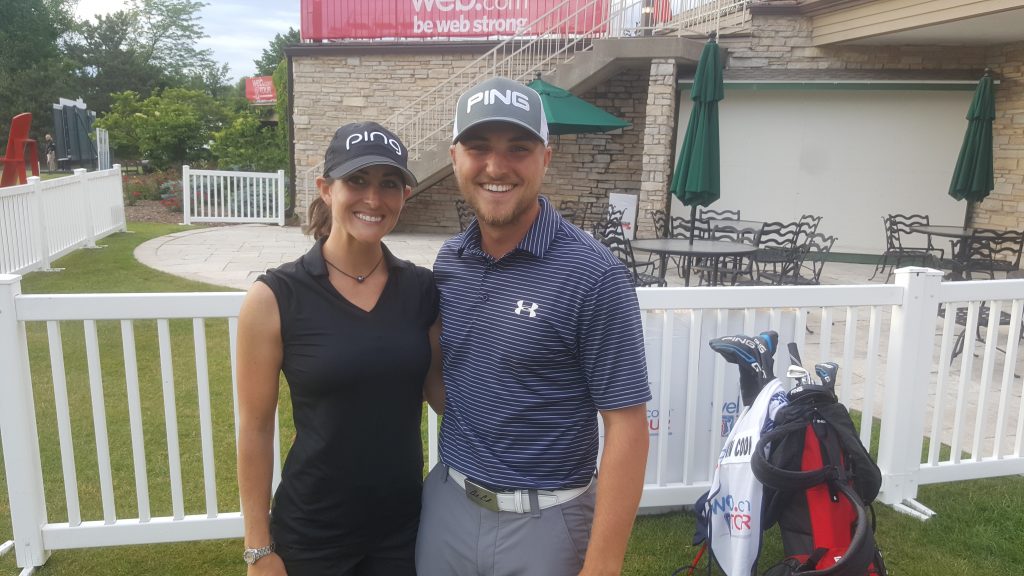 Austin Cook may have come the farthest in the shortest amount of time to play in the Rust-Oleum Championship, but it paid off in Thursday's first round.
Cook completed in the Web.com Tour's stop in the Dominican Republic on Sunday. Then came a three-plus hour flight to Memphis with a longer-than-expected layover in Atlanta. Then Cook and wife Chris took to driving, first to their home in Jonesboro, Ark., and on to Ivanhoe Club.
Chris shared the driving and then was Cook's caddie on Thursday when he shot a 7-under-par 65 to claim the lead in the $600,000 tournament that ends on Sunday. It was only the second time they've had the player-caddie relationship going but it won't be the last.
"In two rounds with her I'm 11-under-par,'' said Cook, who called on Chris for the first time at Dallas last year when his regular caddie overslept.
The Cooks arrived in time to participate in the Chicago District Golf Association's Play with the Pro Day at Hawthorn Woods on Wednesday and Austin had his only tuneup at Ivanhoe in Wednesday's pro-am. That didn't hold him back in Thursday's first round, however.
He made a big climb up the leaderboard with an 18-foot eagle putt at No 15 and claimed solo possession of the lead with a 15-foot birdie putt on the finishing hole. That putt left Sebastian Munoz, in the first group to tee off, and late starter Josh Teater relegated to second-place status. Both shot 66s.
Munoz' early start meant he didn't experience much of the rain that hampered play most of the day. It didn't fall on Munoz until after he'd played 11 holes. The wind picked up at that time as well, making scoring conditions difficult for the rest of the field.
"You've got to take advantage of that, plus the greens were pure and putter great,'' said Munoz. He withstood a challenge from Daniel Mazziotta who was 8-under through 17 holes before making a quadruple bogey nine on his last hole.
Teater, who had missed nine cuts in his previous 10 tournaments, joined Munoz at the top of the leaderboard later in the day and they stayed there until Cook's strong finish.
Cook had six top-25 finishes in seven starts on the PGA Tour last year but his play tailed off in the playoffs and at the fall qualifying school.
"I definitely felt a lot of pressure,'' he admitted, "and I let it get to my head. At the beginning of this year I'd get mad. I've been working on not doing that.''
Munoz was playing great early in the season when Cook was struggling. Munoz became the first player from Colombia ever to win on the Web.com circuit in February after getting into a tournament in his hometown of Bogota on a sponsor's exemption. That accomplishment gave him his playing privileges and he's now in the top 25 on the money list. If he stays there he'll advance to the PGA Tour next season.
Strong finishes in the next four tournaments could also give Munoz, a former North Texas State golfer, a spot for Colomia in the Olympic games in Brazil in August.
"My first goal is to finish as high as I can in the money order to get into the top 25,'' he said, "but I really want to go to the Olympics. That would mean a lot. This week could be very big for me. I'm trying not to think about it. I just want to play my best.''
Shot of the day on Thursday was a hole-in-one by Bryan Bigley at No. 17, a hole that was playing at 207 yards.