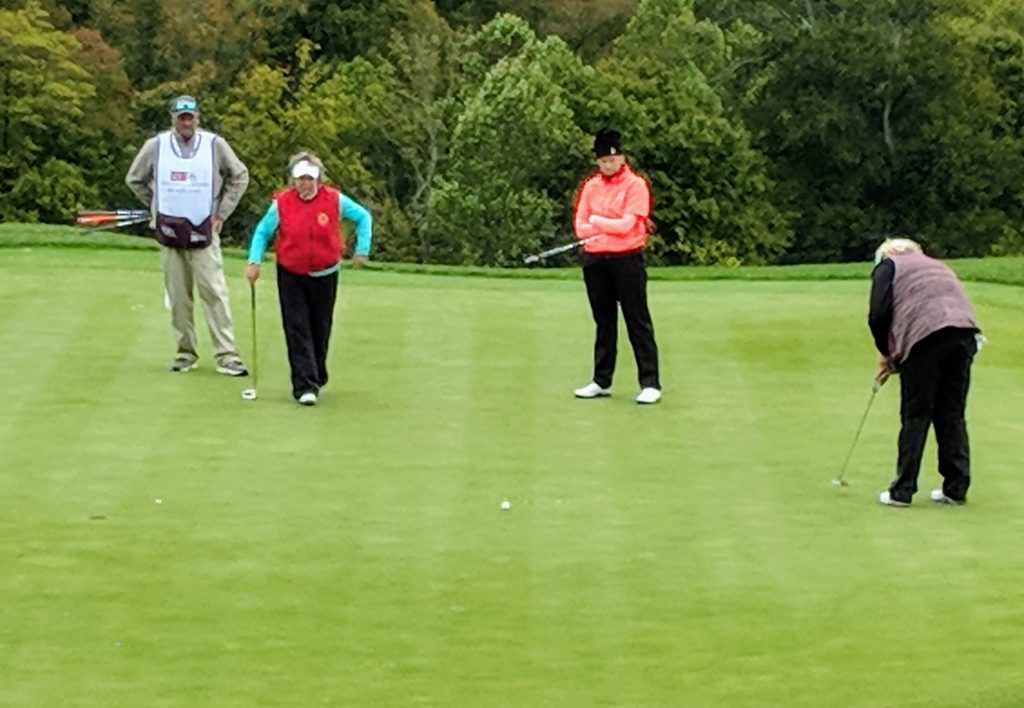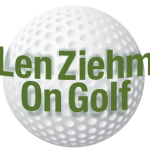 FRENCH LICK, Indiana – Laura Davies and Juli Inkster finished one-two in the inaugural U.S. Senior Women's Open at Chicago Golf Club in July, and the possibility loomed for a similar result after a weird finish to Monday's first round of the Senior LPGA Championship here.
Temperatures in the 40-degree range and winds of 15 miles per hour made play difficult for the 80 starters in the second of the two major championships for senior women golfers. Davies bundled up with a blanket in her golf cart at times, but she was hot early in the round when she opened a three-stroke lead.
An eagle at the par-5 seventh hole triggered Davies' fast start, but Inkster matched it at a most critical time – on her last hole. That brought Inkster to 3-under-par 69 for the day and in a three-way tie for second with Sweden's Liselotte Neumann and Maria McBride. The trio is one stroke behind Davies.
Davies had a tough finish. She hit her tee shot on the par-3 17th hole over the green and made bogey, her lead slipping to two shots. Neumann and McBride birdied No. 18 and Inkster rolled in her 15-foot for eagle before Davies – playing in the last threesome – finished her round.
After the bogey at No. 17 Davies sent her tee shot far left on the par-5 finishing hole, the ball ending up in high grass.
"We could never find the ball,'' said Davies. "Fortunately I made birdie on my second ball.''
That "birdie'' was actually a bogey on the scorecard so that created a three-shot swing with Inkster and two-shot swing with Neumann and McBride. Davies won at Chicago Golf Club by a whopping 10-stroke margin but this week's 54-hole competition wouldn't seem to be so one-sided.
"Winning two senior majors in one year would be incredible,'' said Davies. "I'd love to have a chance, but you've got to be aggressive around here.''
The Pete Dye Course was set up shorter than usual (about 6,100 yards) to help the players combat the chilly weather. Eight finished under par, but defending champion Trish Johnson (73) wasn't among them. She is bidding for her third straight victory on the Pete Dye Course after finishing second to Inkster in 2015 Legends Championship here.
Neumann started her round with two bogeys, then charged back with birdies on five of the next nine holes. She did it without Mark Williams, her long-time caddie. Williams is on the bag for another player in the LPGA's qualifying tournament.
"He left me for a younger woman,'' said Neumann, who drew laughs with that comment after a day in which the golf wasn't much fun.
"Our round took 5 hours 40 minutes. It was a long day out there,'' said Inkster.
"Keeping yourself warm, that was the hardest part,'' said McBride. "There was a lot of stopping and waiting.''
McBride had reason to celebrate. Monday marked her 45th birthday. If it had come a day later she wouldn't have been eligible to play in the Senior LPGA Championship. Only players who have reached their 45th birthday are eligible.
The forecast is for better weather in the next two rounds before the champion gets $90,000 from the tourney's $600,000 purse on Wednesday. .