SILVIS, IL. – Luke Donald is seven years removed from being the world's No. 1 golfer, but he's showing signs of regaining the form that made him that good, and that's saying a lot.
Donald was sidelined for nearly a year with back problems. During the time off he lost his PGA Tour membership but he's on the way to regaining it. His play over the first two rounds of the John Deere Classic is proof of that.
Back-to-back 68s have Donald at 6-under-par 136 for the first 36 holes at TPC Deere Run. He's safely inside the cut line entering Saturday's third round, though he's a distant seven strokes behind leader Jhonattan Vegas.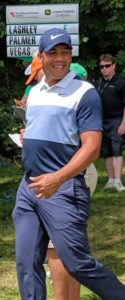 Vegas, from Venezuela, matched the best round of the tournament with his 9-under-par 62 on Friday and hit the halfway stop at 13-under-par 129. He's one swing ahead of Andrew Landry and two in front of Lucas Glover, who made the shot of the day. He holed his second shot from 255 yards on the par-5 tenth for an albatross.en route to posting a 64. It was the first double eagle at the JDC since 2000 – Frank Lickliter had one at No. 2 that year — but the seventh on the PGA Tour this season.
Donald, 41, starred at Northwestern before rising to No. 1 in the Official World Golf Rankings, a status he held for 55 weeks between 2011 and 2012. During most of that time he lived at least part-time in Northfield, and he is the great Chicago hope in this year's JDC.
"We've had a place in Jupiter, Florida, since 2006,'' said Donald. "For a few years we'd just go there in the winter but when my girls started in school we had to make a decision and Jupiter won out because of the weather. I loved that house, but we were spending less and less time in Chicago.''
The Northfield house was sold a few months ago as Donald was starting to regain his form. His game isn't all there yet, but it's getting there.
"I feel pretty solid,'' he said. "A back issue is always something you have to manage, but I've had no issues on the course. The last time I did was at the Sony (in Hawaii in January) and I took some time off after that.''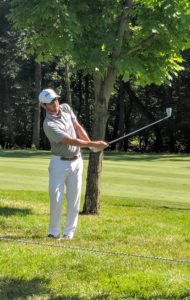 He returned in March at the Valspar Championship, in Florida, and tied for ninth – his best finish since resuming tournament play. His fitness level is improving now. As proof of that he's survived the 36-hole cut in three straight tournaments and is hopeful of a good finish at the JDC to get more FedEx points towards regaining full playing privileges.
"My game is in a pretty good place,'' he said. "Thirteen birdies in the first two days is a good sign that my confidence is coming back. I hadn't played here since 2003. After that I was a European Tour member and played the Scottish (Open) before The (British) Open. It's nice to be back here. This is a good course for me. You hit lots of wedges and it's not overly long.''
After this weekend Donald won't play again until the Wyndham Championship, in North Carolina, Aug. 1-4 a week before the FedEx Cup Playoffs begin. Donald won't get into next week's British Open unless he wins on Sunday and he will need two very solid finishes to have a chance of making it into the PGA Tour's postseason series.
Chances of Donald playing in either the British or FedEx Playoffs are slim, but regaining full membership isn't. Mizuno, his equipment company since 2004, has no doubts Donald will be playing full-time again. He was awarded a new contract in January, months before his comeback was in full swing.
"I'll have three or four starts after the Wyndham to get enough points, and I might take a money list exemption to play fully next year so I won't have to worry about it,'' said Donald.
In the meantime he's in the big pack chasing Vegas, who holed over 100 feet of putts on Saturday in a bogey-free round that included nine birdies.
"It was probably the best I've felt all year,'' said Vegas. "I hit the ball extremely well. I was obviously super solid from the beginning all the way to the end. Ball-striking was impeccable. I can't wait for the weekend. The course is usually soft, and it's been a little firmer because of the warm conditions. It's the best I've ever seen it.''
Vegas posted his round in the morning and Landry caught him in the afternoon. He fell a stroke back when his second shot from the rough on No. 6 hit a tree. That shot, on his 15th hole of the day, led to a bogey and Landry finished with a 65.