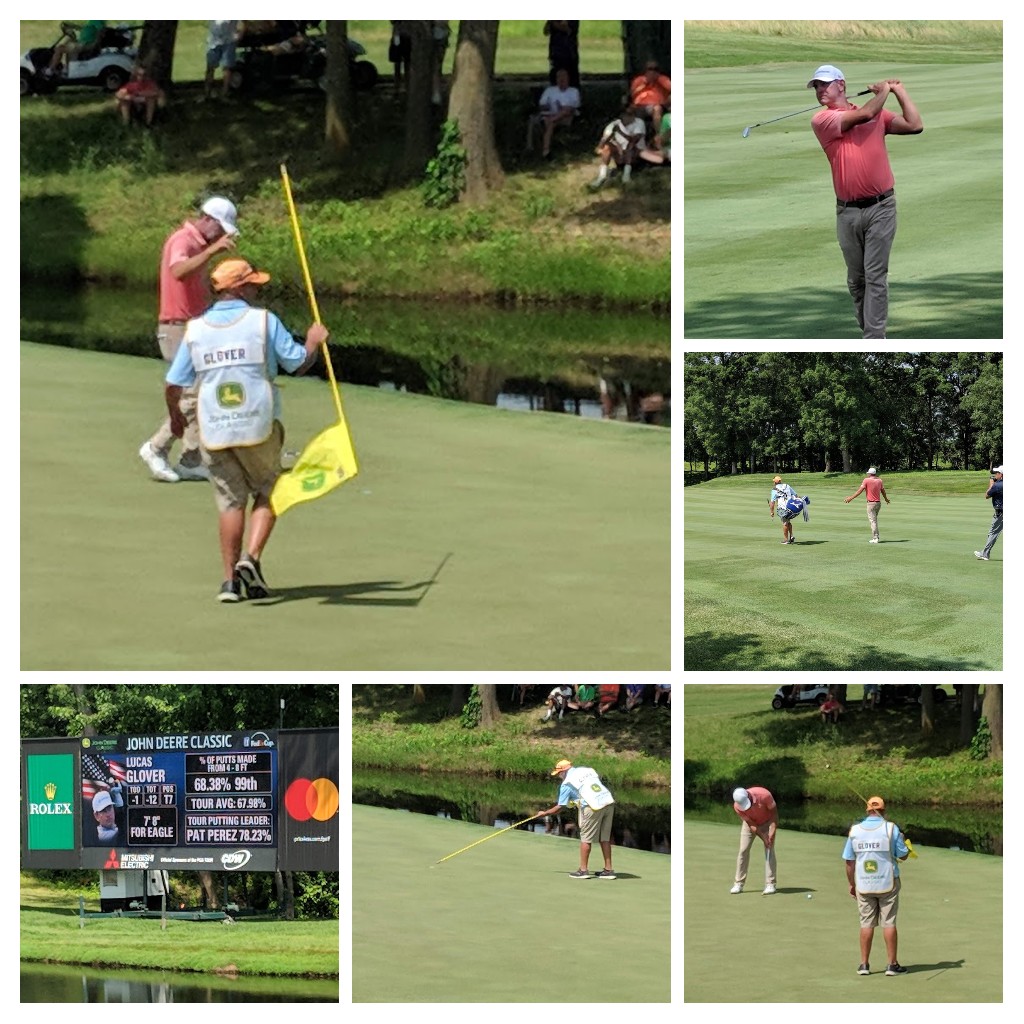 SILVIS, IL. – The Las Vegas odds-makers didn't believe experience mattered much when they sized up the John Deere Classic field earlier this week. The top five betting favorites – Viktor Hovland, Collin Morikawa, Joaquin Niemann, Sunglae Im and Matthew Wolff — are all between the ages of 20 and 22.
But what do those odds-makers know anyway?
Those young guns may have played well lately on the PGA Tour, and the JDC is a tournament known for producing first-time champions. Of the young hotshots, though, the best entering Sunday's final round is Morikawa and he's in a tie for 12th, four strokes behind co-leaders Cameron Tringale and Andrew Landry.
While Tringale and Landry hit the 54-hole stop at TPC Deere Run at 16-under-par 197 on Saturday, their status is precarious at best. Six others are within two shots of the lead, and that group includes a couple of battled hardened veterans who were among golf's elite not too long ago.
Bill Haas, who posted Saturday's best score with a 7-under-par 64, was the PGA Tour's FedEx Cup champion in 2011. He's a shot behind the co-leaders and Ryan Moore, who finished his third round birdie-eagle-birdie, is one swing behind Haas.
Moore's win in the 2016 JDC triggered his selection to the U.S. Ryder Cup team, and he went on to score the winning point against the Europeans that year. His win in the JDC, in effect, helped Moore become a national hero – at least for awhile.
"It (winning at TPC Deere Run) definitely kick-started that run, and I played good, solid golf from there all the way through the Ryder Cup,'' said Moore.
A win Sunday wouldn't have the same effect, since it'll be Moore's last competitive round for awhile. He's skipping next week's British Open because his wife is expecting their third child.
"I'm in an on-call situation right here,'' said Moore. "She's still a few weeks out, so it was comfortable being here. I won't be going to the British because that's just way too far away and I would not feel comfortable being that far away a few weeks with baby No. 3 is on the way.''
Haas posted his lowest round of the year on Saturday, and it gave him a big lift.
"I certainly haven't been seeing many mid-60 rounds in the last two years,'' he said. "The game is not easy. It's been beating me most weeks. Hopefully if I keep working hard days like this will happen.''
Haas, now 37, realizes the landscape of the PGA Tour is changing. Players are getting younger and younger.
"We're starting to see maybe the trend is younger is better,'' he said. "The average age on Tour has gone down since I was a rookie Experience doesn't seem to hold as much weight. I'm just going to have to play my game, and hopefully it's enough.''
Co-leaders Tringale and Landry aren't exactly kids, either. Both are 31, but they're careers haven't been as noteworthy. Landry's only win was at the Valero Texas Open last year, but he's had only one top-10 finish this season.
Tringale has gone winless in 10 years on the circuit. This year he's tied for fifth twice, the last time at the Rocket Mortgage Classic in Detroit two weeks ago.
Landry had the lead at the turn on Saturday but made bogeys at Nos. 11 and 12. He rallied with three birdies after that, though.
"I just got tired,'' said Landry. "It was really hot out there. My golf swing started feeling a little bit shaky, my body was not really turning and I was arming it out there rather than really hitting solid shots.''
He'll take precautions to avoid that repeating itself in the final round.
"I need to bring more food in the bag, drink more water,'' he said. Landry may also have to deal with being a relatively new father. His son, just 18 months old, and travels with him.
"It's absolutely hectic. I'm about to leave here and get ready for bedtime for him,'' said Landry. "It's good to get off the course, just forget about everything and get away from the game. He's a blessing.''
But Landry still hasn't figured out how to balance family life with tournament golf.
"Whenever someone does figure it out, please let me know because I would live to know,'' he said.
TPC Deere Run's par-5 tenth hole drew a bigger gallery than usual on Saturday when Lucas Glover arrived at the tee. Glover made the tourney's first double-eagle in 19 years there on Friday and put his drive in the fairway again. He went for the green in two again, got within 12 feet and holed his putt for eagle.