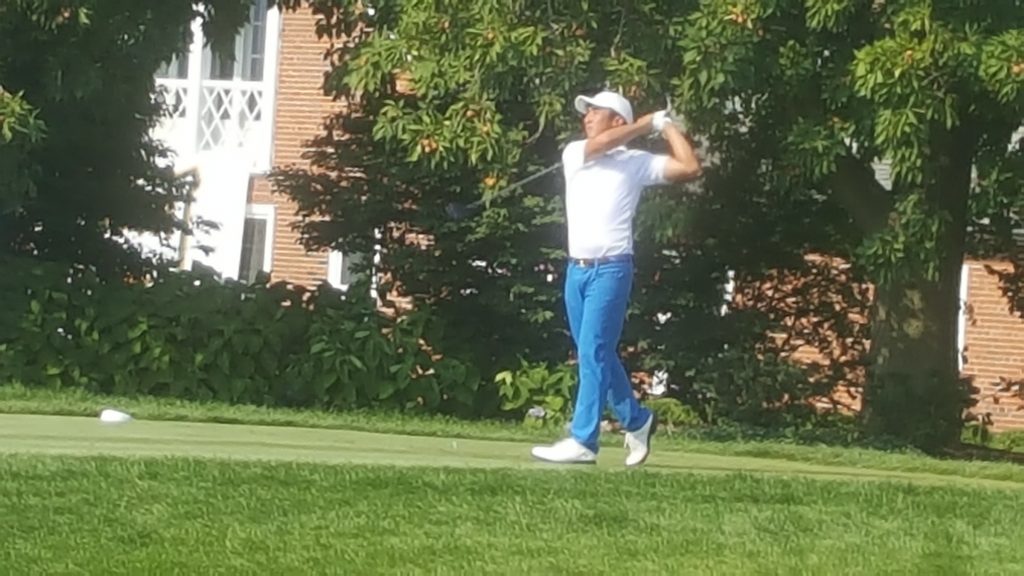 Doug Ghim lives in Arlington Heights but the Chicago area rarely gets a chance to see how good he is. Wednesday, though, was one of those days.
Ghim started fast and finished strong to climb into a tie for second place after two rounds of the stroke play competition at the 114th Western Amateur at Knollwood Club in Lake Forest. Posting scores of 69 and 71, he trails England's Sam Horsfield by one stroke entering Thursday's 36-hole session, which will decide the 16 qualifiers for the match play portion of the competition on Friday and Saturday.
The field was cut from Tuesday's 156 starters to the low 44 and ties for Thursday's double round. Ghim is tied with four others, among them Todd Mitchell — the 38-year old veteran from Bloomington – at the 36-hole mark. Northbrook's Nick Hardy is also in the mix, two strokes behind Ghim.
Ghim has taken an unusual path to success. He skipped high school competition at Buffalo Grove after his freshman year, preferring instead to play in national junior tournaments. Then, rather than attend college close to home, he opted for the perennial powerhouse program at Texas.
Both Ghim and Hardy are entering their junior seasons. Hardy is at Illinois, and he has enjoyed a great summer. He won the Illinois State Amateur by 10 strokes and finished as low amateur at the Illinois Open in the last three weeks. Ghim didn't play in either one.
"I wanted to play the State Am but was late for registration,'' he said, "and I didn't have time to qualify for the Illinois Open, which was a bummer. I wanted to play. I wish I could have given Nick a run for his money but I just totally forgot that I wasn't exempt for those events. It didn't even cross my mind that I'd have to qualify.''
The No. 9-ranked amateur in the world, Ghim has a loftier status than Hardy, who is No. 24. They could meet in the Western Am, but both have to survive Thursday's 36-hole session to qualify for the Sweet 16 first.
"It might seem like I'm not trying to play locally, but I love playing around here, where I can sleep in my own bed,'' said Ghim. "It's nice to have this big tournament, with the best players in the world, in my hometown.''
Ghim is used to big tournaments. He played for Team USA in the Palmer Cup in England this summer and also competed in tournaments in Pittsburgh and San Francisco.
Very little golf will be played at Knollwood after the Western Am ends on Saturday. After a members event on Sunday and an outing on Monday the course will be closes to enable a re-grassing of the greens. Those surfaces are a big challenge for the field in the Western Am.
"I've been drawing off my experience of two years ago (when he was the Western Am medalist at Beverly Country Club in Chicago),'' said Ghim. "The courses are similar, and the greens may be firmer than those at Beverly.''
"They're a lot like Beverly's, maybe even faster,'' chimed in Hardy. "They're not hard to read, just hard to putt. I love how they have Knollwood in this condition and, if I can win, it'd be my biggest win ever. But we've still got to get to match play. Then it's anyone's tournament.''