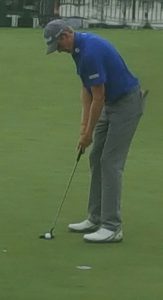 SILVIS, IL. – This 46th playing of the John Deere Classic has lots of golf remaining. Because three inches of rain fell on the TPC Deere Run course over the last two days, the second round is barely half over and will have to be completed Saturday morning before the third round can begin.
That aside, the tourney already has a heart-tugging story line. Tom Gillis is in the hunt again. One of the lucky ones to complete his second round on Friday, Gillis' 64-68 start put him two strokes behind clubhouse leader Wesley Bryan and one behind Steve Marino after 36 holes.
Gillis was a tragic figure after the 2015 JDC. A 48-year old veteran of 171 PGA tour events, he was in position for his first victory on golf's premier circuit. He let a lead slip away late in the final round, however, and ended up losing a two-hole playoff to 21-year old phenom Jordan Spieth who is not defending his title this week.
Spieth, who came from four strokes down with six to play to force the playoff, was the golden boy of 2015, having previously won the Masters and U.S. Open. Gillis was a journeyman player who accepted the defeat with dignity – at least on the day of his collapse.
"I never really watched the watched the video that day and when I did watch it I wished I hadn't,'' Gillis said. "It showed that I was in command all day. That bothered me all year. It will always bother me. I haven't shown any form since then.''
Gillis is in his 26th year as a touring pro and he's played tournaments in 28 countries. Last year's JDC is a classic example of what might have been.
"It could have really been special,'' said Gillis. "What stung is that I realized that to win a lot has to happen right.''
It didn't that day 13 months ago, but it could this week. Last year he finished the tournament with a 7-under-par 64 to at least briefly pass Spieth, who started with the day with a two-stroke lead. This year he started with a 64, in a round that was spread over Thursday and Friday, and followed with another solid round in a long day on the course Friday.
Rain hampered the tournament again. Play was scheduled to start at 7 a.m. but the first round couldn't resume until noon thanks to more bad weather. Those who finished their first rounds on Thursday couldn't start their second rounds until nearly 6 p.m. Among those who have lots of golf to play today are Zach Johnson, the 2012 champion who was one of three golfers to post 65 on Thursday before severe weather curtailed play.
Bryan, off to a 66-64 start after playing 25 holes on Friday, earned his place on the PGA Tour off a strong showing on the Web.com Tour this year. Marino had a similarly long day on Friday. He arrived at the course at 5 a.m., anticipating a resumption of play two hours later.
"I had eaten breakfast, then went back to the hotel and ate breakfast again,'' said Marino. "There was never a negative thought about what was going on.''
Still, the weather has impacted every player at one time or another. Johnson and three-time JDC winner Steve Stricker were scheduled to start their second rounds at 7:40 p.m. They, along with playing partner Brian Harman, the 2014 winner, were standing on the No. 1 tee when another storm hit.
Play was suspended for the day at 7:52 and is scheduled to resume at 7 a.m. today. An improved weather forecast suggests the third round will at least begin on Saturday afternoon after the second is completed and the cut to the low 70 and ties is made.