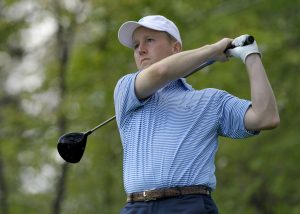 Very few players in Illinois PGA tournaments walk their rounds. Kyle Bauer, the 11-year head pro at the Glen View club, is one who does. He doesn't think it puts him at a competitive disadvantage, and Thursday he proved it.
Bauer captured the 65th playing of the Illinois PGA Match Play Championship at Kemper Lakes in Kildeer and his win came on a day when all the players had an unusually difficult physical test. Weather hampered the four-day event throughout, which meant the last three rounds all were played on Thursday. None of the eight players still alive on the final day had ever played three matches in one day.
"At my club I've never played in a golf cart,'' said Bauer, "so I'm used to walking. I'm not sure if anybody else walks, but it's not that big a deal. I'm used to it, but I'm sure I'll be tired tomorrow.''
Walking what turned out to be 45 holes in a 10-hour span wasn't the only factor when the title was on the line. Bauer went up against long-hitting Medinah teaching pro Travis Johns, the tourney's 2010 champion and a two-time IPGA Player of the year. Bauer played from behind on every par-4 and par-5 hole as Johns was generally 50 yards further off the tee.
Again, no insurmountable problem as Bauer worked his way to a 4 and 3 victory.
"I usually hit my drives in the fairway,'' Bauer said. "The golf course was playing extremely long (because of the soggy conditions), and my mindset was to not give any holes away.''
Johns won the first two holes with conceded birdie putts and Bauer needed to sink a five-foot par-saver to halve No. 3.
"At that point I was hoping to not lose 10 an 8,'' he said. Then Johns gave him a boost, hitting his tee shot out of bounds left on the par-5 fourth.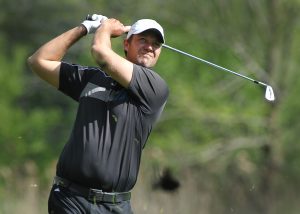 "I struggled all week off that tee,'' said Johns, who hit two balls in the water right at No. 4 in his earlier matches. He felt shaky putting was more responsible for his loss in the title match, though. Bauer wasn't so sure.
He won No. 4 with only a bogey and then took No. 5 when Johns three-putted to get the match to all square.
"That settled me down. I was 2-under the rest of the day,'' said Bauer. "That's what this tournament is all about –not giving away holes.''
Bauer took the lead for good with a 15-foot birdie putt on the eighth hole. He made Johns dormie with with a 15-foot birdie putt on No. 14 and closed him out with a par on the next hole after Johns found his third shot on the par-5 buried in a green-side bunker.
Despite the busy week in the first major tournament of the Chicago season Bauer may not be done yet. He's in Monday's local qualifying round for the U.S. Open at Exmoor in Highland Park.