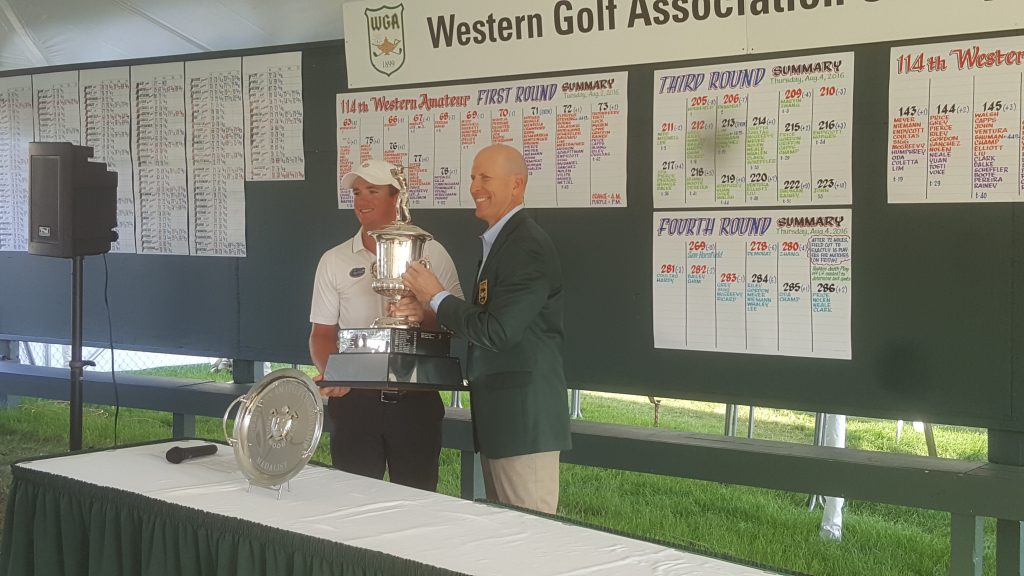 Just qualifying for the Sweet 16 at the Western Amateur is a great accomplishment, and Northbrook's Nick Hardy and Arlington Heights' Doug Ghim both did that on Thursday at Knollwood Club in Lake Forest.
They were only bit players in the third and fourth round of the stroke play portion in the 114th playing of this championship, however. Sam Horsfield, a University of Florida sophomore from Manchester, England, dominated the 72-hole portion that determined the 16 who advance to match play on Friday.
Horsfield opened with a course record 9-under-par 63 on Tuesday, stumbled to a 75 on Wednesday and then cruised in with a 67-64 finish on Thursday to posted a 15-under-par 269 total for the 72 holes. That at least approached the records for the prestigious tournament. The record books are sketchy with the tourney's Sweet 16 era going back "only'' to 1956.
Using that as guideline, Horsfield had the fourth-best stroke play score in the history of the tournament, the best being a 265 by Aron Price at long-time host site Point O'Woods, in Benton Harbor, Mich., in 2004.
Danny Lee, the last medalist to go on to win the overall title in 2008, shot 268 at Point O'Woods and Chris Williams also posted that number at North Shore in Glenview in 2011. Their scores in relation to par and margin of victory were not available.
Horsfield, who won his qualifying medal by nine strokes over runner-up Michael DeMorat of Merritt Island, FL., was concerned with only one record.
"I knew the course record was 63 and I tried to make my birdie putt on the last hole for 62,'' he said. That putt didn't drop and Horsfield missed his comeback putt as well.
"Finishing bogey-bogey somewhat sucks, but I achieved my goal of making it to match play,'' he said. "It was a special day. I had all things clicking.''
At least that was the case most of the time. He needed a tuneup on the range between rounds on Thursday to work out a minor kink in his swing. After that it was clear sailing.
"In the afternoon I was in control of my game'' he said. "Once I got to 3-under after nine I had nothing to worry about. My caddie and I decided to look at the rest of the round like it was a practice round.''
Horsfield reached 17-under and led by 11 at one point on the final nine but that was incidental.
"If somebody told me I'd get to 17-under before the round I wouldn't have believed it,'' he said. "I told my girlfriend I wanted to get to 15-under, and once I was there I kind of just hit it around.''
Earning medalist honors in no way guarantees that match play will be a similar walk in the park.
"Match play is a different animal,'' said Horsfield, who was also a Sweet 16 qualifier last year. "You're not playing the golf course, you're playing your opponent. A lot of great names have won the medal. It's a pretty neat accomplishment, but it's over. I came here to win the tournament.''
Hardy, the reigning Illinois State Amateur champion, finished 71-69 and tied for fourth. Ghim went 73-70 on Thursday and ended in a tie for sixth. They'll be in the first round of match play, which starts at 8 a.m. on Friday. Winners will play in the afternoon quarterfinals, and the four survivors will decide the title on Saturday with semifinals in the morning and the title match in the afternoon.
Hardy will host Davis Riley, of Hattiesburg, MS., in the Round of 16 while Ghim will take on Max McGreevy, of Edmond, Okla. Horsfield's opponent is Joaquin Niemann of Chile, who survived a six-man playoff for the final five spots in match play.
Among the other playoff survivors was University of Illinois golfer Dylan Meyer, who will face DeMorat. Four members of the Sweet 16 are foreigners.