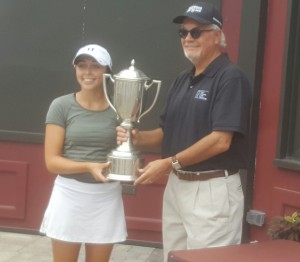 The 22nd Phil Kosin Illinois Women's Open shaped up as a two-player duel between a pair of Big Ten players before Wednesday's final round even began.
Illinois' Stephanie Miller and Wisconsin' Brooke Ferrell owned a three-shot lead on the rest of the field entering the last 18 at Mistwood, in Romeoville, and they matched shots playing together through the first 14 holes of the final round with no other player mounting a challenge.
And then they reached the tee at the par-5 fifteenth hole. For all intents the competition ended there. Ferrell, trailing by just one shot, hit her first drive into water on the left. Her second went out of bounds right and Ferrell staggered in with a four-over-par nine on the hole. Miller had it easy the rest of the way.
"You learn so much more from your failures than you do from success,'' said Ferrell. "Stephanie played so well, but I'll learn a ton from this.''
Miller knows about failure, too. In 2012, as a junior-to-be at Stevenson High School, she led the IWO after two rounds before stumbling badly in the final 18. Not so this time, as the Illini senior-to-be posted her third straight 69 for a 54-hole scorer of 207 and a three-stroke win over Kelly Grassel, another amateur from Chesterton, Ind.
"It wasn't like the year I had in high school, when I played like a high schooler,'' beamed Miller. "This gave me a good boost of confidence because there were a lot of girls I play with in college.''
Miller, who lives in Elgin, enjoyed three straight days of sub-par golf for the first time after shaking off any rustiness caused by a nine-day break from golf to go on a family vacation to Alaska.
Ferrell, who shot 74, was a stroke behind Grassel in a tie for third with Northwestern's Hannah Kim and two clear of the low professional among the 63 starters, Symetra Tour player Ember Schuldt of Sterling. Schuldt is an Illinois alum, so the tourney turned out a huge success for the Illini. Schuldt picked up $5,000 but the tourney was still dominated by amateurs.
Miller, who won medalist honors in the Illinois high school tournament twice before heading to Illinois, put herself in position to win with three straight birdies on holes 5-7.
After that both Miller and Ferrell endured long waits between shots as the twosome immediately in front fell two holes behind the third from the last twosome. Miller survived the delays by talking with both her father, who doubled as her caddie, and Ferrell.
"It was hard, but not the reason I lost,'' said Ferrell. "I had the same issue the past two days. It's one of those things that's almost taken over the game now. The LPGA is struggling with it a lot, too, but no one ever gets penalized for it.''