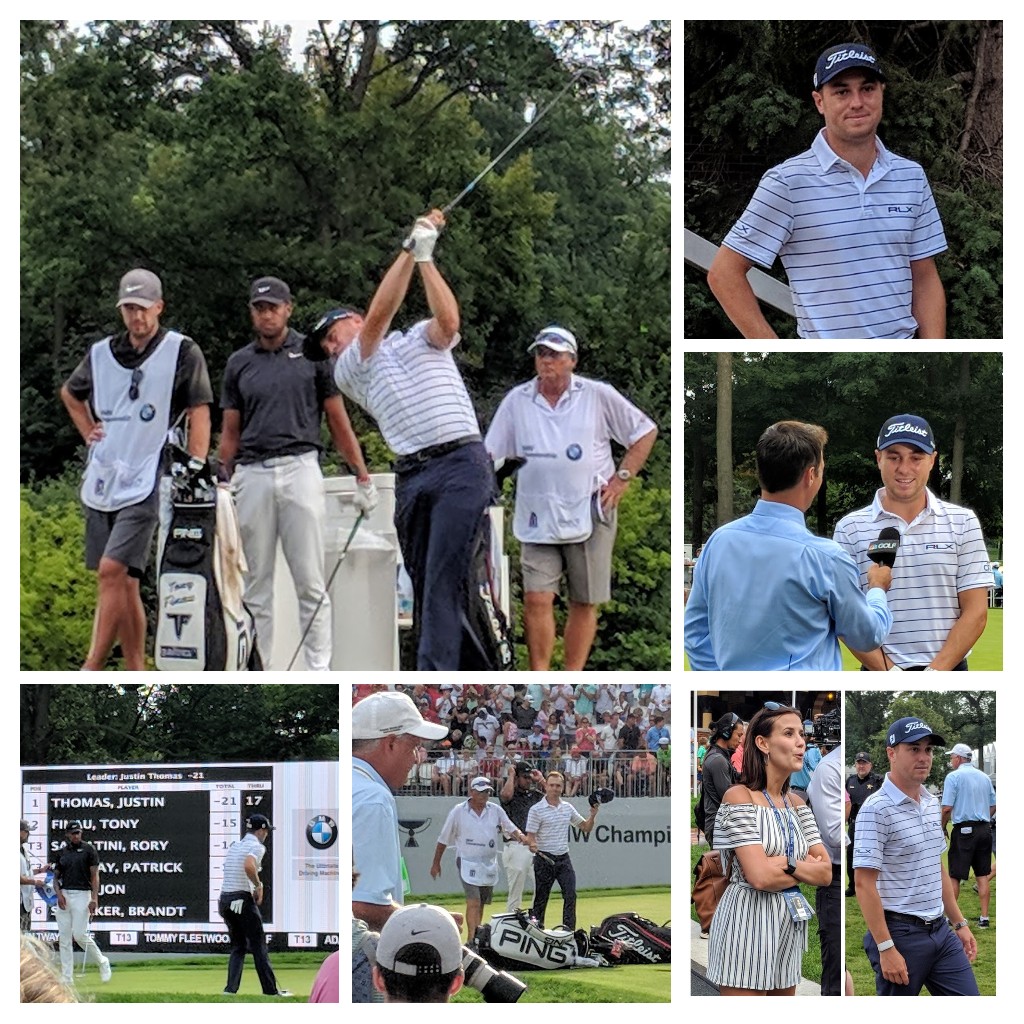 Just how low can these guys go?
Medinah No. 3 has long been considered one of the world's most difficult courses. It won't be after the BMW Championship concludes there on Sunday. Only two of 69 players are over par after 54 holes and leader Justin Thomas is 21-under.
Thomas has set the pace in this three-day birdie binge. He tied the then course record with a 65 in Thursday's opening round, then faded to a 69 on Friday when Japan's Hideki Matsuyama took the spotlight with a record 63.
On Saturday Thomas took the spotlight back with a dazzling 11-under-par 61. His 21-under 195 is six better than Tony Finau and Patrick Cantlay, Thomas' top challengers entering the final 18. Finau, playing with Thomas, shot 68 in the third round. Cantlay, paired with Matsuyama in the final group, also carded a 68.
Matsuyama, as so often happens to players trying to follow up a low round, stumbled to a 73 on Saturday. Avoiding the letdown that affected Matsuyama may be the biggest challenge Thomas faces on his way to what would be his first victory of the 2018-19 season.
Winner of the PGA Championship and FedEx Cup in 2017, Thomas has been winless this season in part because he missed three key tournaments – one being the Masters — with a wrist injury and he hasn't had a top-10 finish since returning to action.
"I've felt good about my game for awhile, and you don't know when a round like this is going to happen,'' said Thomas. "We've been talking the last couple of weeks that I'm due to have one, and it's nice when it happens. At the end of the day this round was great and awesome, but it's over with and I need to focus on tomorrow.''
Thomas' round was a thing of beauty and full of highlights. He opened with five birdies before making his lone bogey at No. 6. On the back nine he had eagles on Nos. 10 and 16. For the day he needed only 22 putts, chipped in twice and holed an 8-iron from 180 yards on the par-4 16th.
"That was really impressive,'' said Finau . "He played extremely well, and it was fun to watch. Whenever you see a guy playing that well he's in a zone. That's really cool.''
Thomas and Finau teed of 75 minutes late after a rain delay halted play in the morning. They had a softened course all the way around, but the scoring conditions have been ideal all three days of the tournament.
"The first seven holes there was no wind whatsoever. You couldn't have it easier than that, and this was probably the easiest of the three days we've played,'' said Jon Rahm, in fifth place after posting a 66.
U.S. Open champion Gary Woodland played early and shot 64 – but it boosted him only into a tie for 18th place.
"Obviously the course is still soft. If the wind is down like it was you'll see some low scores,'' said Woodland.
Thomas, sensitive to the feelings of Medinah members who wouldn't want their storied course considered easy, said "it doesn't matter what golf course it is. You give us soft, good greens and soft fairways and we're going to tear it apart. It's just how it is.''
The scores all the way down the leaderboard bore him out.
"We all have such great control over our golf ball and we know how far it's going to go when we're hitting it well,'' said Thomas. "We're just good. It's just the fact of the matter.''
Sunday's round will be a bit different than the first three. To cope with potential weather issues the players will be sent off in threesomes off both the Nos. 1 and 10 tees. First tee time is 10:19 a.m. Thomas, Finau and Cantlay hit off No. 1 at 12:20.