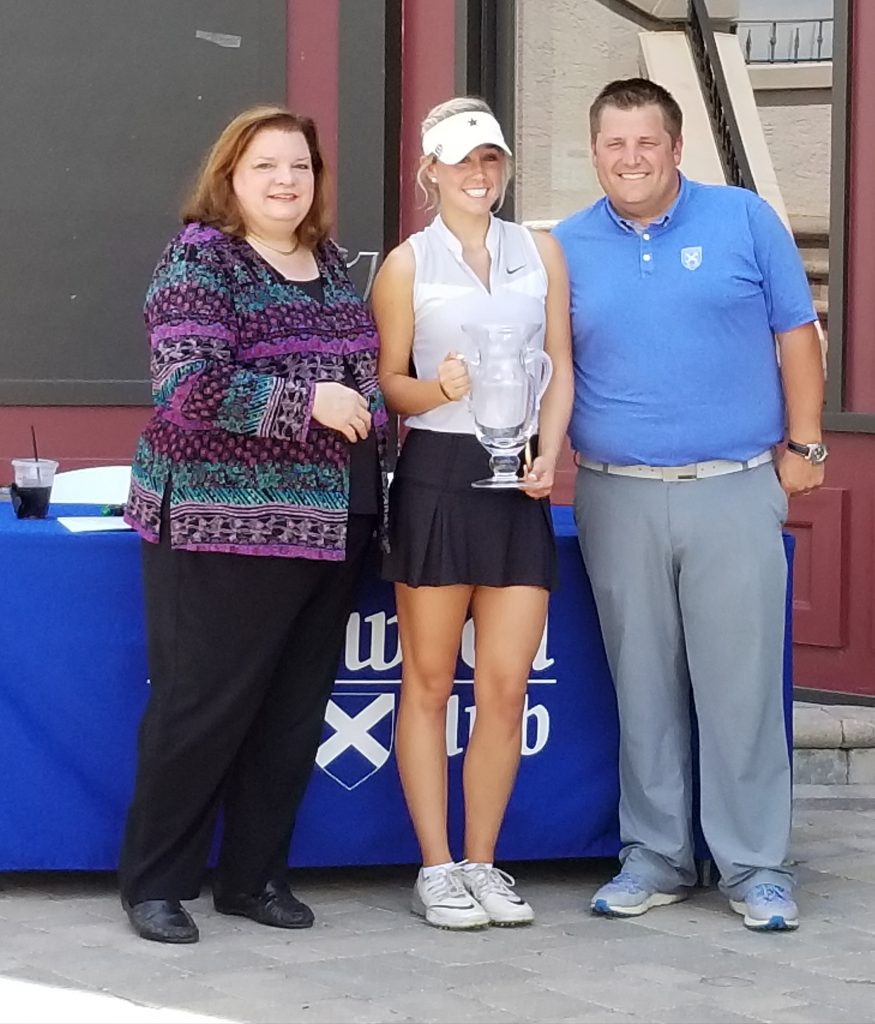 Aimee Neff had good memories from winning the Phil Kosin Illinois Women's Open as an amateur in 2008 and 2009. Now an assistant coach at Vanderbilt University, she suggested that one of her players, Alexandra Farnsworth, use the IWO as a tuneup for her senior season at the Nashville, Tenn., school.
Farnsworth took Neff's advice and is glad she did. On Wednesday Farnsworth rallied from a two-stroke deficit at the start of the day to post a two-stroke victory over Hannah Kim, the Northwestern star, in the 23rd staging of the IWO at Mistwood, in Romeoville.
Winless as a collegiate player, Farnsworth was in bad need of a victory and she got this one with a final-round 67, which completed a 54-hole score of 8-under-par 208.
"I had a lot of seconds and thirds in college play, so this breakthrough means a lot to me,'' she said. "The last half of (her last college) year I put a lot of added pressure on myself about turning pro. I thought I had to shoot certain scores to prove myself, and that made the game miserable. I took two weeks off and am fully back to enjoying golf again.''
Though she missed qualifying for next month's U.S. Women's Amateur by one shot Farnsworth is looking forward to the Tennessee Women's Open in two weeks prior to the start of her senior season.
The key to her win at Mistwood was her play around the portion of the course dubbed Kelpie's Corner. She made birdie at the par-4 thirteenth, was happy that her tee shot from the back tee at the long par-3 fourteenth cleared the water and reached the green and then she made birdie at the "visually intimidating'' 15th , a par-5 with water impacting every shot en route to the putting surface.
The birdie at No. 15 was her sixth of the day and opened a three-stroke lead on Kim, a stalwart on Northwestern's NCAA runner-up team in May at Rich Harvest Farms in Sugar Grove. Kim, who struggled after making double bogey at No. 10, got one stroke back with a birdie at the 16th but could get no closer.
"I definitely took a couple weeks off after the NCAAs, but wherever I'd go people would ask me about that experience,'' she said. "That's been very motivating.''
Since the tension-packed NCAA Kim has been taking a summer class at Northwestern and played in only the Women's Western Amateur at River Forest, in Elmhurst, prior to the IWO. By far her biggest event of the summer is still to come.
"This was a prep for the U.S. Amateur,'' she admitted. That tournament will be played in her hometown of Chula Vista, Calif.
The 27 professionals in the 72-player field were left to battle for a share of the $25,000 prize money after amateurs swept the first two places. Canadian pro Vivian Tsui, the 36-hole leader, and Samantha Postillion split the top pro prize. Each received $4,250. It was the biggest payday so far for Postillion, who turned pro in the spring of 2015 after graduating from the University of Illinois.
Postillion's mother Kerry, who won three IWOs as an amateur between 1996 and 1999, walked the final round with her daughter. Since Kerry Postillion's last victory the family has moved to Arizona. Top Illinois resident in the field was another University of Illinois golfer, Dana Gattone. The Addison resident, who plays out of Medinah, finished solo fifth.