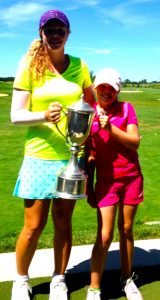 Madasyn Pettersen, at 15, was the youngest player in the Phil Kosin Illinois Women's Open at Mistwood, in Romeoville. She was also the best – and by a long shot.
Pettersen, who enters her sophomore year at Auburn High School in Rockford in the fall, finished off the 54-hole competition with a 66 and won the title by five strokes. She posed an 8-under-par 208 total to become the youngest-ever winner of the 21-year old championship.
"I came to be low amateur, but this means a lot,'' said Pettersen, "mainly because I broke my personal records. I've shot 67s and 68s before, and now I finally shot a 66. I finally made five birdies in a row. I had four in a row before.''
The five straight birds came at the end of her round and left playing partner Chelsea Harris of Normal dazed.
"I got outplayed,'' said Harris, who was low pro in the event that started with 68 players on Monday. "She's a great player to make five birdies. She was a machine.''
Pettersen and Harris, the assistant women's coach at Illinois State, started the final round in a three-way tie for the lead with Symetra Tour player Ember Schuldt of Sterling. Schuldt's late charge fizzled when she missed birdie putts from five feet at Nos. 14 and 15. She also missed a good birdie chance at No. 18 after putting her second shot to the par-5 on the back fringe of the green.
That allowed Harris, who ended in a tie for second with University of Wisconsin amateur Brooke Ferrell, to edge Schuldt for the $5,000 check awarded the low pro.
Otherwise, the show belonged to Pettersen who had her 9-year old sister Isabella as her caddie in the final round. Their mother was on Madasyn's bag for the first two rounds while Isabella was playing in her own tournament.
Madasyn entered the ISO when she was 11 but failed to make the 36-hole cut. She didn't return until this year and dominated from the outset. She either led or was tied for the lead after all three rounds.
Though the Pettersen-Harris pairing lagged two holes behind the next-to-the-last group, the best golf came from the last finishers. Pettersen's charge to the title started at No. 14 – a 190-yard par-3 over water that marks the beginning of the Kelpie's Corner stretch of holes. She hit that green with a 5-iron and made the first of her five straight birdies from 15 feet.
She hit the par-5 15th with an 8-iron from 200 yards and two-putted to keep the birdie streak going and followed with putts of 15 feet at No. 16, 12 feet at No.17 and 15 feet at No. 18.
"I was just focusing on closing it out,'' said Pettersen, who found her putting magic a few months ago.
"One day this spring I woke up and decided I wanted to putt like Jordan Spieth,'' she said. "I copied his putting grip, but I kind of do my own thing.''
Pettersen isn't sure if she'll play high school golf again, but she does take off Friday for the PGA Junior Girls Championship in Texas.