FRENCH LICK, Ind. – The longest playoff in the 16-year history of The Legends Tour and the first in the Legends Championship's four-year run was an epic, no doubt about it.
England's Trish Johnson battled defending champion Juli Inkster through six extra holes on Sunday before an Inkster letdown handed the title and $37,700 first prize to Johnson.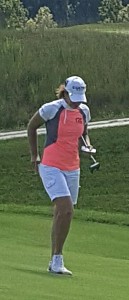 "I wish I could say I enjoyed that, but I really didn't,'' said Johnson. "It was a battle for survival at the end.''
Indeed it was, just like the final round of a year ago when Inkster – making her Legends Tour debut – overtook Johnson with three birdies on the last five holes. There were some similarities this time.
Johnson and Inkster were in a three-way tie with Becky Iverson at the start of the day. Johnson's early birdies gave her a three-stroke lead on the field, but she got nervous after three-putting at No. 6.
"I totally lost my confidence,'' she said. "After that I didn't feel comfortable at all.''
Still, she retained her three-stroke edge at the turn and another birdie at No. 10 put Johnson up four shots with eight holes to play. The tournament was far from over at that point, however.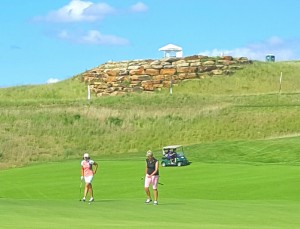 "Juli did the same as she did last year,'' said Johnson. "She made three birdies in the last five-six holes, and I felt I should have done better coming in. I got a little defensive, and I knew what Juli was gong to do because she always does that.''
Actually, despite her big lead, Johnson was in danger of losing the title in the regulation 36 holes when Inkster – playing in the next-to-the-last twosome in front of Johnson — made a 10-foot birdie putt at No. 18 to get to 5-under-par for the tournament. That pulled her into a tie for the lead and Johnson and to scramble for a par to force the playoff.
The 18th hole, set up at 480 yards on Sunday, was designated as the lone playoff hole – and Johnson didn't like that.
"I love the French Lick Resort, but I hate No. 18. I can't play it,'' she said. "I've played it 20 times (in Legends Championships) and I never made a birdie. It doesn't suit my eye.''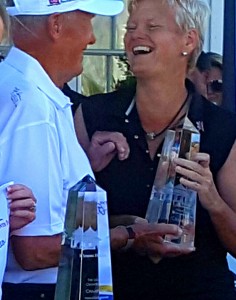 Both players had their chances to win in the extra session. Johnson had a 12-foot birdie putt hit the hole and spin out on the second extra hole and Inkster had a 10-footer that did the same on the fourth.
Finally they got to the sixth extra hole, with spectators staying around to watch the drama from mounds beside the No. 18 fairway. After both players made pars on the first five holes Inkster cracked first. She hit he second shot on the dogleg right par-5 in to the heather and it took a small search party to find it.
Inkster took an unplayable lie, adding a stroke, and then made a bad drop. Her ball stayed in thick rough and she moved her first attempt to get out only four yards. Her next attempt – her fifth shot on the hole – hit the green, but Johnson ended the playoff by two-putting for another par.
Johnson and Inkster dominated the field for the second straight year. Both shot 71s in the second round to finish at 5-under 139 for the regulation 36 holes. Endland's Laura Davies was three shots back in third place but Jean Bartholomew had the best round of the tournament – a 7-under-par 65 – in finished in a tie for sixth.
The Honors Division, for seven players 63 and over, again went to Jan Stephenson. She has now won the division in four straight Legends Tour events.