FRENCH LICK, Ind. – There's a tie at the top of the leaderboard after Round 1 of the LPGA Legends Championship, and the co-leaders couldn't be much more different.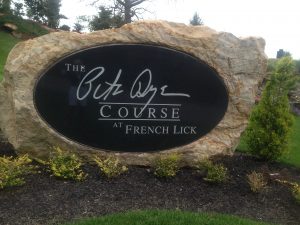 Rosie Jones and Lisa Grimes both covered the Pete Dye Course in 3-under-par 69. Jones is one of the stalwarts on the Legends circuit and won last week's Wendy's Charity Challenge in Jackson, Mich. Grimes is playing in only her fourth Legends event.
Only three other players bettered par on the first 18 of the $500,000 championship that pays $60,000 to the champion on Sunday. Barb Mucha is one stroke off the lead and 2-under for the tournament./ Danielle Ammaccapane and Laurie Rinker, who tied for second last year, are another shot back.
Ammaccapane's sister Dina set the women's course record of 64 in the first round last year. Rinker tied for second with Val Skinner in 2013, two shots behind champion Lorie Kane. Kane struggled with a 3-over 75 in the first round of her title defense on Friday.
Though the careers of Jones and Grimes are much different, they both found ways to make birdies on Friday. Grimes, an early starter, highlighted her round with a 20-foot birdie putt on the par-3 16th but then gave the stroke back with a three-putt bogey on the next hole.
Grimes didn't compete in last year's Legends Championship because it conflicted with a qualifying round for the LPGA Teaching Division Championship. Grimes, a full-time teacher, lives seven months of the year in Arizona and teaches at Gold Canyon, near Phoenix. She lives the other five months in Minnesota and is director of instruction at Alexandria Country Club, the same course where Champions Tour standout Tom Lehman grew up.
"Teaching is my passion, but I still enjoy playing,'' said Grimes, who has won the Minnesota Women's Open several times and played part-time on both the LPGA circuit and its Futures (now Symetra) Tour. She finished top-10 in two of her three previous appearances on the Legends Tour.
"It's great to have something to play in after you're done on the (LPGA) tour,'' said Grimes. "I still have the drive to play, but it's not fun to play with those 25-year-olds.''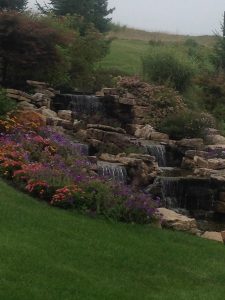 As has been the case in her previous Legends tournaments Grimes has her brother Dave Kluver on her bag. He's a PGA professional in Arizona who used to caddie for Rex Caldwell and Jim Thorpe on the PGA Tour.
Jones, by contrast, won 13 times on the LPGA Tour and took her seventh Legends title in a sudden death playoff with Nancy Scranton on Sunday. She finished tied for seventh in last year's Legends Championship. The 3-under 69 she posted on Friday matched her winning score in the 18-hole event at Country Club of Jackson in Michigan on Sunday. She claimed that title with a victory over Nancy Scranton thanks to a 25-foot putt on the first hole of a sudden death playoff.
"Any time you play this golf course under par you've got to feel good about yourself,'' said Jones. "I'm feeling confident about my game. My ball-striking is as good as it's been in the last couple years.''
Last year's inaugural Legends Championship was played in September, and the weather wasn't as picture-perfect as it was on Friday.



"I remember the greens as being much harder as far as approaches were concerned,'' said Jones. "This is a little different golf course, and I liked it.''
Jones had Grimes as a target all day long and caught her thanks to a hot front nine. Jones fell out of the lead with a three-putt bogey at No. 10 but went back into a tie at the top thanks to an eight-foot downhill birdie putt at No. 13.
The tourney had one late withdrawal when Pat Bradley pulled out, citing illness. The field resumes play at 8 a.m. on Saturday and Friday's starters will be joined by six Super Seniors who will play a 36-hole competition of their own. Jane Blalock, CEO of the Legends Tour, won last year's Super Seniors event and will go after a repeat after being inducted into the circuit's Hall of Fame on Thursday night.