FRENCH LICK, Ind. – The five-year old Pete Dye Course at French Lick Resort figured to be a mystery to the players in the LPGA Legends Championship. The layout, loaded with elevation changes and spectacular views, had never hosted a premier women's event before welcoming the biggest in the history of the LPGA's senior circuit.
Dina Ammaccapane, a Legends Tour rookie, didn't find the layout all that difficult in Friday's first round, however. She made birdies on the last four holes en route to posting a 6-under-par 66 that will go down as the competitive course record.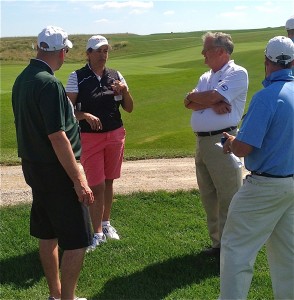 Ammaccapane had played in just two previous Legends tourneys before taking charge early in the 13-year old circuit's milestone event. The 54-hole tourney drew the Legends' biggest field ever (58 players) and offered the biggest purse ($500,000). Sunday's champion will earn $75,000.
"I'm the baby of this bunch, so I'm just getting my feet wet,'' said Ammaccapane, who spent 21 seasons on the LPGA Tour after helping San Jose State to the 1989 NCAA Championship.
Ammaccapane finished Round 1 with a two-stroke lead over Laurie Rinker and Laura Davies. Only Davies threatened Ammaccapane's domination of the first round. Davies actually held the lead briefly, after getting to 7-under through 15 holes.
Davies dropped back, however, with a double bogey at No. 16, a par-3, and then lipped out a par putt on the par-5 finishing hole.
Ammaccapane, whose older sister Danielle was also in the field, made birdies from five, three and 12 feet on Nos. 15-17 and then got up and down for birdie on the par-5 finishing hole thanks to a great chip to within a foot.
"This course favors my game. I'm a cutter, as opposed to the girls who draw the ball,'' said Ammaccapane, who did no research on the Dye course prior to playing her two practice rounds this week. "I took notes, and I took a lot of trouble out of play.''
Rinker could have gathered some advance knowledge. Her brother Larry, a former PGA Tour player, competed on the Dye Course in the 2010 Professional Players National Championship. Rinker, though, didn't seek his advice. Instead, she hired Caleb Powers – a regular caddie at French Lick.
"He knows the course like the back of his hand,'' said Rinker. "I heard this course was tricky, so I wanted local knowledge. You've got to know where you're going.''
Rinker pretty much knew until facing a long eagle putt on the 18th green that could have tied her with Ammaccapane for the lead. Rinker not only missed that one, but also failed to connect on her birdie try. She had no complaints with her 68, however.
"I played very well. I drove the ball well and hit my irons well,'' she said. "I kept it in good spots. This course is beautiful, kind of target golf, and — not playing as competitively as much as I used to do – you've got to put a lot of mental effort into it.''
Saturday's second round will also include the start the of the 36-hole Super Seniors competition. It'll be between four players – Susie Berning, Jane Blalock, Donna Caponi and Sandra Palmer.