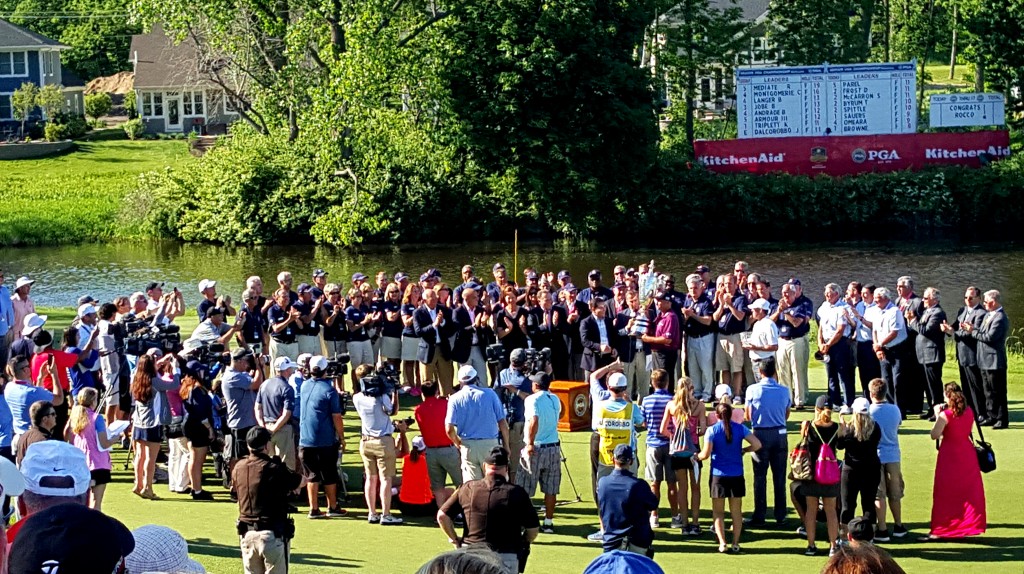 BENTON HARBOR, Mich. – This really didn't make much sense.
Rocco Mediate had failed to break 70 in all 22 of his rounds on the Champions Tour this year – and the 50-and-over circuit is known for yielding much lower scores. Not only that, but Mediate had never won a major title on either the PGA or Champions tours and hadn't even contended in one since losing a playoff to Tiger Woods in the U.S. Open eight years ago.
Even Mediate conceded that "I haven't done anything in 2 ½ years.''
So what happened on Sunday in the 77th Senior PGA Championship at Harbor Shores?
Mediate posted the lowest 72-hole score in the tournament by a full three shots, the old record being set by Sam Snead in 1973. He also became the first champion to lead after every round since Jack Nicklaus – designer of the Harbor Shores course – posted his lone win in the tourney in 1991.
Sunday's day-low 66 score completed a shocking week in which Mediate tied the tournament record with an opening round 62 on Thursday, set the tournament scoring record for 36 holes and by four shots after a 66 on Friday and tied the 54-hole tourney mark despite a par 71 score on Saturday.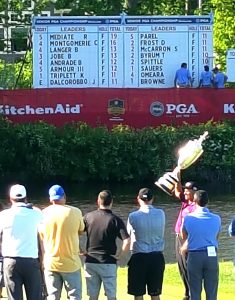 "It's hard to dream that,'' admitted Mediate, who started on the PGA Tour 30 years ago and had six wins on that circuit to go with his now 30 on the Champions Tour.
How could this happen?
"I have no idea,'' said Mediate, never one to be short on words. "I made everything. My short game and putter was stupid this week.''
Like in stupid great.
Mediate started the final round with a two-stroke lead on playing partner Colin Montgomerie, who was trying to become the third player to win the Senior PGA three straight times. Mediate added a stroke to his lead in the first five holes – a span in which he needed only five putts.
Montgomerie got within one shot twice — after Mediate made bogey at No. 7 and again after No. 10, where Montgomerie made a birdie. The one-shot margin remained for the next three holes. Then Montgomerie missed a five-foot par-saver and Mediate wouldn't let him get any closer than two shots the rest of the way.
According to Montgomerie the key hole was the par-5 15th, where he missed a 15-footer for eagle and Mediate holed a 12-footer for birdie to keep the margin at two. Mediate added a stroke to his lead by holing a bunker shot for birdie at No. 17. That left Montgomerie shaking his head in frustration.
"I didn't do anything wrong. All credit to Rocco, but I can hold my head high,'' said Montgomerie. "Rocco was brilliant.''
No one could argue that. Though Bernard Langer and Brandt Jobe rallied late, the only real threat to Mediate's domination was Montgomerie. His 16-under-par 268 total matched the previous tournament scoring record. Langer (67 on Sunday) and Jobe (68) were three shots behind Montgomerie in a tie for third.
John DalCorobbo, the low club professional, started the day in third place but dropped into a tie for seventh after a par-71 finish. DalCorobbo, who was the Illinois PGA Assistants Player of the Year in 1993 before moving to Indiana, performed admirably on the same day his home club, Brickyard Crossing, was taken over by the Indianapolis 500. Several holes on the Brickyard course are inside the speedway and DalCorobbo sported a shirt commemorating the 100th running of the storied auto race.
Brian Brodell, teaching pro at Mistwood in Romeoville and the Illinois PGA Player of the Year in 2015, was DalCorobbo's caddie.
"The most exciting thing is going home after the 500,'' said DalCorobbo. "Now the Speedway crew and everyone at the Brickyard Crossing has another celebration coming up. They've been celebrating without me for a week so it will be super fun.''