Illinois saw its five-year reign as men's Big Ten golf champion come to an end two weeks ago, but the Illini still have a longer run going. They qualified for the NCAA finals for the seventh straight time on Saturday by winning the Central Regional at Rich Harvest Farms in Sugar Grove.
Coach Mike Small's team was a Cinderella story at last year's NCAA finals, finishing fifth in the stroke play portion and second to Alabama in the match play conclusion. Small has even higher hopes for this year's finals, at Prairie Dunes in Kansas from May 27-June 1. The event will have live TV coverage for the first time, on The Golf Channel.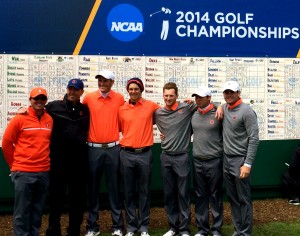 "I like the thought of us being a Cinderella, but we've been a top 10 team all year,'' said Small. "We won four times, which isn't as many as you'd think a top-10 team would, but we had a lot of seconds and thirds.''
The Illini, with only one senior in its top five and junior Alex Burge in the lineup for the first time this season, posted a 16-over-par 880 total to win the three-day, 13-team competition at Rich Harvest by two strokes over Alabama-Birmingham. Five teams qualified for Prairie Dunes, and Illinois also had the tourney medalist in junior Brian Campbell. The Big Ten player-of-the-year posted 5-under-par 211 for the 54 holes and was three swings better than Anthony Paolucci of Southern California, the only other player to break par.
"Our focus was on winning, not just getting into the top five,'' said Campbell. "Winning is what it's all about, and we'll bring that same attitude to the NCAAs. We're still viewed as underdogs. We're not given a lot of credit, which I love. Then we just come out and show what we've got.''
Jonathan Hauter was the only senior in the Illini lineup at Rich Harvest. Burge earned his spot by beating sophomore David Kim in a playoff after the second-place finish in the Big Ten tourney. Sophomores Charlie Danielson and Thomas Detry rounded out the team.
"We're a self-made team — normal guys with great personalities – and our coach molds us into great players with strong minds,'' said Campbell. The only player missing from last year's Cinderella team was Thomas Pieters, who left school early to play on the European PGA Tour.
"We don't have the horse (Pieters) that we had last year, but we're more consistent,'' said Small. "This team had a better season than last year's team.''
Last year's team was the first Illini squad to win an NCAA regional, accomplishing the feat as the No. 7 seed, before its exhilarating finish in the finals. Illinois was seeded second and ranked No. 9 nationally going into the Rich Harvest event.