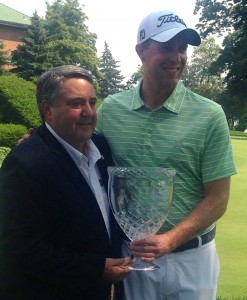 Jim Billiter and Matt Slowinski were cart partners in Wednesday's final round of the 93rd Illinois PGA Championship. Slowinski called it "a good pairing'' and said they had a "great time.''
It was Billiter, though, who hung on to claim the $10,000 first prize in the first big tournament played on Medinah Country Club's No. 1 Course since Michigan architect Tom Doak completed a major renovation project on it.
Slowinski, the head professional at Conway Farms in Lake Forest, started the round three strokes behind Billiter, an assistant pro at Merit Club in Libertyville. That deficit was gone in two holes, as Slowinski opened with two birdies and Billiter went par-bogey.
"I had to birdie No. 3 or it would have been a different story, maybe,'' said Billiter, who lost sole possession of the lead and then got it back in a hurry when Slowinski made bogey at No. 3 after Billiter nearly holed his chip shot on the par-4, settling for a tap-in birdie.
Billiter kept the lead the rest of the way but had to do some nifty scrambling to do it. On three straight holes (Nos. 10, 11 and 12) he hooked his tee shots into the trees but managed to punch out his second shots and salvaged pars each time.
"That was the whole tournament right there,'' said Billiter. "I had no right making par on any of those holes. I deserved to make bogeys.''
It wasn't just a Billiter-Slowinski duel. Travis Johns, teaching pro at Medinah and one of the host club's three pros to survive the 36-hole cut, shot the best score of the final round – a 4-under-par 67. Playing in the group ahead of Billiter and Slowinski, Johns pulled within one shot on the back nine but couldn't get any closer.
In the end Billiter settled for a shaky 70 and a 9-under-par 204 score for the 54 holes. Slowinski shot 69 and finished two strokes back in second while Johns was another swing back in third.
"I knew it was going to be hard to catch Jim,'' said Slowinski. "When he hit bad shots he was still making pars. He just didn't let anyone get close. He kept doing his thing.''
The victory basically completes a great year for the 29-year old Billiter, who is in his 10th season at Merit Club. He won the IPGA Match Play title in the spring, and is now one of only nine players to capture both of those major IPGA crowns in the same year. Last to do it was Illinois coach Mike Small in 2007. Small, winner of the IPGA Championship the previous two years and 11 times overall, never was in the mix this time. He finished tied for seventh.
Billiter, despite winning two of the four majors put on annually by the IPGA, will be hard-pressed to be its Player of the Year because he didn't play in the Illinois Open and won't play in the season-ending IPGA Players Championship next month. His duties with a major charity outing at Merit Club annually keeps him out of the Illinois Open, and this year the club members are taking Billiter along on a trip to Scotland when the Players Championship is played at Eagle Ridge in Galena. Billiter has no regrets.
"That's (the Scotland trip) a once in a lifetime thing. It's going to be great,'' he said.
The IPGA Championship also served as a qualifier for the PGA Professionals Championship. The top nine finishers earned spots and Katie Pius, assistant pro at Biltmore in Barrington and the only woman in the field, was in the mix after two rounds.
Pius, who is four months pregnant, was bidding to become only the fourth woman to qualify for the club professionals' national championship and the first one from the Illinois Section to do it. She was tied for 13th place after 36 holes, then shot 78 on Wednesday and finished in a tie for 28th.