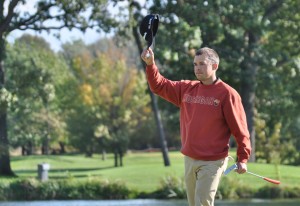 Carlos Sainz Jr., the new PGA Tour member from Elgin, was in position to defend his Chicago Open title Tuesday and Mike Small, the University of Illinois men's coach, had a chance to win, too. He jumped into a tie for the lead after making five birdies in a row in a furious back nine charge at Cantigny in Wheaton.
Sainz and Small could only finish in a five-way for third place in the last major event of the local golf season, however. Andy Ruthkoski of Muskegon, Mich., nabbed the title, beating Lewis University graduate Casey Pyne, of Bloomington, with a 10-foot birdie putt to conclude a two-hole sudden death playoff.
Windy conditions hampered scoring on the final day of the 54-hole test. Ruthkoski and Pyne, who played on the Dakotas Tour this year, were the only players to finish under par. Both posted 2-under 214 totals before going to extra holes. Pyne and Small had the best scores of the final round with 4-under 68s.
Small, who won a record 11th Illinois PGA Championship in August and celebrated his Illini's climb to the No. 1 national ranking in collegiate golf last week, saw his hopes evaporate with a double bogey at No. 16. Sainz, playing in the last group, shared the lead several times until his drive at No. 18 found water in front of the green.
"A bad shot at the wrong time,'' said Sainz. "I don't usually hit driver on that hole. I got a little too aggressive.''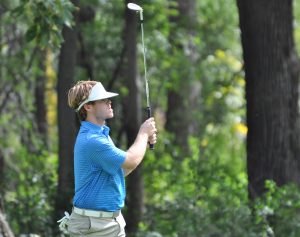 He was forced to gamble after both Ruthkoski and Pyne posted their 2-under scores. Sainz needed a birdie on the last to get into the playoff.
A 2005 Michigan State graduate, Ruthkoski grabbed the lead with great chip shots that set up birdies at Nos. 11 and 12. He hit a pitching wedge from 103 yards to one foot for the first one and chipped to within inches from 44 yards out for the second, then endured a long wait before he could claim the $10,000 first prize.
The Chicago Open, revived as a fundraiser for the Illinois Junior Golf Assn. last year, was played for the 25th time since its first staging in 1914. Its champions when the event was part of a more loosely organized PGA Tour included Ben Hogan, Byron Nelson, Sam Snead and Ken Venturi. Luke Donald also won it while still an amateur.
"I really like looking at the trophy and seeing the names that have won it,'' said Ruthkoski. "It's an honor to have my name with them.''
Ruthkoski has played in six PGA Tour events and earned money in three of them, but hasn't cashed a check on that circuit since 2009. He was invited to the Chicago Open by virtue of repeating as winner of the Michigan PGA Tournament of Champions in July.