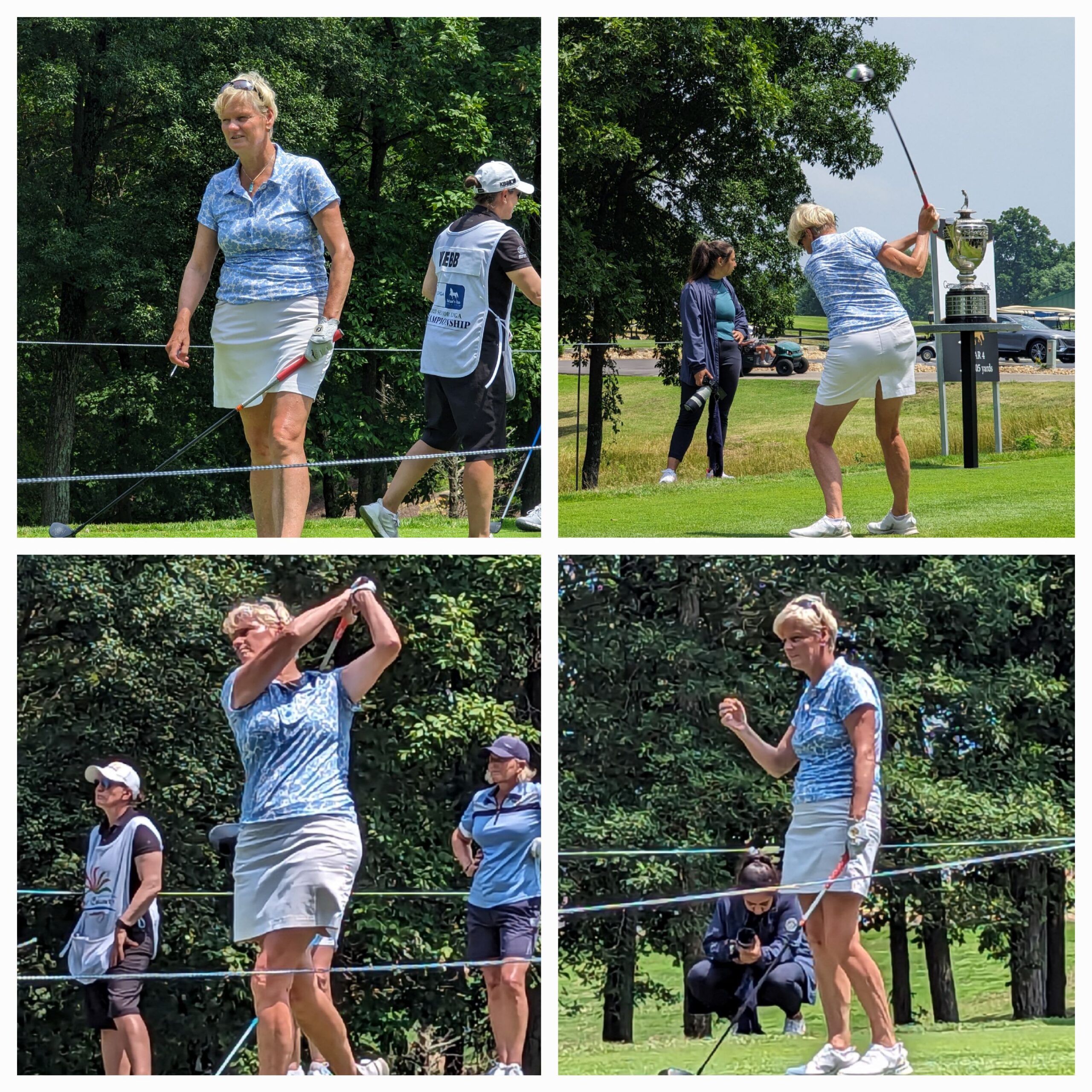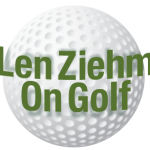 JASPER, Indiana – The Senior LPGA Championship, only six years old, is the youngest of golf's designated major tournaments. It was first played at French Lick's Pete Dye Course in 2017 and England's Trish Johnson was the winner.
This year's tourney was played only 20 miles away, at Sultan's Run Golf Club, and Johnson was in position to win for the third time — but she didn't.  A triple bogey-bogey finish by Johnson handed the title to Texan Angela Stanford, who reached the tourney's 45-year old age requirement only seven months ago.
That wasn't the only strange happening at the event, either.  The weather almost trumped the competition, and it was touch-and-go whether the event would finish on time.
Not only could no one in the 72-player field finish the first 18 holes on Thursday's opening day, but two threesomes couldn't even tee off.  The day-long rains were that bad, making a marathon second day inevitable.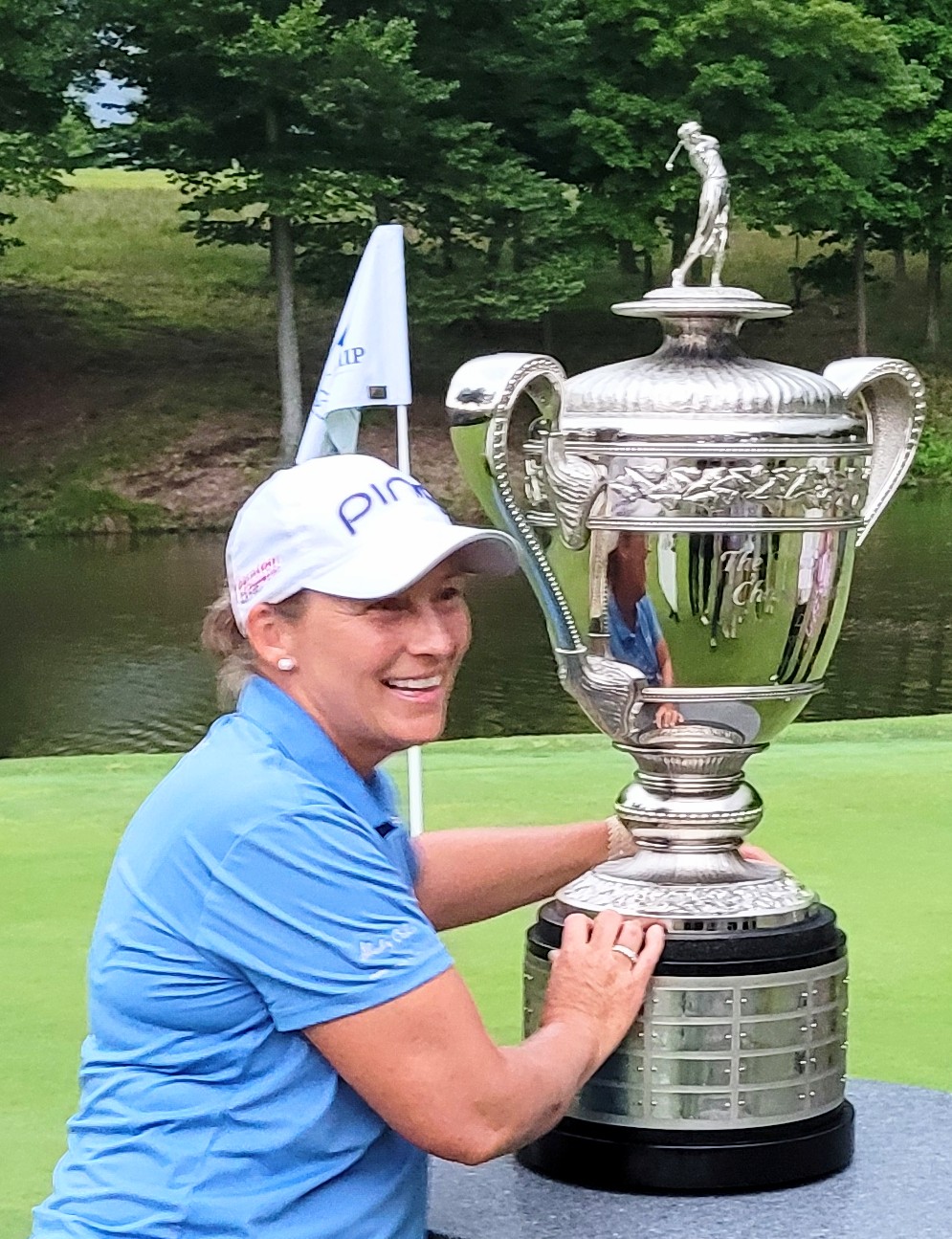 Rain couldn't dampen Round 2, but some players had to play 36 holes.  That long day ended with Johnson, shooting the day's low round of 66, opening a three-stroke lead over defending champion Karrie Webb and Becky Morgan with Stanford five strokes back in her first Senior LPGA appearance.
Bad weather was in the forecast for Saturday's final round, and players were to begin play at 7:30 a.m. with threesomes starting off both the Nos. 1 and 10 tees to get the round in as quickly as possible.
Even that strategy didn't work, and it wasn't even close.  The first tee shots weren't hit until 1 p.m. Though the Sultan's Run course held up well despite the heavy deluge of rain the cart path only rule was put into effect. That slowed up play, and late in the afternoon tournament officials were warned that more bad weather – including tornado threats – was on the way.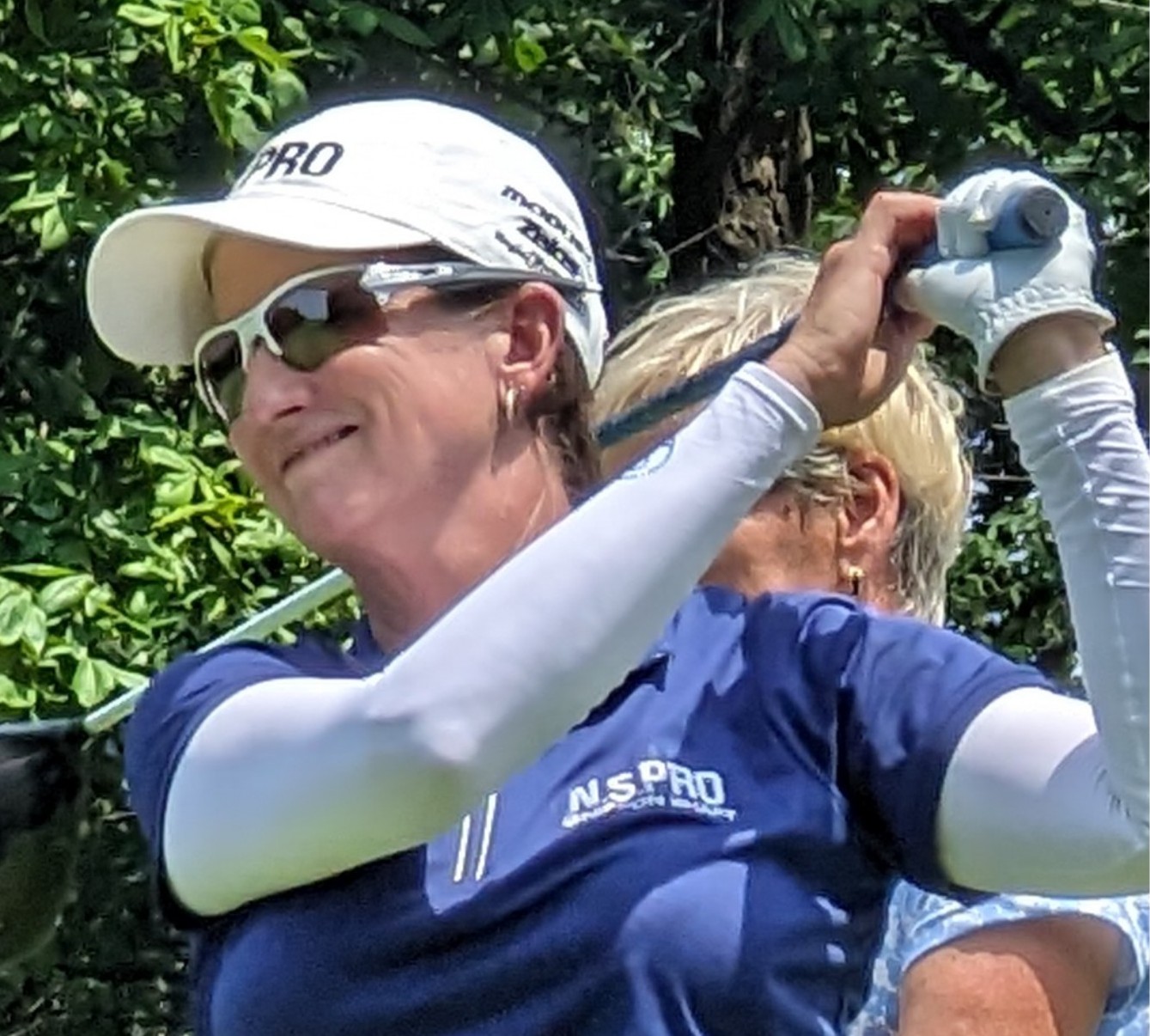 Johnson had a four-stroke lead, though, so hopes of a finish before darkness or more storms set in were high.
And then Johnson hit a bad tee shot off at No. 17. That led to a triple bogey.  Stanford, playing a group in front, made birdie at 18 and the four-shot swing left them both at 10-under-par. A Johnson birdie on the finishing hole would still give her the win but a par would force a playoff and more golf in – to put it mildly – questionable weather.
Johnson couldn't shake off the nightmare at the 17th.  She hit another bad tee shot on the 18th and had a 12-foot putt for birdie that would have led to extra holes.  For better or worse, the putt missed.  Stanford was the champion and the weather issues were then of minimal importance. (They would have been a factor, as storms and strong winds emerged as darkness was setting in).
The end result was that Stanford was $60,000 richer after claiming the biggest prize from a $400,000 purse.  The low round of the tournament – a 65 – got her the win, which will go together with the seven she captured on the LPGA Tour.  Stanford then hurried off to California for this week's U.S. Women's Open at Pebble Beach.
"I'm leaving with more confidence than when I came here, that's for sure,'' she said. "I just figured some things out and got my mind right this week. I've had some confidence issues lately.''
Now confidence issues might be Johnson's problem.
"My game was great for about 16 holes, then I ended triple bogey-bogey to finish,'' she said. "There's not much more you can say, really. It was just a horrible finish. It was very disappointing, literally throwing the tournament away, but life goes on. There are worse things.''