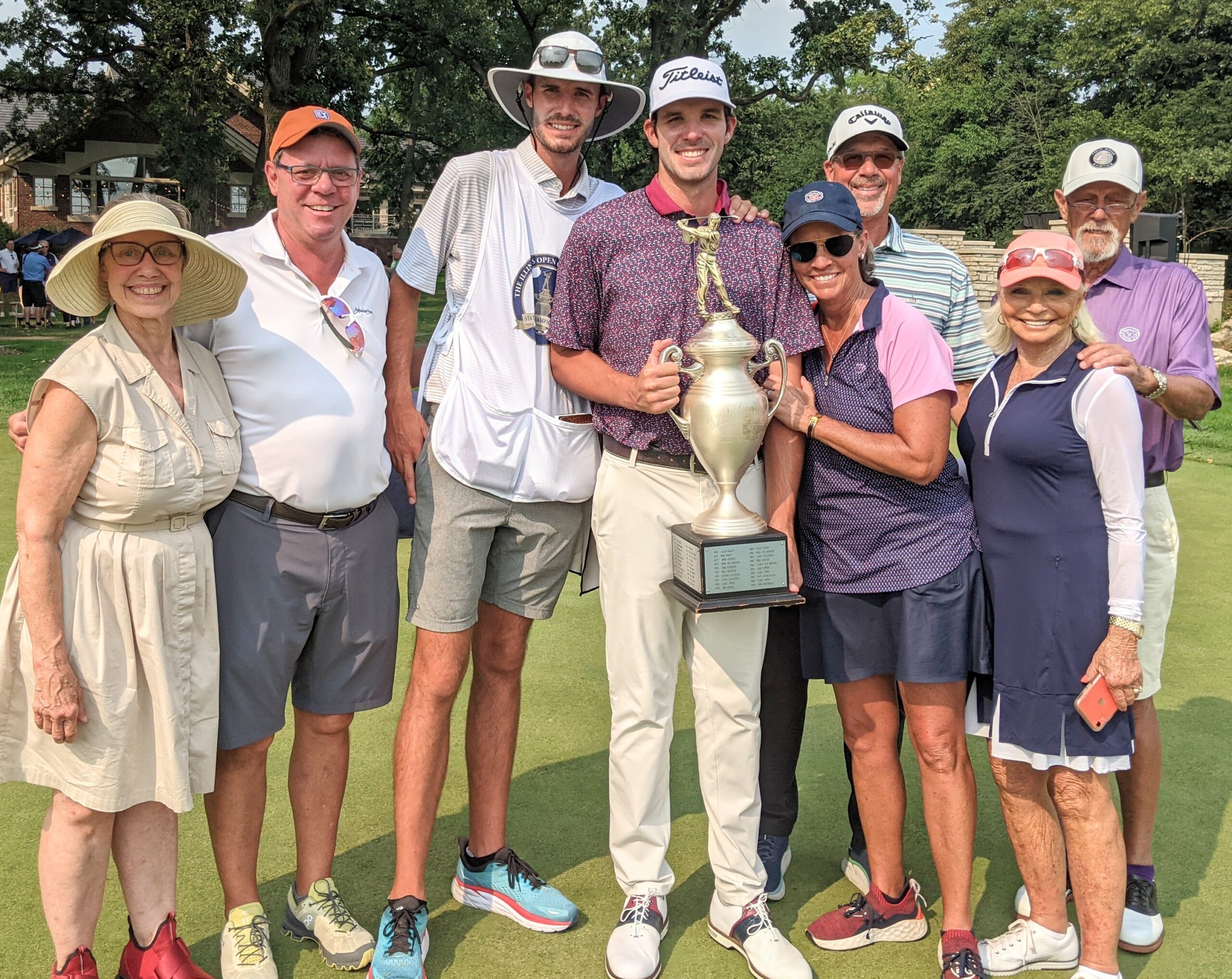 Tee-K Kelly was the whole show at the 72nd Illinois Open, no question about that.
The Wheaton resident, Ohio State alum and Medinah Country Club member led wire-to-wire in winning the biggest event for Illinois resident.  He was a record-tying 17-under-par, posting a 54-hole score of 199 at Stonebridge Country Club in Aurora.
His rounds of 66, 65 and 68 gave Kelly a three-stroke victory over Luke Gannon, a former Southern Illinois golfer from Mahomet, and made him only the 10th player to own titles in both the Illinois State Amateur and Illinois Open. The last to do it was Vince India, a regular on the PGA's Korn Ferry Tour. He won the Amateur in 2010 and the Open in 2018.
Kelly compiled one of the best amateur records by a Chicago area player, winning the State Am twice and finishing second once before turning professional after a college career at Ohio State. He had three top-10 finishes in the Illinois Open in the previous four years including a tie for third in 2020 before his breakthrough this week.
"It feels amazing,'' said Kelly.  I'd put myself in contention in this tournament a fair bit, but it sure is a lot of fun when you pull it out.''
The first player to claim the Illinois Amateur and Open titles was Gary Hallberg, who went on to a solid career in the professional ranks. He won the Open in 1977 and the Amateur in 1978 and 1979.
"It was absolutely a goal of mine (to win both titles),'' said Kelly.  "It was really cool because I played a lot of golf with Gary son Eric, and with him as well.''
Others to own titles in both are Gary Pinns, David Ogrin, Bill Hoffer, Roy Biancalana, Mark Hensby, Brad Hopfinger and Patrick Flavin. All turned pro with the exception of Hoffer, a life-long amateur.
There wasn't much suspense in Wednesday's final round, played on a course that hosted the Senior PGA Tour for five years in the 1990s and the LPGA circuit three times from 2002-04.  Stonebridge had not hosted a big tournament since then until it landed the Illinois Open.
Kelly started the day with a four-stroke lead on pro Luke Gannon of Mahomet. Gannon got within three shots twice on the front nine got that close a third time when Kelly hit his tee shot out of bounds at No. 14.
"In the past that would have shaken me up a bit,'' said Kelly, "but – having my brother Will CHECK on the bag – it didn't affect me very much.  I just hit a bad shot and wasn't going to hit another one.  I wasn't going to lie down and let that affect me.''
It didn't.  Kelly made birdies on the next two holes and cruised the rest of the way to a $20,000 first place prize.
Kelly, who stands 6-4, and his caddie-brother Will (6-7) have formed an imposing duo in their six times working together this year.  Kelly came into the Illinois Open off a tie for third in a Forme (formerly Canadian) Tour event and he'll stay on that circuit with Will on his bag until Korn Ferry Tour qualifying school begins this fall.
BITS: Daniel Hudson, a former Kansas golfer who lives in Chicago, tied the Stonebridge course record with a 62 in the final round.  The 10-under-par mark was set by Babe Hiskey in the 1992 Ameritech Senior Open and tied by  Annika Sorenstam and Rosie Jones in 2003 when the LPGA's Kellogg Keebler Classic was played at Stonebridge. Hudson climbed into a tie for third place with the hot round that included 10 birdies, an eagle and two bogeys…..Hinsdale's Mac McClear, who was the Big Ten Conference's individual champion for Iowa, finished in a tie for fifth and was the low amateur…..Crystal Lake's Ethan Farnam, who won the last two Illinois State Amateur titles, finished tied for ninth in his bid to become only the third golfer to win both state titles in the same year.