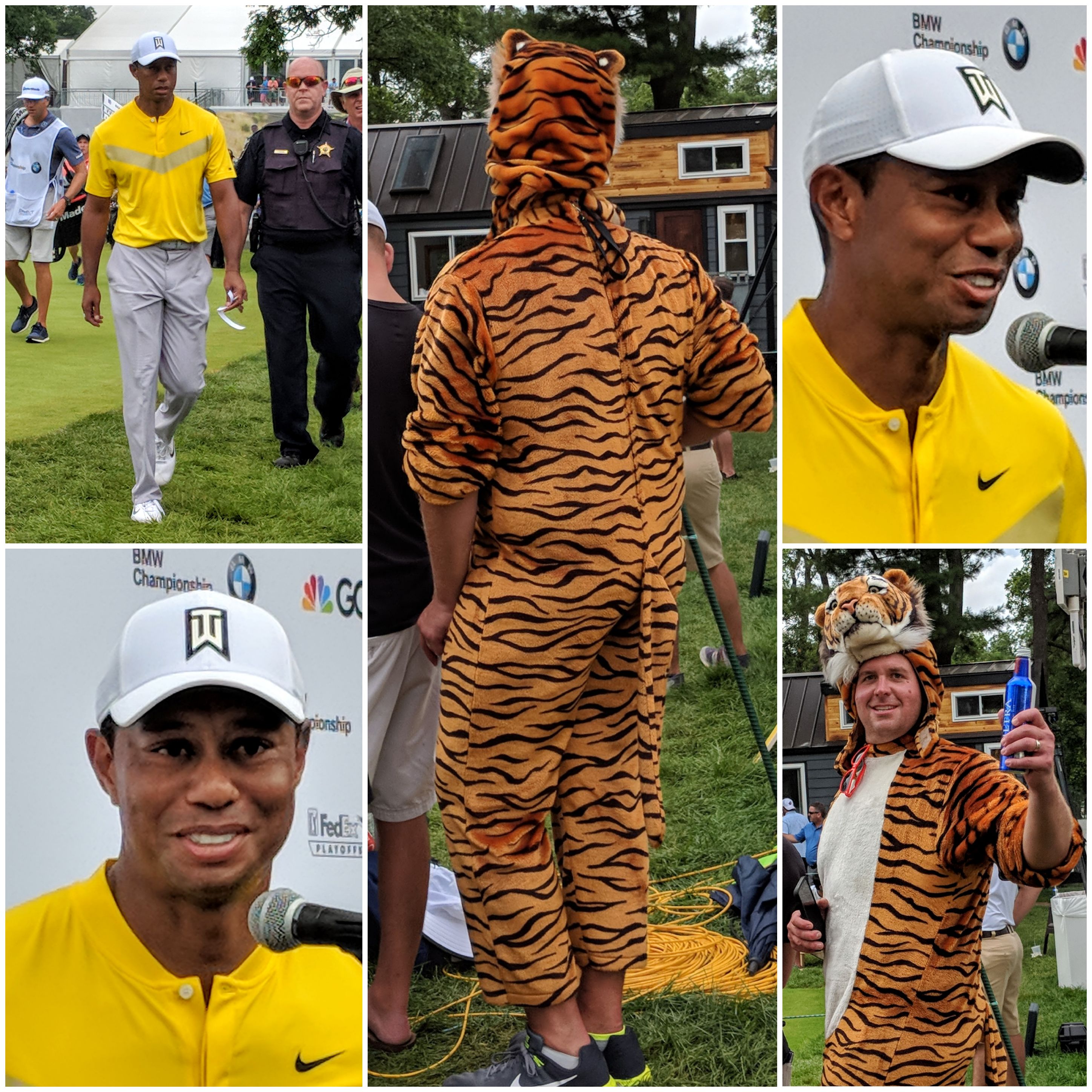 Tiger Woods played better on Saturday. He shot a 5-under-par 67 at Medinah No. 3, but it may not matter. Woods' chances of getting into the top 30 on the Fed Ex standings still aren't good going into Sunday's final round.
"I figured I'm going to have to do something in the mid-60s for two straight days. I left myself pretty far behind after the first two rounds,'' he said.
He's still pretty far behind, so far behind in fact that — when he was asked to about the number he needed in the final round to play next week at The Tour Championship in Atlanta – he said somewhat sheepishly "I shoot 60. It should be right.''
That sounds about right. Woods came to the tournament at No. 38 in the FedEx standings and his 71-71 dropped him down into the 40s. He's projected to finish the BMW Championship at No. 40, even after Saturday's improved round.
Woods stirred up the golf world when – after a long series of injuries and personal problems — he won The Tour Championship last fall and the Masters in the April. There hasn't been much success since those giddy weeks, and Woods' season will likely end when his last putt drops at Medinah.
Going forward, Woods will still be visible in his sport – he'll captain the U.S. President's Cup team this fall in Australia – but his future as a player isn't as promising as it seemed just four months ago. His expansive comments after Saturday's round backed that up.
For one thing, his health remains questionable. A mild oblique strain, for instance, limited his on-course preparations for the BMW Championship to nine holes in Wednesday's pro-am. Four back surgeries have taken a toll.
"It's just one of those things where some days I feel better than others,'' he said. "I'm going to have some difficulties here and there. I've got to fight through it and be patient.''
Another factor may be even more important. Woods admits that the game is changing and there's at least some doubt that he can change with it. He opened up on that after his round on Saturday.
"What's amazing is how many guys are under par on this golf course (67 of 69 after Saturday's third round). Who would have guessed that going into this week,'' he said. "We all thought this was one of the more tough and bigger ballparks, and the whole field is playing well.''
The younger stars just don't think the way the older ones – and Woods, at 43, is one of those – do now.
"When I first came out on tour there were a lot of 1-irons off the tees, just to kind of get it in play,'' he said. "Now you just pull out driver, bomb it down there and you're looking for three to four good weeks a year. That's how you play. It's not consistency. It's not about making a bunch of cuts. It's about having three-four good weeks a year. That's the difference. The guys understand that.''
The short game, chipping and putting, used to play a big part in determining a player's success – or lack of it. That's not the case now.
"With today's equipment you can maximize a driver, and some of the guys sacrifice stuff around the greens or short irons,'' he said. "The driver is the most important club in the bag now, just because of the way the game is played.''
Woods needs one more win to tie Sam Snead's record 81 victories on the PGA Tour and – just based on his age – Woods would seem in position to break it. But those critical wins won't come easily.