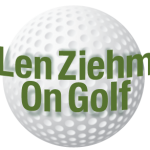 SOUTHERN PINES, N.C. – The most famous of the 51 courses in the golf mecca called Pinehurst area is Pinehurst No. 2, recently named an anchor site for the U.S. Open by the U.S. Golf Association. This week the area will also host the U.S. Women's Open at Pine Needles, and many more big events are sure to come to the area now that the USGA is moving its headquarters there.
The USGA will have plenty of courses to choose from, the most unusual being Talamore. A Rees Jones design that opened in 1991, Talamore has long been one of the Pinehurst area's most popular layouts for both local players and visitors, but they probably best remember it because of the llamas that grazed in a fenced-in area near the No. 14 tee.
When Talamore opened the llamas were used as caddies.  That's no longer the case, but they're still on the premises as a photo op for golfing visitors looking for the unusual, and they've even been incorporated into the new flags on every green.
The original course underwent a 2016 renovation and more upgrades followed in recent years, resulting in the layout now being called The New Course at Talamore. Visiting golfers still have something new to photograph, and it's a lot more fearsome than those docile llamas. The resort is one of the first in the country to install EcoBunkers.  There are 10 of them spaced around holes 2, 5, 9, 15 and 17.
To say those bunkers are difficult to escape is putting it mildly. At least no one in my group could get a ball on a green from out of them, and the starter had advised us to just chip back to the fairway most of the time to minimize frustration.  That was good advice.
These sod-wall bunkers are steep, and the tallest on No. 9 is seven feet high.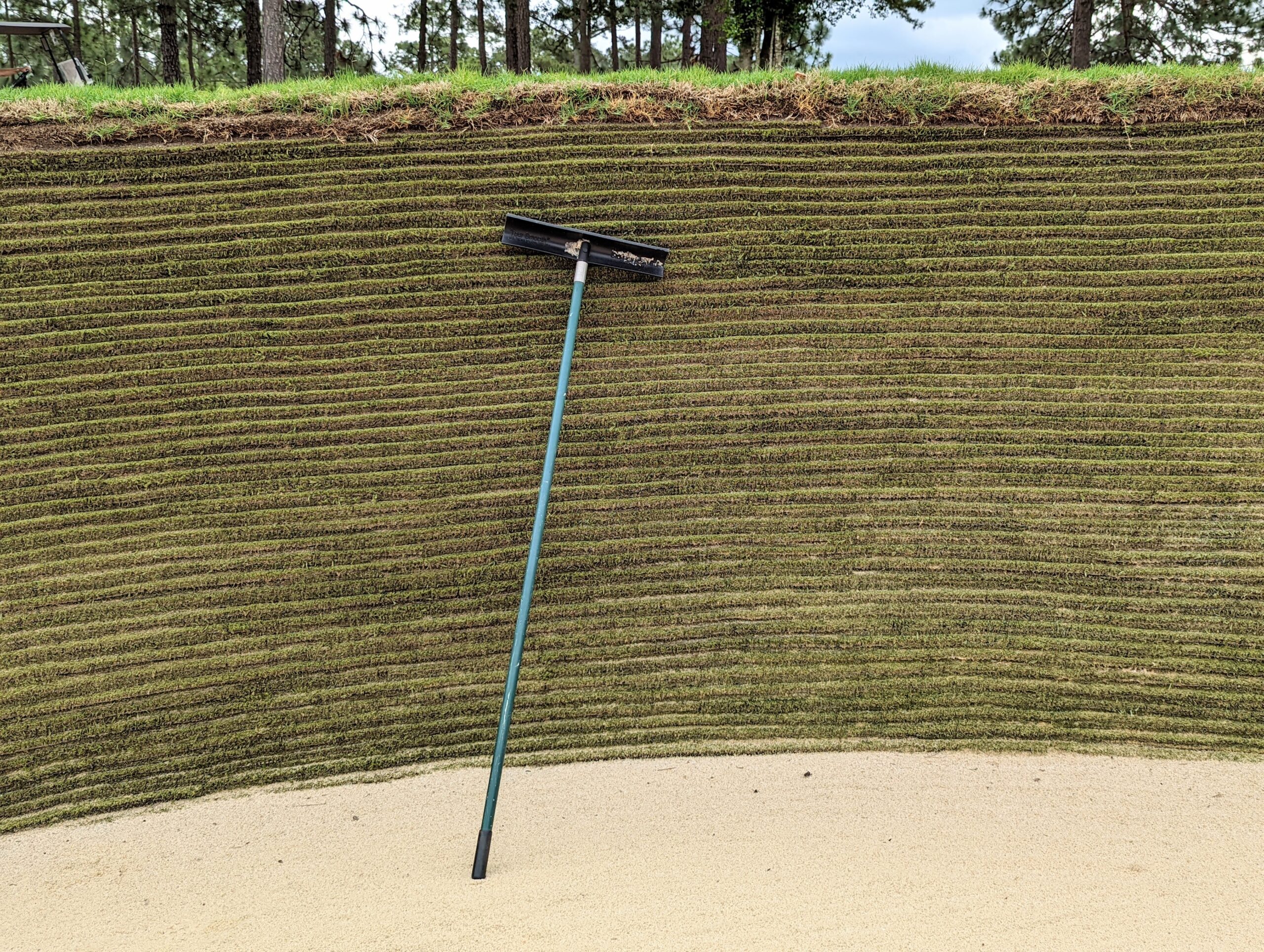 While these bunkers are a significant challenge and could be controversial, they're also beautiful.
Matt Hausser, the general manager at the Talamore Resort, likens them to the bunkers on courses in the British Isles that have hosted the British Open. He admits those at Talamore "might be a little daunting''  to some players, but they'll also make for good conversation after their rounds.
"(Golfers) are going to notice that they want to miss them,'' quipped Hausser.
And that's not all.
These EcoBunkers aren't going away any time soon. Hausser believes they'll last for decades. The resort opted to put them in as part of an on-going multi-million dollar property enhancement that also included the addition of a Toptracer range and a 15,000-square foot practice putting course.
EcoBunkers resemble the best of the traditional sod wall bunkers, but they're more sturdy because synthetic grass tiles were used in their construction.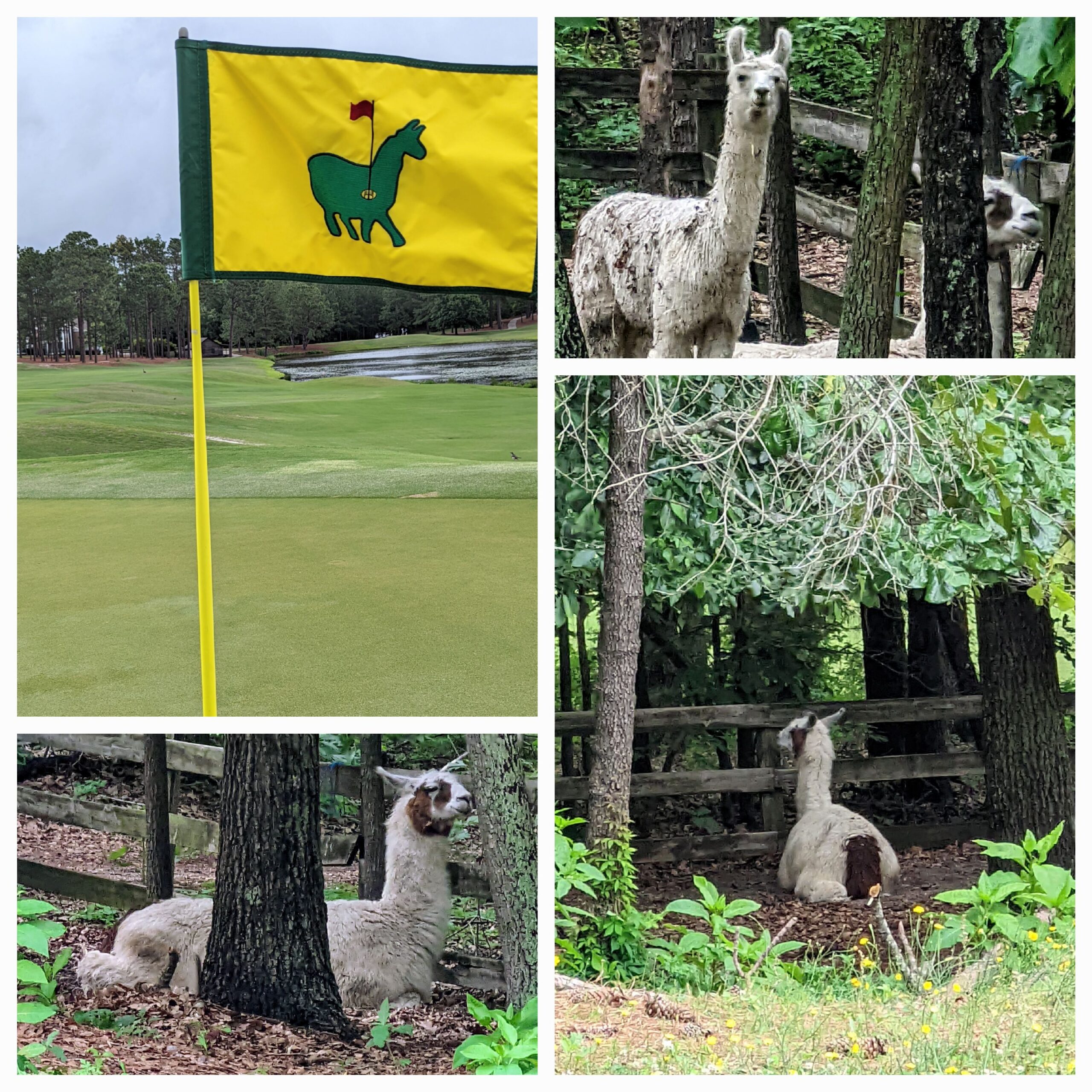 The EcoBunker edging system dates back to 2006, at the Radyr Golf Club in Cardiff, South Wales. The course there was designed by the legendary course architect Harry S. Colt.  Its bunkers proved  vulnerable to erosion and alternative measures were considered when repair costs escalated.  That led to Richard Allen, a club member and civil engineer, finding a solution.
Some rolls of artificial grass carpet – commonly known as Astroturf – were being temporarily stored in the club's parking lot. Allen's ensuing research revealed that much of that Astroturf was being dumped into a landfill, which also meant another big cost, and that the material was not bio-degradable. That suggested it was resilient and durable.
Allen turned inventor, and eventually was granted patent protection. Now clubs in 40 countries have incorporated a form of EcoBunkers.  The system used at Talamore is a wall constructed on multiple layers of stacked artificial grass tiles. That provides a permanently safe resilient edge, significantly reduces sand contamination from bunker sides, prevents damage and eliminates the time-consuming greenkeeping practice of bunker edging.
Allen formed EcoBunker Ltd. in 2014 and the product has evolved since then. Scottish style bunkers became more in demand in states such as Florida, Georgia and the Carolinas where tropical temperatures are more extreme and heavy rain and winds associated with hurricanes and tornados caused significant stress on bunker walls.
The Talamore Resort has a second 18-holer, the King's Course at Mid South Club. It's an Arnold Palmer design that opened in 1993 and was completely renovated in 2017.  It doesn't have llamas or EcoBunkers but does have more elevation changes than Talamore and is generally considered more difficult. Both courses were well-conditioned and had firm, generous fairways and greens that were fast and tricky.
Both also offered excellent lodging options.  That includes the Palmer Cottage, a new feature located between the two courses.