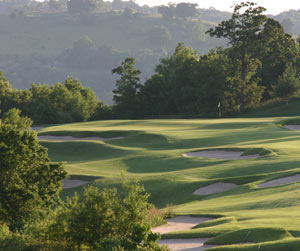 BRANSON, Mo. — The golf is quite good in this lively little town in the southwest corner of Missouri. In just the last few years Branson, with about 6,000 full-time residents, has emerged as a golf destination. There are 13 courses in the general area, and they can accommodate all types of players. Eight of them — operating through the website golfbranson.com — encompass the super tough Murder Rock, credited to controversial PGA Tour player John Daly; Branson Creek, designed by the highly-respected architect Tom Fazio; the spiffy Payne Stewart Golf Club, built in honor of the late two-time U.S. Open champion and local resident who died in a plane crash; and LedgeStone, which may be the most beautiful of the lot with its sweeping views.
You don't have to be an accomplished player to enjoy golf in Branson, though. Most unique of the other layouts is the funky but fun Thousand Hills, a Bob Cupp design that features nine par-3s, eight par-4s and one par-5.
I liked the Payne Stewart layout the best, but the best part of Branson as a golf destination isn't necessarily the golf itself. It's the other options. Rarely does any golf destination have the wide variety of other attractions that Branson offers. A golf die-hard doesn't have to worry about keeping other family members, or less avid golfers in his travel party, from getting bored. There are tons of other things to keep them entertained.
In its early years, Branson was mainly a gathering place for fishermen. Then Marvel Cave, and its tours 500 feet below ground, emerged a tourist attraction and that spawned the creation of Silver Dollar City, one of the largest theme parks in the U.S.
Silver Dollar City, which celebrated its 50th anniversary in 2010, in turn stimulated more tourist activity — initially country music venues. Now there's 49 live theaters offering much more than country stuff. Soji Tabuchi has been a Branson fixture for over two decades with his family-style show in a theater that bears his name, and legendary crooner Andy Williams has his Moon River Theater that brings in other types of music than country.
I especially enjoyed an evening at the Hamner Barber Theater, the showcase for magician Dave Hamner and his long-time partner, ventriloquist Jim Barber. Russian comedian Yakov Smirnoff is also a popular entertainment option.
Missouri residents call this high-energy community in the heart of the Ozarks mountains "the Las Vegas of the Midwest,'' and the Oscar-nominated movie "Winter's Bone'' was filmed there. Annual visitors numbered over 8 million annually in recent years thanks in part to its family-friendly economical options and its location. One-third of the U.S. population is less than a day's drive away.
As for evening dining, the Mediterranean-style Bleu Olive and Cantina Laredo, with its Spanish dishes, are good bets in the downtown area. On the outskirts are all the usual chain restaurants along with some more economical places with local flavor like Montana Mike's, the Rowdy Beaver and MacFarlain's, where unsuspecting diners might be victimized by a rising table that will add some spice to your meal.
If shopping, live shows, golf, cave tours and dining options aren't enough, Branson also has cruises and fishing along three lakes; a replica of the Titanic ship disaster (billed as the world's largest museum attraction), plus museums spotlighting antique toys, dolls, autos, dinosaurs, butterflies and war veterans. There's also five water parks, circus acts, three outlet malls and the beautiful lakes of Table Rock, Taneycomo and Bull Shoals.
And more is still to come — especially for golfers. A new golf facility, Top of the Rock, will reportedly offer a nine-hole course designed by Jack Nicklaus, a practice range designed by Arnold Palmer and a putting course designed by Tom Watson.