GAYLORD, MI. – The northern Michigan community of Gaylord has 17 golf courses, all of them quite good. It's one of the best places you can go if you're looking for a golf-getaway destination. I should know. I've probably visited the area 10 times over the last two decades.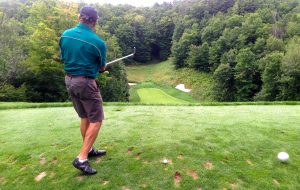 This year, though, there's something new going on. In mid-July the Treetops Resort introduced the National Par-3 Team Championship. It'll run through Sept. 27, but you can expect to head more about it because this first version has been deemed a success and it's not even over yet.
Jim McGuigan, head golf professional at Treetops North Resort, reported that 81 two-man teams had entered in the first six weeks of the event. Most were all male, but there are no restrictions.
"Looking forward, we wanted everybody playing the same set of tees,'' said McGuigan, "but we could go to a second set that might bring in more women.''
Age group categories might stimulate more entries, too, but that's a topic for discussion for 2015. For now, the concept works as an introductory event. Each player pays $10 (in addition to his greens fee) to enter. Competitive format is a two-man best ball on the famed Threetops layout. Scores must be verified by at least one person in the group, and multiple entries are also encouraged.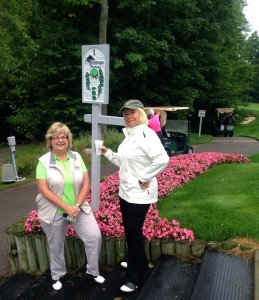 "The word national is used because of the players we're attracting,'' said McGuigan. Players from seven states and Canada have already entered.
Playing the event on Threetops also adds to the event's credibility. Its owner and designer, Rick Smith, opened the course in 1992 and it has been declared "the No. 1 Par 3 course in America'' with some justification. It gained notoriety long ago as the site of the ESPN Par 3 Shootout, a nationally televised event with its participants including Jack Nicklaus, Arnold Palmer, Lee Trevino, Ray Floyd, Fred Couples, Phil Mickelson, Chris DiMarco and Paul Azinger.
In 2001 the event created big news when Trevino made a hole-in-one at No. 7 which won him $1,090,000 – the most lucrative shot in golf. The event ran only from 1999-2006 but the course's popularity never wavered. It features spectacular holes with dramatic elevation changes.
Yardage from the back tees for regular play is 1,435 yards with the best hole being the steep downhill third, longest on the course at 219 yards.
The decision to create another high-profile event was the brainchild of Florida-based Andrew Wood, who heads his Legendary Marketing firm. He worked with Treetops North general manager Barry Owens and director of golf Kevin McKinley in developing the concept and McGuigan and assistant professional Spencer Bloom are handling the administrative duties.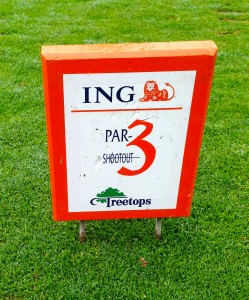 Threetops is available to all players when the Par 3 National Championship is in progress, but those who enter the big event must play from a set of tees slightly behind the tips used for normal play.
McGuigan said the tournament tee placements are "near'' those used for the ESPN Par 3 Shootout in its heyday.
Players have until Sept. 11 to play qualifying rounds. The top 28 teams, plus ties, will qualify for the final shootout on Sept. 27 and there'll be no entry fee for the qualifiers. The grand prize is a golf trip to Scotland, including airfare. Finalists will also have an opportunity on each of the nine holes to earn $10,000 for a hole-in-one, and other prizes will also be awarded.
The low score after six weeks was a 3-under-par 24 posted by two teams. One of the members of the leading teams was Justin Kowatcz, a member of Treetops' Club 81 (the resort has 81 holes available). The others, though, are visitors to the area.
"We've never done this before but even par (27) will probably get you into the finals,'' McGuigan said.
As an incentive to potential qualifiers Treetops is offering a package starting at $118 per person based on double occupancy through Sept. 11 that covers one night's lodging, one round on Threetops with the qualifier entry fee and one breakfast buffet.
While the National Par 3 Championship was the biggest development under discussion at the 27th annual Gaylord Golf Mecca gathering of media members, FootGolf has also been added at the Rick Smith Tradition course.
As was the case at many Midwestern golf destinations, difficult winter weather slowed the start to Gaylord's spring activities but Paul Beachnau, executive director of Gaylord Michigan USA, reported play in full swing during the summer months and the courses played during the Mecca – Michaywe, Threetops, Rick Smith Signature and The Tribute at Otsego Club & Resort – were all in excellent condition.