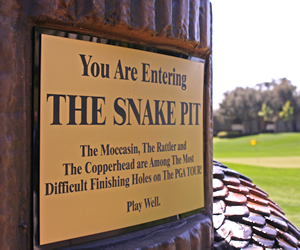 TARPON SPRINGS, Fla. — There's still a good two months left in the Chicago golf season but, unfortunately, it won't be too long until the weather changes. Snow and cold weather always arrive eventually, and then it'll be time to head to warmer climates.
For golf in the winter months that means Florida, California or Arizona. You might be able to tee it up in a few other states but conditions will be iffy, at best. I tried it last winter in Texas and the Carolinas with very mixed results.But in Florida, California and Arizona being able to play from December through February is pretty much a sure thing.
Going to those places takes some planning, and it wouldn't hurt to start now. One thing to remember, the best courses aren't necessarily the most expensive. That's never been more true than in these tough economic times. Doing a little investigating now can pay you big dividends down the road, in terms of both enjoyment and money spent.
Nothing against California and Arizona, but I'm a Florida guy. I've been a regular visitor there for years, and last winter I made two trips, travelled widely around the state in search of good playing opportunities and found plenty of them.
The place you should start is an old favorite — Innisbrook, on the outskirts of Tampa. I had made a quick stop at Innisbrook years ago and returned because the International Network of Golf spring meeting was held there. While there was nothing wrong with the "old'' Innisbrook, I found the present version significantly updated and filled with friendly people.
That latter is understandable, since Innisbrook has strong ties with the Chicago area. Its owner since 2007 is Sheila C. Johnson, born in Maywood and a University of Illinois graduate. A founding partner of Black Entertainment Television, she also has ownership in three Washington pro sports teams — basketball's Wizards (NBA) and Mystics (WNBA) and hockey's Capitals. It was through her efforts that Innisbrook underwent a massive renovation that included all 608 of its guest rooms in 2009.
All four courses on the property were designed by Larry Packard, who was based in Chicago for the bulk of his noteworthy career. His broad design portfolio includes the well-respected Cantigny in Wheaton. Packard, now 98, lives on the Innisbrook property with his wife, who is in her 80s.
A key member of the present Innisbrook staff is Doug Schmidt, director of business development and membership. He came through the Chicago ranks as well.
You might not be aware of this factoid: Innisbrook is the only place to host an event on both the men's and women's pro tours. The PGA Tour brings its Transitions Championship to the Copperhead layout and the LPGA has a Legends event on the Island course.
Just recently Innisbrook received some significant acclaim when the Copperhead layout was voted the ninth best of the 52 layouts used for tournaments by the PGA Tour. Who did the voting? The players themselves — or at least 82 of them. Those rated higher were Augusta National, Harbour Town, Riviera, Pebble Beach, Colonial, Muirfield Village, Shaughnessy (Canadian Open) and Aronimink. One player opined that Copperhead is "the best course we play in Florida."
And, statistically, the last three holes at Copperhead created the toughest finishing stretch on the PGA circuit. Those holes have, justifiably, been billed "the Snake Pit."
By no means is Innisbrook the only golf option in Florida. From personal experience I can recommend quite a few others. If you want a PGA Tour flavor other than Copperhead and are willing to pay top dollar you'll want to try TPC Sawgrass in Ponte Vedra, near Jacksonville. It'll give you the opportunity of playing one of the most famous holes in golf — the short par-3 17th with its island green. And, if you do go there be sure to stop (or stay) at World Golf Village in nearby St. Augustine, home of the World Golf Hall of Fame.
Also in that part of the state is Palm Harbor, in Palm Coast. Run by Chicago-based KemperSports, it's a friendly place on all counts and merits a visit.
There are plenty of courses around Orlando, of course, thanks to the presence of vacation hotbed Disney World. I'd suggest you consider a drive of about 20 miles outside of Kissimmee to the town of Harmony. It has a course I really enjoyed, Harmony Golf Preserve, and nearby Royal St. Cloud has a links layout that's good, too. Plus, they're more dollar-friendly than many of the places in the Disney World area. You might also be interested in visiting Windermere, a private club under new ownership that is undergoing an upgrade and welcoming public play.
Further into the state is the Bobby Jones Golf Complex, a 45-hole facility in Sarasota. Its courses are player-friendly and very economical.
The Florida golf offerings aren't as well known as those in California, where the beautiful Carmel area is the focal point. That's where you'll find Pebble Beach, Spyglass, Spanish Bay and Poppy Hills. You'll pay top dollar there, but it may be worth it to you in terms of the memories you'll take from the experience.
I tend to look for more out-of-the-way places that also tend to be more economical. Heavily-played Rancho Park, in Los Angeles, is rich in history as a former site of the Los Angeles Open. Sandpiper, in Santa Barbara, is another good buy and San Jose has a nice municipal course, as well, but the best bargain I found was Los Verdes, in Rancho Palos Verdes. Here you get great ocean-front views at an extremely reasonable rate and it's nearly within walking distance of Trump National, which charges much, much more. The catch is, Los Verdes is no secret. You may have trouble getting a tee time and your round could be a slow one.
My trips to California were frequently for business, and time constraints were involved. That led me to look for nine-holers once in awhile, and the Manhattan Beach Marriott has a fun one on its premises.
As for Arizona, I'm not nearly as familiar with the courses there. Last winter, in fact, was my first playing experience in Arizona, and I tested a couple of reasonably-priced public layouts in Silver Creek in the White Mountains town of Show Low, and nearby Pinetop Lakes, a short, sporty layout. Arizona, though, is known for some great upscale golf with the Scottsdale layouts — Troon North, Talking Stick and The Phoenician — the best-known places to go. TPC Scottsdale is also in that mix, as the site of Phoenix' annual PGA Tour stop.
A course that I would readily to put on my future travel agenda, though, is far less publicized one at Tubac Resort. That's where much of the classic golf movie "Tin Cup'' was filmed.